Save $3 on All My Ebooks!
Posted By Jessica Fisher On November 22, 2012 @ 9:58 am In Announcements | No Comments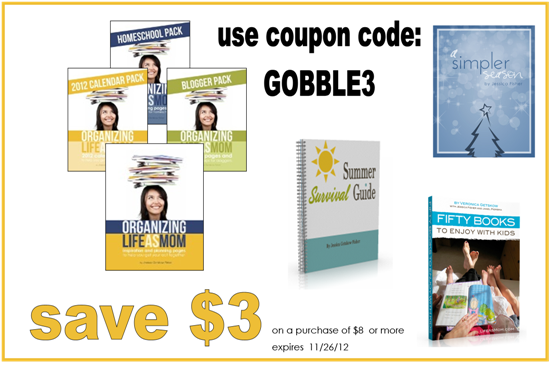 [4]
I have had the great privilege to publish a handful of books over the last few years. It takes a fair amount of effort to sit down and write, especially when your deadlines are self-imposed. Finishing each one has been like completing a marathon.
What's even more exciting is to hear the great stories and results from readers who've bought the books. Wow! I keep a little file of your kind words and encouragements to read on the days when things just aren't going well. Thank you for letting me know I'm not talking to myself!
This weekend in the Life as MOM estore [4], you can save $3 on any ebook purchase of $8 or more.
Just use the coupon code GOBBLE3 when you check out.
This is a great opportunity to snatch up one of these books to help "life as mom" go a little more smoothly.
Promotion ends Monday, 11/26
---
Article printed from Life As Mom: http://lifeasmom.com
URL to article: http://lifeasmom.com/2012/11/save-3-on-all-my-ebooks.html
URLs in this post:
[1] RSS feed: http://feeds.feedburner.com/lifeasmom/oGdA
[2] free updates via email: http://feedburner.google.com/fb/a/mailverify?uri=lifeasmom/oGdA
[3] my free seasonal newsletter: http://eepurl.com/q47Vb
[4] Image: http://lifeasmom.com/store
[5] Organizing Life as MOM: http://lifeasmom.com/organizing-life-as-mom-redesigned-and-updated-ebook
[6] Summer Survival Guide: http://lifeasmom.com/the-summer-survival-guide
[7] Fifty Books to Enjoy with Kids: http://lifeasmom.com/fifty-books-to-enjoy-with-kids
[8] A Simpler Season: http://lifeasmom.com/a-simpler-season-the-ebook
Click here to print.