I'm Taking the Pantry Challenge. Are You?
Posted By Jessica Fisher On December 30, 2012 @ 4:20 pm In Pantry Challenge | 1 Comment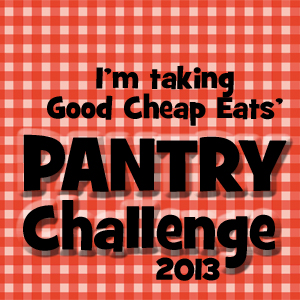 [4]
For better or for worse, I'm taking the Pantry Challenge for the 5th year in a row. Has it really been that long?! Yes, yes, it has.
I'm sharing the details over on Good Cheap Eats [4], so hop on over there and find out how you, too, can eat down the pantry, save money, and be a good steward of what you have.
---
Article printed from Life As Mom: http://lifeasmom.com
URL to article: http://lifeasmom.com/2012/12/im-taking-the-pantry-challenge-are-you.html
URLs in this post:
[1] RSS feed: http://feeds.feedburner.com/lifeasmom/oGdA
[2] free updates via email: http://feedburner.google.com/fb/a/mailverify?uri=lifeasmom/oGdA
[3] my free seasonal newsletter: http://eepurl.com/q47Vb
[4] Image: http://goodcheapeats.com/2012/12/prepare-to-eat-down-the-pantry-2013-challenge/
Click here to print.