The Weekly Ramble
Posted By Jessica Fisher On August 2, 2014 @ 9:25 am In Announcements | 12 Comments
The weekly ramble: where I blog like it's 2004.
This week was monumental in several ways, the main one being that I've turned my "gazelle intensity" back up. Those of you who've read Dave Ramsey's Total Money Makeover will know what I'm talking about. For others, here's my brief explanation.
Years ago we found ourselves in a heap of debt. We read the aforementioned money management book and made a plan to get out of debt and build up an emergency fund. Dave Ramsey has these "baby steps" [4] . Dave describes the desire you muster in order to truly get out of debt as "gazelle intensity". Like a gazelle being hunted by wild animals, you will move quickly and crazily to preserve yourself. We're currently on Step 4, but I have mixed feelings about "retirement planning" so it hasn't been a whole-hearted effort.
This week we came to peace with the fact that we'll have to pay a bunch of money to get out of our rental property. It was bright blue when we bought it. Even though its color was changed the first week we owned it, we've always called it The Blue House. And it's always made us blue [5]. It has been nothing but a bad experience for ten years and we're ready to be done with it. It will take a hefty chunk of our savings to do so.
Thus, the gazelle intensity is back. And it's okay, we know how to do this. We've got a financial goal [6] and we'll hit, Lord willing.
In fact, working on our finances has been one of the best things for our marriage. Ever since we started this war against debt and low finances seven years ago, we've had to talk more about hard issues and work through disagreements. We've had to strategize ways to make things work, to enjoy good things for less, and to make do. One of the highlights of the experience has been the feeling of camaraderie as we do battle together.
FishPapa now keeps a box of cereal and a container of milk at work so that he can make a cheap lunch instead of eating out. Yesterday when I met him for lunch, I packed salads made with bits of leftover items in the fridge, grabbed water from home, and sneaked some cooked out the door so the kids wouldn't see. We saved $15 right there!
Last night I made pizza instead of leaning on Costco like we did a few weeks ago. It tasted way better and was tons cheaper.
The Gazelle is back! Seven years ago when we started battling debt, I had a lot more time on my hands. Now, I feel like I have no time to do what's on my list, let alone to add things to the list. But, I know the end result will be worth it. I can't wait to sell that house to someone else.
Meanwhile, here's what's been happening on Life as MOM: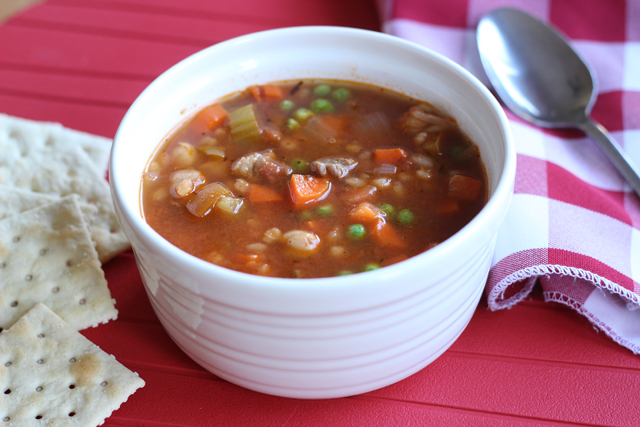 [14]
Here's what's been happening on Good Cheap Eats:
Coming next week:
free printables for Back to School
the New Organizing Life as MOM calendars
How to Create a Budget
Elementary School curriculum
Fun photo tutorial
Be sure to let me know what stories and articles are helpful to you and what you'd like to see more of in the coming weeks. I want to make your "life as MOM" as fun and as easy as possible.
---
Article printed from Life As Mom: http://lifeasmom.com
URL to article: http://lifeasmom.com/2014/08/the-weekly-ramble-42.html
URLs in this post:
[1] RSS feed: http://feeds.feedburner.com/lifeasmom/oGdA
[2] free updates via email: http://feedburner.google.com/fb/a/mailverify?uri=lifeasmom/oGdA
[3] my free seasonal newsletter: http://eepurl.com/q47Vb
[4] these "baby steps": http://www.daveramsey.com/new/baby-steps/?ectid=lifeasmomsteps
[5] And it's always made us blue: http://lifeasmom.com/2014/01/your-biggest-money-mistake.html
[6] a financial goal: http://lifeasmom.com/2012/01/setting-financial-goals-frugal-friday.html
[7] Homemade Pizza recipes here: http://goodcheapeats.com/category/main-dishes/pizza/
[8] 5 Important Questions to Ask Yourself about Life: http://lifeasmom.com/2014/07/5-important-questions-to-ask-yourself-about-life.html
[9] Booking It Update: Reviews of Delicious, The Warden and The Wolf King, & Mastering the Art of French Eating : http://lifeasmom.com/2014/07/reviews-of-delicious-the-warden-and-the-wolf-king-mastering-the-art-of-french-eating.html
[10] Homeschool Curriculum for the Logic Stage (or the Middle School Years): http://lifeasmom.com/2014/07/homeschool-curriculum-for-the-logic-stage-or-the-middle-school-years.html
[11] Get a Good Routine Going: http://lifeasmom.com/2014/07/get-a-good-routine-going.html
[12] How to Curl Your Hair in 5 Minutes: http://lifeasmom.com/2014/07/how-to-curl-your-hair-in-5-minutes.html
[13] 7 Steps to Better Finances: http://lifeasmom.com/2014/07/7-steps-to-better-finances.html
[14] Image: http://goodcheapeats.com/2014/07/vegetable-beef-and-barley-soup/
[15] A Meal Plan for the Week: http://goodcheapeats.com/2014/07/a-meal-plan-for-the-week-2/
[16] Amazon's Prime Pantry: http://goodcheapeats.com/2014/07/lemon-blueberry-icebox-cake/
[17] Lemon Blueberry Icebox Cake: http://goodcheapeats.com/2014/07/white-bean-salad/
[18] A Review of the Ninja Ultima Blender: http://goodcheapeats.com/2014/07/a-review-of-the-ninja-ultima-blender/
[19] Quench Your Thirst: http://goodcheapeats.com/2014/07/quench-your-thirst/
Click here to print.