Freezer meals have changed over time. Now they are diverse and versatile and super easy to make. Wondering what you can freeze? Here's what:
This post was originally published November 28, 2009. The list still works for me.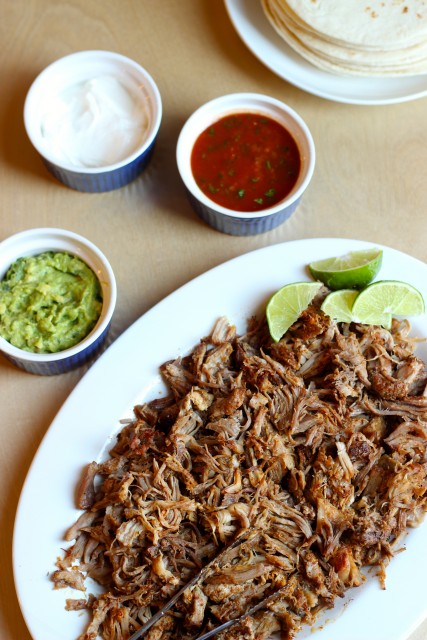 Often when people hear the words, freezer meal, they imagine a cold, hard slab of a casserole covered in ice crystals. Ick. Makes freezer cooking sound unappealing, doesn't it? How about this instead?
That puts a new look on a frozen dinner, doesn't it? Carnitas are easily prepared ahead of time, cooled, wrapped well, and stashed in the freezer for dinner later in the month. Just add corn tortillas and fresh guacamole and you're good to go.
Traditionally freezer meals were casseroles or consisted of a base of canned cream soup. That's so not the case any longer.
It's not as if the entire meal has to be prepared ahead of time. Just think through your favorite recipes. What can you do in advance without loss of texture or taste?
I have experimented with meals such as Peanut Butter Chicken and found ways to make parts of it ahead of time. I cook the chicken and veggies, cool and wrap, package the sauce separately, and make sure that I have noodles in the pantry to cook on the day of serving. Then I can assemble the meal quite quickly without having to chop, shred, dice, or mix, saving myself a ton of time and energy.
If you're not sure something will freeze, test it out next time you serve it for dinner. Freeze a portion size before or after cooking. Then try it a few days later. If it tastes good, you know it will freeze well.
You'd be pleasantly surprised by what you can cook and freeze for later. I love casseroles with the best of them, but you don't have to limit your big batch cooking to just 9×13 inch pans. The following is a list of what I've found that freezes well. It's not an exhaustive list. There's more that I haven't yet discovered. Your options are almost limitless!
What You Can Freeze
meatloaf – I like to mix and form the loaf, wrap in foil, stash in a freezer bag and freeze prior to baking. I think it tastes fresher this way.
meatballs – Use the same meat mix that you use for meatloaves, form the balls, bake them in the oven and then freeze family-size portions in freezer bags. Later you can turn them into Swedish Meatballs, Sweet and Sour Meatballs, Spaghetti and Meatballs, and Boules de Picolat.
hamburger patties – Flash freeze uncooked patties on a plastic-lined cookie sheet. Once patties are frozen, place in a freezer bag.
seasoned ground beef – Cool the cooked meat and store in a freezer bag or freezer-safe container. Incorporate later into tacos, chili, casseroles, nachos, burritos, and chimichangas.
meat and chicken in marinades – Place uncooked meats in freezer bag or freezer-safe container with marinade. Thaw in a dish in the refrigerator and cook as you normally would, right before serving.
meat and chicken presliced for stirfry – Store in freezer bag or freezer-safe container.
casseroles and lasagnas – I use my regular baking pans, cover with a sheet of aluminum foil and then place in a freezer bag. If I don't have a big enough freezer bag, I double wrap it with heavy-duty aluminum foil that I reuse over time.
pasta sauce – Cook up a big batch of sauce, with or without meat, in freezer-safe container.
cooked chicken – Seal securely in a freezer bag and use later in chicken salad, soft tacos, burritos, nachos, Asian dishes, soup, and sandwich fillings.
chimichangas – Prepare burritos or griddle-crisped chimichangas, cool completely and seal in freezer bags. Wrap in plastic wrap first if you'll be stashing these in lunch boxes.
tamales – Leave steamed tamales in their cornhusk wrappings. Seal well in a freezer bag. Resteam right before serving.
taquitos – Flash freeze on cookie sheets then stash in a freezer bag. Bake frozen.
carnitas and shredded beef or pork – Store cooked meat in freezer bags or freezer-safe containers. Use in tacos, burritos, nachos, soup, and BBQ sandwiches.
stews, soups, and chilis – Cool and freeze in freezer-safe containers. Consider making portion-size containers as well for quick lunches and snacks.
cooked beans – Prep a big batch of dried beans and store 2 cup portions in freezer bags or freezer-safe containers. 2 cups is just about the size of a can of beans. Perfect for all your favorite recipes.
What You Can't Freeze
There are some things that are better left unfrozen. Here's my short list:
white potatoes – These generally discolor and lose texture. Money Saving Mom uses this freezer-safe recipe for mashed potatoes that works.
certain recipes containing mayo – The mayonnaise can tend to separate, but I've never worried about it too much
lettuce/salad and veggies to use in fresh applications – Sog City, baby. 'nuf said.
What do you freeze to enjoy later?
If I missed something, I'd love to know what you've had success with.

Wondering what more you can make ahead and freeze? Check out the Ultimate Freezer Cooking post.