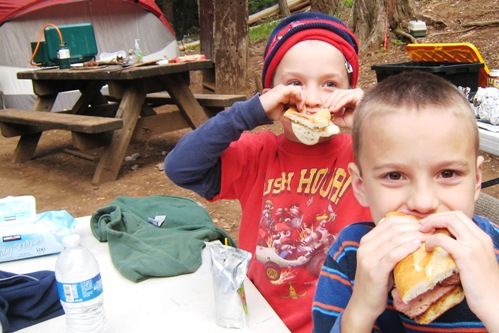 It would seem that kids are always hungry: breakfast, 2nd breakfast, elevensies, luncheon…. Oh wait! Is that hobbits or kids?
Same thing, really.
While three (or more) good meals are a great base, a healthy afternoon snack can be just the ticket to help kids — and adults — make it through the 3:00 slump.
As our family moves away from a steady diet of processed foods toward more wholesome fare, I've been looking for ways to provide snacks without resorting to boxed crackers, gummies, and other pre-packaged foods. At the same time, I need to serve foods that won't break the bank!
Can healthy eating be budget friendly? You betcha!
Happy Snackers
Check out these ten fall snacks that are mostly unprocessed, feature seasonal foods, and that won't bust the budget.
1. Apple Dippers
Serve apple slices with a healthy dip like nut or seed butters or even a little maple whipped cream.
Apples are typically on sale this time of year, making for a very frugal snack. Buy apples that are firm and unblemished and store them in the refrigerator. Consider buying a big box if you have the storage space. Look for organic apples if you can since apples tend to hold onto the pesticides.
Any way you slice 'em, kids will gobble up them apples.
2. Ants on a Log
My kids love this snack of celery spread with sunbutter (or nut butter if you don't have any allergies to contend with) and dotted with craisins or raisins.
Celery is another one of those Dirty Dozen vegetables that retains the pesticides, so buy organic if you can. If celery's not already on sale in your neck of the woods, it will be soon for the Thanksgiving holidays.
Store celery in the crisper drawer of your refrigerator. Limp celery can often be revitalized by an ice water bath.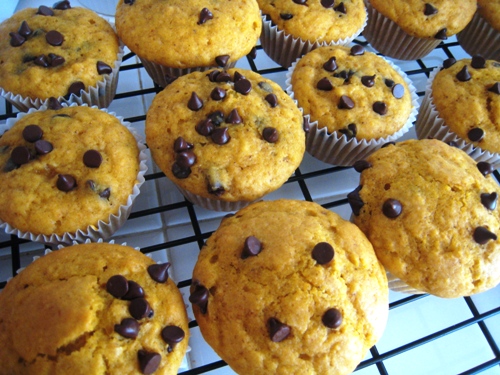 3. Pumpkin Muffins
I'm able to get a wealth of veggies into my kids when I bake them into muffins and quick breads. These Pumpkin Chocolate Chip Muffins will put a smile on any kid's face.
Pumpkin, either fresh or canned, should be in full supply at the stores right now. And baking your own baked goods is an easy way to eat well and spend less.
4. Yogurt with Maple Syrup
This is one of my favorite snacks! Plain yogurt, preferably full fat because it tastes creamier, drizzled with maple syrup is divine.
If you buy the yogurt in large containers, you can usually find it on sale. Real maple syrup can be pricey, but so worth it. I buy it in bulk quantities at Costco or Trader Joe's.
Several of the FishKids prefer honey on their yogurt. That may be a more economical choice for some families.
5. Applesauce
Applesauce is a very affordable snack, packed with vitamins and fiber. You can buy large jars and dole it out, or make your own in the crockpot. It freezes extremely well, meaning that you can maximize your time by making a ginormous batch. My kids like to eat it still partially frozen, like a slushie.
If pears are on sale, you can make pear sauce in the same way.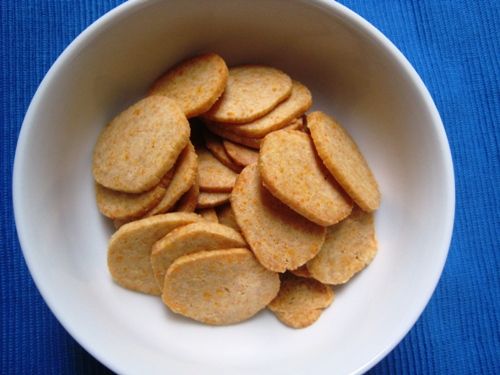 6. Cheddar Coins
These homemade cheese crackers are quick to pull together if you have a food processor. And they taste just like the boxed variety – only less addictive and a little bit healthier. You can also bake and freeze the coins to enjoy at a later date.
7. Cheese Slices and Homemade Bread
Baking fresh bread is not all that difficult, especially when you have a bread machine or follow the 5-minute Artisan Bread method. It's easy, quick, and much cheaper than storebought bread. Hand your kids some cheese and a chunk of bread for a very Hobbit-like snack.
8. Hummus and Carrot Sticks
An egg allergy has eliminated ranch dressing from my repertoire. Good thing, too. It led us to make hummus a regular addition to the menu. My girls and I hover around the bowl and eat this healthy bean dip to our hearts' content.
While I have several store brands that I love, I recently found out that it's not all that difficult to make my own hummus. It's incredibly inexpensive to make, especially if you omit the tahini. Serve with home-cut carrot sticks for an uber-frugal snack.
9. Croutons
Got leftover bread that no one wants to eat in a sandwich? Transform it into croutons. Sure, croutons usually top salads. But, when I make homemade croutons, very few make it to the salad bowl!
Toss bread cubes with a little melted butter or olive oil and toast them in the oven or in a pan on the stovetop. You can season them with garlic powder and herbs or go in the other direction and douse them with a little cinnamon sugar. Either way = yum!
10. Let them eat cake!
Snack cakes are a perfect little pick-me-up. They bake quickly without a lot of fuss. Boost their nutrition by adding seasonal fruit.
Inspired by a plum cake, I created this Spiced Pear Cake that disappeared in one sitting. We'll be making it a lot more this winter. You can speed up the production by putting the dry mix in a bag marked with baking instructions. Homemade convenience on the cheap!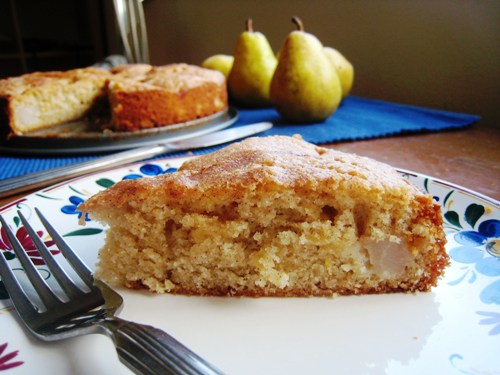 Recipe: Spiced Pear Cake
Ingredients
1 1/4 cups unbleached all-purpose flour
1 teaspoon baking powder
1 teaspoon lemon or orange zest
1/2 teaspoon ground cinnamon
1/4 teaspoon salt
1/4 teaspoon ground nutmeg
1/4 teaspoon ground ginger
1/2 cup (1 stick) butter, softened
3/4 cup plus 1 tablespoon sugar
2 large eggs
1 teaspoon vanilla
2 to 3 large pears, peeled, cored, and cut into 1/8ths
Instructions
Preheat the oven to 350&deg. Grease a 9-inch springform pan.
In a large mixing bowl, whisk together the flour, baking powder, zest, 1/4 teaspoon cinnamon, salt, nutmeg, and ginger.
In another large mixing bowl, cream together the butter and 3/4 cup sugar until light and fluffy. Add the eggs, one at a time. Blend in the vanilla.
Add the flour mixture and blend until well combined. Do not overmix.
Pour the batter into the prepared pan. Place the pear slices in a circle around the surface of the cake, spacing about 1/2-inch apart.
In a small bowl, combine the remaining 1/4 teaspoon cinnamon and the 1 tablespoon sugar. Sprinkle this mixture over the pears.
Bake the cake for about 30 to 35 minutes or until a tester comes out with a few crumbs attached.
Cut around the cake to loosen it from the sides of the pan. Release the sides of the springform pan. Cool on a rack.
Cake can be served warm or at room temperature.
Preparation time: 10 minute(s)
Cooking time: 35 minute(s)
Number of servings (yield): 8

This post is part of an ongoing series about how to eat well and spend less. Along with some fabulous foodies, organizers, and frugalistas, I've been bringing you suggestions on how to eat like a king without becoming a pauper to do it. This month we're discussing how to make the most of fall foods, sales, and other seasonal situations.
Be sure to check out what the other ladies are sharing this week or browse their archives:
What's a favorite budget-friendly snack at YOUR house?