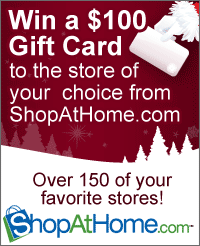 Remember when I told you about this cash back site I found called ShopAtHome? Have you checked it out yet? I have already made a couple purchases in the last week, snagging free batteries as well as some new clothes from Old Navy at ON's 20% off Cyber Monday Sale. Not only did I get free shipping and 20% off from Old Navy, but I also will get 20% back from ShopAtHome.com as well. How cool is that?



I'm amazed at the great savings you can find in one place. Talk about one-stop shopping. For head's up on deals and special cash back bonuses, be sure to subscribe to the ShopAtHome Blog, follow ShopAtHome on twitter or become a fan on Facebook.


Yesterday ShopAtHome.com put their Gift Card Guide front and center. Often times if you make a purchase through a cash back site, the special bonuses don't apply to gift card purchases. But, at the SAH Gift Card Center there are plenty of stores that offer a discount, like 7% off Barnes and Noble gift cards! I like that.


This week one of my lucky readers will win a $100 gift certificate to the participating merchant of his or her choice, listed in the ShopAtHome.com Gift Card Guide. Winner MUST be a registered member of ShopAtHome.com. It's free to sign up. (You don't have to make a purchase in order to win.) Giveaway will be open until Sunday night, December 6th, at 8 pm, PST.
To enter, simply leave a comment here, telling us your favorite merchant over at the ShopAtHome Gift Card Guide. Please make sure that you leave a way for me to contact you in the event that you win.


Encouraged by what you've read? Subscribe to LifeasMOM by email or in a reader and join me on the Road to Joyful Motherhood.