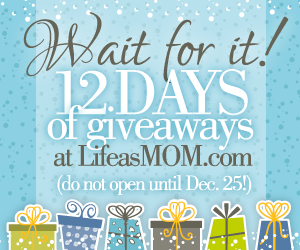 This year, I've been trying to be more thankful, instead of expectant, when it comes to Christmas. I want to be the person I want to be all year long. It's a way for me to battle the gimmes, the blahs, and the ghosts of Christmases Past. This year, starting on Christmas Day, I'll be sharing 12 days of giveaways, featuring some of my very favorite gifts, goodies, and experiences.
There are no sponsors, other than me and my sweet husband, partnering with me to thank YOU, for being a loyal Life as MOM reader, and more importantly, for being the MOM that God has given to your children.
You might not get accolades on the home front day in and day out, but I want YOU to know that what you do is valuable. Your life as MOM matters.
These gifts are a small token of my appreciation to YOU for fighting the good fight.
Pop in every day starting December 25 for your chance to win some small, but fun prizes. I can't wait to give you some of my very favorite things!