There is a world of creative ideas to cover Christmas celebrations. Check out some of these winning ideas.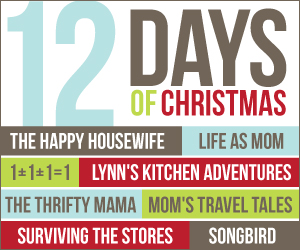 Over the last few weeks I've been sharing quick and easy ideas for family fun while some friends shared tips in different areas. Here's a recap:
1+1+1=1 shared ideas for Christmas Homeschool Fun. I really like the sensory bin for Christmas. I've been reading about them for months, but have never done one with my kids.
Songbird posted some ideas for Christmas Decorations. I love the ways that she gave her bedroom such an inviting atmosphere.
I loved these Tips for a Healthy Holiday from The Thrifty Mama. Love how she powdered raw sugar for frosting and cookie decorating.
Rachel of Surviving the Stores posted tips for Saving Money, including some great ways to save money on gift cards.
Life as MOM contributor and globetrotter extraordinaire, Amy from Mom's Travel Tales put together a great series of Travel Tips. My favorite? Reasons to have a Hotel Staycation. Fun!
Christmas Recipes to drool over? Lynn's Kitchen Adventures has you covered. I love her homemade candies, like these Heath bars. Great way to avoid food allergies and sensitivities! Make your own.
The Happy Housewife has you covered on Homemade Christmas Gifts. Love the homemade potpourri.

And for Family Fun….
That's my department! Check out the links to my past posts in case you missed one:
What's YOUR favorite part of the holidays?