12 Ways to Save Money on Christmas (& a FREE download)
As an Amazon Associate I earn from qualifying purchases. For more details, please see our disclosure policy.
Christmas can be a great time with friends and family. Let's plan ahead to stay under budget, too. Be sure to download the free Christmas coupons to get you started.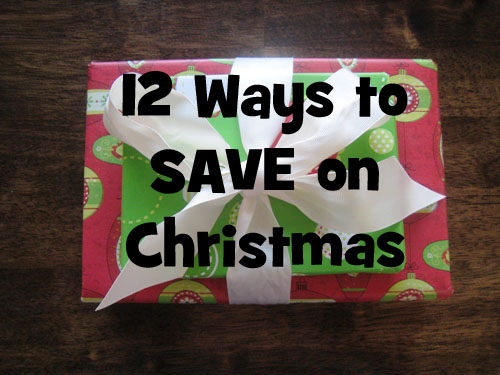 Earlier this week I posted a boatload of Christmas ideas and giveaways in honor of "Christmas in July". I'm a Christmas Geek and love to plan and think about the holiday season. It's one of my favorite times of the year.
Over the years, however, I'm learning moderation. I don't want to go overboard. I don't want to spend too much money. And I want to make sure that I'm not distracted from the real reason for the celebrating: that Jesus lived among us to show us the way to eternal life.
Part of making the season simpler and more focused on the important stuff involves some pre-planning on my part. If I give a few thoughts to Christmas now, I can save myself a ton of stress, money, and worry later.
Isn't that how it is with all of life?
So, today I present 12 ways to save on Christmas:
1. Start planning early.
For some people, early might be December 26th. For others it might be July. For me, I definitely want to have some plans in place by Labor Day. This gives me a good three months to start ideas and plans percolating in my head.
It also helps me be mindful of sales and other specials that I might want to take advantage of in those preceding months. Back to school sales and their concluding clearance deals are great opportunities to buy ahead for Christmas gifts and shoebox donation projects.
You might want to grab a copy of A Simpler Season this week. No matter when you start your planning, it will give you ideas and tutorials to get your Christmas projects underway. Plus, if you use the coupon code XMASJULY you can get the book for a mere five bucks.
2. Set some limits.
If you decide now how you will approach the holiday season, you won't be swayed by all the hullabaloo that happens as Christmas approaches. Decide on a holiday budget, how many parties you will host, how many gifts you will give, and so on.
Doing it with a sane mind will help you save money later when everyone's going crazy.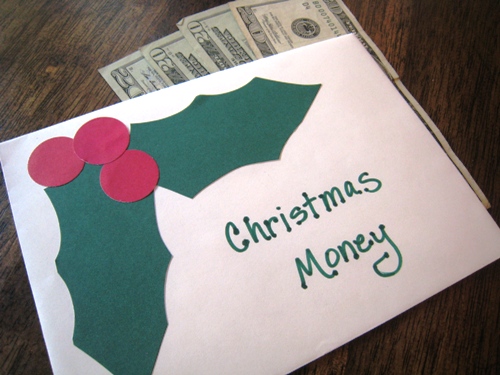 3. Save money.
There are five months (more or less a week or two) until Christmas arrives. That gives you a good while to set aside some cash for increased holiday spending.
Be honest. You know you want to spend more money in November and December. So plan for it, instead of feeling guilty about it later.
4. Plan to pay cash.
I know there's lots of debate on this one. Obviously, you can't pay cash on online orders. But, when you go into a physical storefront, you are more likely to "count your pennies" if you've left the credit or debit cards or even the check book at home.
If greenbacks are all you got, then you'll choose more wisely than you might with credit or check. Those forms of payment often know no bounds — until you're overdrawn or overlimit. If you've followed steps 1, 2, and 3 above, you're be well placed to pay cash and not feel buyer's remorse over your purchases.
5. Make it yourself.
For many, many years, all our family's gifts were homemade. I had more time than money, so it made the most sense. Here are some of the handmade Christmas gifts I crafted.
Over on Simple Kids, Kara is leading the masses to craft handmade Christmas gifts for children. You are bound to get lots of inspiration. She's hosting monthly crafting bees to encourage you to keep up with your projects.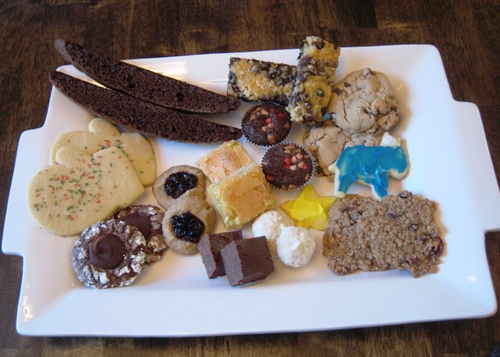 6. Bake someone happy.
I love to bake cookies at Christmas time. Eat cookies. Give cookies as gifts. And eat some more cookies!
And believe it or not, if you package them properly, you can bake them a month in advance and store them in the freezer. Using your freezer also allows you to present a variety of cookies without spending a lot of time in one day.
Here's how I make up a dozen different cookies without a ton of work.
7. Use Swagbucks.
Swagbucks is a search engine that rewards you with points for doing something you do everyday, surfing the internet. You can redeem the points for gift cards like for Starbucks or Amazon. Start this early and you'll be able to accumulate enough points to help you offset some of your gift-giving costs.
Remember that you can only redeem points for two prizes per day and five of any one prize per month. Don't put off prize redemption until December; it won't work. Instead continually redeem your prizes over the coming months.
8. Shop Online.
I love shopping online. After years of spinning my wheels, burning up gas, and latching and unlatching children from carseats only to find that the store didn't really have what I wanted, I've learned to do my shopping at home in my pajamas.
The exceptions are to support local businesses as well as to buy things at the last minute. But, overall, Amazon Pre-order and Amazon Prime have served us well.
9. Request free samples.
I can't take credit for this brilliant idea; I got it from Freebies4Mom years ago. As you see offers for free samples of cereal, granola bars, snack bags, coffee, etc, request these and then save them! They make wonderful budget-friendly stocking stuffers or additions to DIY gift baskets and they won't cost you anything but self-control not to dig in right away.
Create a basket high on a shelf in your pantry to collect them and don't tell the kids. Also, be sure to check expiration dates so you're not gifting stale snacks.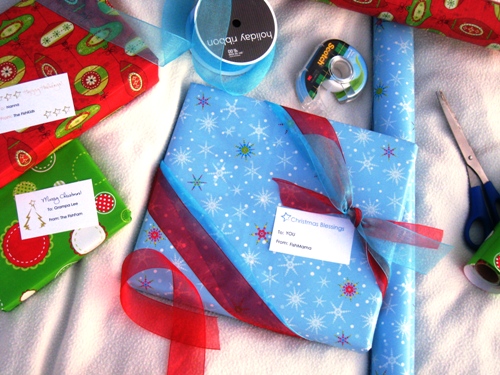 10. Buy ahead.
If you see a great sale or clearance deal and are 95% sure it will make a good gift for a specific person, then snatch it up and store it in your gift closet. The key is making sure that you have a specific person in mind. A lot of the things in my gift closet are great gifts, but I don't have anyone to give them to!
Be sure you're right, then buy ahead. (I think Davy Crockett once said that.)
11. Plan for experiences.
Carrie is a Christmas geek like me. I loved her recent reflections on how experiences and time spent with people we love are really more important than a ton of gifts under the tree.
Plan more experiences than presents this year! One way to do that is to create custom coupons that can be redeemed for game nights, back rubs, walks in the park, whatever you and your loved ones like to do together.
I've created two coupon pages that you can print, clip, and give as gifts and stocking stuffers. There are fillable fields and the "from" fields will auto-populate. Just type it in once and all the coupons will fill.
You can print the colored version or download the black and white version that you can later embellish with stickers, drawings, and doodles. The black and white version is a great base for kids to create their own custom coupon packs for FREE to give as gifts to friends and family.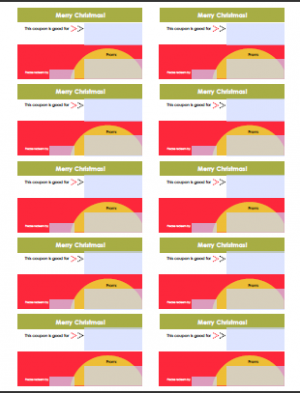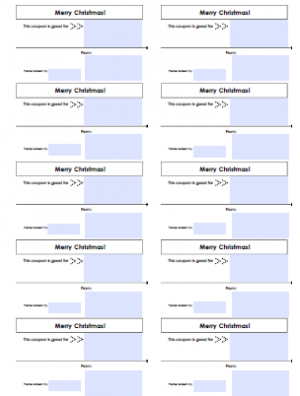 12. Keep perspective.
The holidays are a wonderful time. They hearken to the child in each of us. We often dream of wonderful get-togethers, fabulous feasts, and memorable gifts.
However, even the best laid plans don't go according to plan. And finances and jobs don't always deliver as they should. We can have wonderful get-togethers, fabulous feasts, and memorable gifts –even without a lot of money.
And that is something to think about, no matter the status of your bank account.
Today's Frugal Friday!
Time to swap ideas and inspiration for saving money.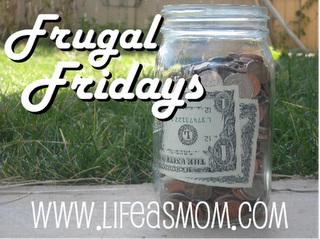 How do YOU save money?
Please remember to follow the Frugal Friday Guidelines or be deleted.
Post a money saving idea and explain how it is helpful in your post.
No giveaways or deals posts.
Recipes are allowed, but you must explain how it saves people money.
Please include a link back to Life as MOM.