13 Ways You Can Go Green
We are a participant in the Amazon Services LLC Associates Program, an affiliate advertising program designed to provide a means for us to earn fees by linking to Amazon.com and affiliated sites. We participate in other affiliate programs as well. For more details, please see our disclosure policy.
No doubt this week you've heard lots of "green" messages, both here and elsewhere. I hope that you've been inspired and encouraged. Please don't feel a mandate to "change your ways, or else." Find your groove and go with it.
We certainly don't do all that we could, and in reality, are just getting our feet wet in this green living. It helps that many of these things save us money, too. Money is a great motivator!
Here are just a few ways that we can practice good stewardship of the wonderful world God gave us.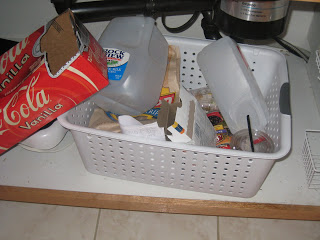 1. Recycle. We recycle bottles, cans, paper, plastic containers, and cardboard. I keep a large plastic bin under the kitchen sink. Everything that can be recycled goes in there. We get as many free recycling carts as we want from the waste disposal company. If we weren't recycling, we'd need to pay for another trash cart. So, this seems like a win-win situation for our family.
2. Avoid plastic bags. I use reusable grocery bags when I shop. It's taking some getting used to, but I love it! I still have too many plastic grocery bags in my home, but we've reduced the amount significantly. (Don't forget to enter my Envirosax giveaway!)
3. Use reusable. We recently bought reusable water bottles for our drinking pleasure. The boys love theirs that come in insulated cases that clip to their belts. Oh my! Not only is this reducing waste, but we're saving money by not buying cases of water from the store. But, there are lots of other things that we can reuse, like cloth napkins, cloth diapers, nursing pads or even feminine products!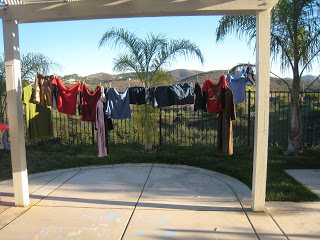 4. Line dry your clothes. You'll save in energy costs as well as saving energy resources. We've dabbled in drying clothes on the line. As soon as I get over my fear of bees and moths, I'll get back to it. Perhaps this summer when temps hit the 100s.
5. Go meatless. It can save you money as well as leave you room in yor diet We don't eat meat every night, and we've lived to tell about it. Check out all these great meatless recipes for inspiration. Consider adding soy to your diet as a meat-alternative. (Enter to win 8th Continent complete here.)
6. Buy Local. If we buy local, we are (hopefully) getting fresher food and reducing the amount of energy used to transport that food to market. Plus, we are supporting the economy of our own communities. Availability can vary from season to season as well from place to place. But visiting farmers' market, a local farmstand, or even picking your own can be great fun.
7. Reduce Energy Usage. Not only does this help save energy resources, but it will also save some pennies on your energy bill. We live close to FishPapa's work so our fuel usage is very minimum. He has even considered riding his bike to work, which would save us even more. I'm also a "turn-out-the-lights" hound. (I guess my dad was right! I sound just like him when I shout, "Why are all these lights on?")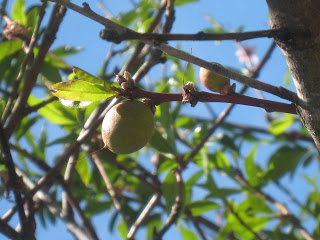 8. Grow your own. Growing your own food makes great use of your little plot of land, can save you on grocery expenses, and allows you control over what chemicals come in contact with your menus. We are blessed to have a peach tree growing in our yard right now and look forward to eating fresh peaches this summer. Next week, the kids and I will be planting some fruits and veggies. If you're interested in learning how to grow backyard fruit, enter this giveaway.
9. Avoid chemicals.Wash pesticides and chemical fertilizers from produce prior to consumption. Make your own cleaners. Use safer paints and furnishings. (Enter to win EcoSmart organic, all-natural bug spray.)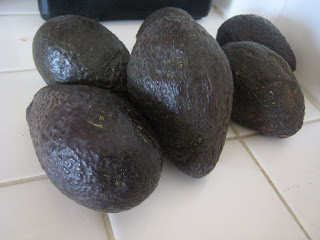 10. Go organic. It can be easier to fit into your budget than you think. And it's better for your health, too. I often have been able to buy marked down produce and canned goods for less than the non-organic equivalents. Sometimes sales on organic are better than others. Organic coupons abound as well. Just keep your eyes open.
11. Compost. This is the next thing on my list, especially as we get our vegetable garden up and running. I think I will tackle Jennifer's trash can method, though Suzie's way with worms would certainly prove interesting.
12. Turn trash into treasure. Julie, Katie, Abbi, and Jill all presented some great suggestions for diverting items from the landfill.
13. Resell and buy resale. This keeps items from the landfill a little longer. Have a garage sale. Donate your discards to your local thrift store. Shop thrift, consignment and garage sales. Jennifer@BalancingBeautyandBedlam has amazing ideas on getting beautiful clothing for pennies. I'm going to watch and learn.
(If you donate items to a charity, please make sure that you're considerate of their hours and donation guidelines. I've seen piles, no, mountains of discards left out in the rain outside Goodwill because people didn't go during business hours. This doesn't help them – they pay thousands in dump fees, not to mention manpower, when people leave unsaleable items to be sorted and/or dumped.)
These are just a few things that come to my mind in how we can pursue good stewardship.
What have I forgotten? Tell me in the comments.
For more Thursday Thirteen, visit Happy to Be at Home.