18 Years Ago Today
We are a participant in the Amazon Services LLC Associates Program, an affiliate advertising program designed to provide a means for us to earn fees by linking to Amazon.com and affiliated sites. We participate in other affiliate programs as well. For more details, please see our disclosure policy.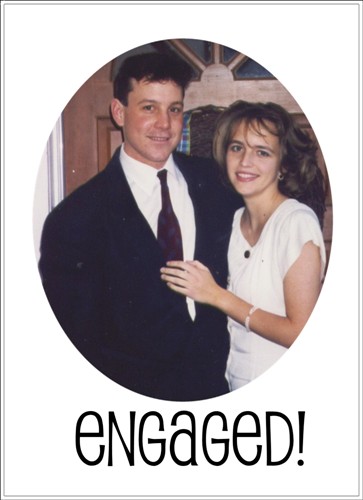 Today is my husband's birthday. We got engaged on this day eighteen years ago. Look! I think we were teenagers!*
I find it amazing that my skin once looked so good. Thankfully, I've had much better hair days…. and hair decades since then, though.
January 29, 1994 was a Saturday. Unbeknownst to me "Fish" had secured the ring months before and had slowly been paying it off. He had planned to propose on his birthday. He got paid on Friday and was going to head down to the ring shop a couple towns away to make the final payment.
However, for some reason he wasn't able to get there before they closed. I don't remember if they closed early or he got off late or what. He was desperate, asking the receptionist if someone could stay later or if he could pick it up at someone's home. Finally, he asked for George.
You see, George owned the company. And his motto was that he was "your friend in the diamond business." George would help. They made plans to meet at the local college's homecoming basketball game that night. George was an alumnus of that school. (So were many of our friends who would be there, wondering what Fish and the diamond man were doing together….)
George would be able to recognize him by his LA Kings hat.
That Friday night, Fish bowed out of dinner with my mom and me, saying he needed to go see somebody about a job. He was a self-employed contractor, so that made sense. But, he was wearing a ratty, old LA Kings Hat.
You gonna go wearing that hat? It's practically falling apart?! says I.
I almost took it from him. He was shaking in his boots that I might. Then where would he be?
Today I'm baking him an LA Kings birthday cake. You can imagine that the ring for cash exchange went over well. None of our friends were the wiser, except for the woman I lived with who snapped this photo before we went out to dinner the next night.
There's no way Fish would get all dressed up like that unless he were going to propose.
And now you know the rest of the story.
*We weren't. He was just in his thirties and I was "almost" 22.