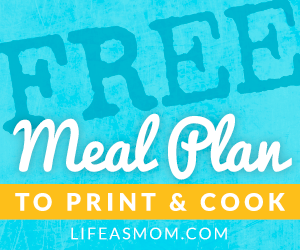 Did you know that there are now 20 printable meal plans in the Life as MOM archives? That's 20 weeks where you can print off the recipes and grocery list for a bunch of healthy meals, hit the store (or send your spouse), and come home with a plan in mind for suppers all week long?
That's like 5 months of taking a break from chaos, late dinners, and food kids don't like. Sounds pretty sweet, don't it?
Here's the list of all 20 weeks' meal plans. Check them out, print a few, and enjoy some peaceful dinners this week.
Not convinced you even need a meal plan? Well,
go here
.