25 Days of Anticipation and Family Fun
We are a participant in the Amazon Services LLC Associates Program, an affiliate advertising program designed to provide a means for us to earn fees by linking to Amazon.com and affiliated sites. We participate in other affiliate programs as well. For more details, please see our disclosure policy.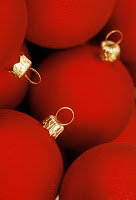 The days of December leading up to Christmas are traditionally filled with much anticipation. The season of Advent represents the long years that the Israelites awaited the coming Savior.
There are many different ways to observe the advent time. To my surprise the comments on this post have been a flurry of Advent ideas. I mentioned that our Jesus ornaments play a big part of our December days. "Advent calendars" are another great way to countdown the days.
When we were children, my mother made simple candy calendars that hung on the wall. Here's a detailed post from one of my sisters explaining how to make one.
Another type of countdown is one I heard about from Lois. She has a great post about an advent calendar she created. I am not as ambitious as she – no sewing stockings for me!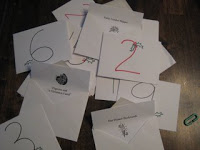 But, I last year I created a list of activities, similar to hers, that I put on cards in festive envelopes. They're "fun things," not necessarily "spiritual," but activities, that on a good day, give us sweet time and sweet memories together as a family.
Following Lois' lead, I made up a list of 24 activities to do together as a family. I didn't need to make a #25. Christmas Day is a party all in itself. I put them on cards with pictures for my non-readers and sealed them in envelopes.
This is definitely a project you could plan and put together long before Walmart rolls out the tinsel and lights.
Here's are some of the activities on my list to help spark some ideas of your own:
* game nights – I made several cards for this.
* movie nights: It's a Wonderful Life! A Christmas Carol, Charlie Brown Christmas, Homecoming (The Waltons), The Grinch, The Veggie Tales' The Star of Christmas
* decorate cookies
* make fudge
* no school tomorrow – sleep in tent in living room (for vacation)
* backwards dinner – eat dinner first
* a crash supper – plan with another mom ahead of time that you are going to bring dinner and spend the evening with them. The kids will be so excited to suprise their friends!
* an "impromtpu" donut run – complete in jammies
* light looking
* a treasure hunt dinner – hide the different courses throughout the house and give the kids clues to go gather their dinner.
* make a nativity
* make salt dough christmas ornaments
* decorate the tree
Got another idea? How do you observe Advent? Share it in the comments section!