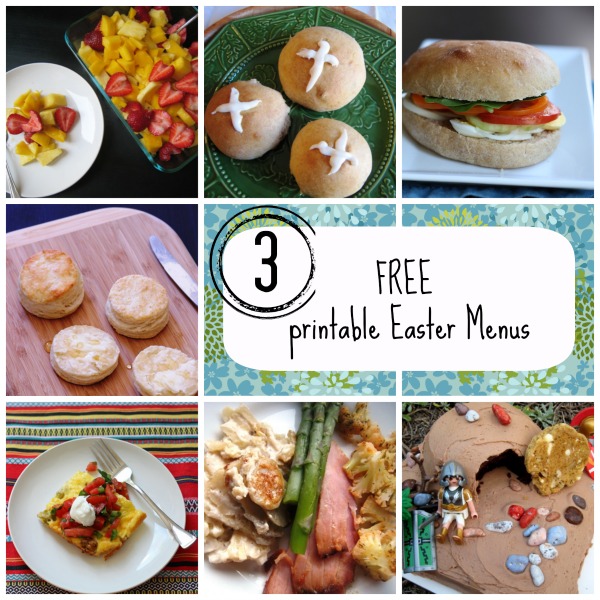 Meal planning for holidays is even more fun than for regular days. I know. Some of you are just shaking your heads. Let's just embrace my geekiness for a moment, okay?
1. Holidays are easier; tradition is involved. You don't have to get super creative.
2. Holidays are special; you can throw out all the punches.
3. Holidays call for tasty, tasty food! Like the BEST scalloped potatoes ever!
We've got three Easter meal plans from which to choose: a fancy Easter meal (ham and scalloped potatoes), an easy picnic (egg sandwiches and salads) and a delicious brunch that you can make in advance.
Here are the recipes featured in the different plans. Print these out and keep them together. I find that when I'm cooking a big meal it helps to have printouts of all the recipes right there. Then I don't have to fumble with devices and cookbooks.
Plus, I can splatter all I want.
Choose one menu for your holiday festivities or choose them all.
Brunch:
Picnic Lunch:
Fancy Meal:
The download contains separate menu and shopping lists for each meal so you can choose just one to make if you like. There is a master list at the back if you want to make all three.

Other Printable meal plans
Did you know that there are now over 40 FREE printable meal plans plus a printable school lunch plan archived here at Life as MOM? There are also a couple plans for which the groceries can be purchased for $70 or less!
Check them out and download a few so you can work your way to great food and peaceful evenings. Plus, stay tuned for several Christmas meal plans to make your holiday merry and bright.
Each meal plan is designed to be kid- and budget-friendly, as well as be doable for novices as well as experienced cooks. And, of course each includes a shopping list and some make-ahead tips to make your week even easier.
Check out the meal plan archives if you haven't already. Want to learn how to make your own meal plans? Take Meal Planning 101.
What's your favorite meal to serve at Easter?