3 Homeschool (or Homework) Organizers
As an Amazon Associate I earn from qualifying purchases. For more details, please see our disclosure policy.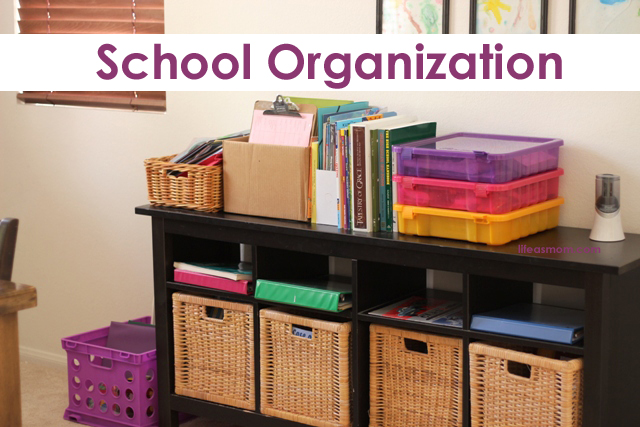 This is it! School starts today! I'm sure that I'm not ready, but when have I ever been?
Except for maybe that first day when I got to take my Mork and Mindy lunchbox to school.
To be honest, I had kind of forgotten about school over the long weekend since I was busily recipe testing. Thanks to reader Wendy who is my prayer cover in all things school and cookbook related. She wrote to tell me she was praying for me — and then I remembered that school starts. Yikes!
Time to get the school room ready. No better time than last minute, right? On Monday morning, I dusted, sorted, and set the boys to helping me set the room to rights in anticipation of tomorrow.
School Organization
At our house school means a return to routine, a damper on video game time, and an increase in library fines checkouts. A few weeks ago I shared my homeschool binder which is my first step toward feeling like I'm sort of ready. This year all six FishKids are "in school" by which I mean I don't have a toddler underfoot anymore; everyone's got their own studies to do.
Since neither FishPapa and I were homeschooled, we've had to feel our way through this lifestyle that, at the start, was so new to us. Over time, we've figured out systems that have helped us bring order out of chaos. There's still chaos, but there's a little bit of order, too.
These are the organizational strategies that have served us well over the years. While we use them in our homeschool, as a former public school teacher, I'm pretty confident that they'll serve you well if your kids go off to school every day and have got homework in the evenings.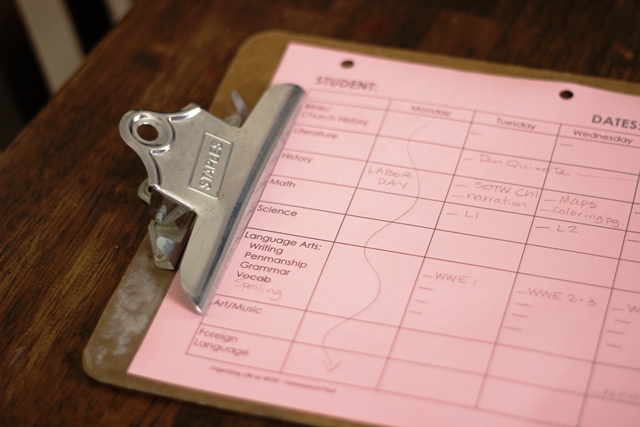 1. The clipboards
As I mentioned previously, each of the kids has a color coded assignment sheet. Each week I fill out the assignment sheet for the week and attach it to a clipboard. Each child has his own.
Not only does the clipboard hold the assignment sheet but it also holds other papers that my student might need to complete during the day or week. The older they are, the more work I can hand over at one time. Littles might receive stuff on a daily basis, while my 11th grader gets it all at once.
The kids are responsible for their clipboards as a means of tracking their assignments as well as communicating to me what's been completed.
A clipboard system will work for families who are tracking homework assignments as well as for those doing all your school at home.
2. The cubbies
No matter where we've lived, we've tried to have a designated area for school supplies, even if it's just a place to put stuff away at the end of the day in a cupboard in the dining room. For the last 10 years or so, we've had some kind of box, bin, or cubby system. These are special areas where each child stores his assignments and the books that are his to use at that time. (Books that everyone might need to reference are stored on a community shelf.)
The cubbies serve as my kids' lockers, if you will. A few years ago we bought the Hemnes sofa table and matching baskets from Ikea. It was definitely a step-up from the cheapo melamine things we'd used in the past. Unfortunately, the sofa table doesn't have as many sections as I have children. My eldest has a designated space on a bookshelf, while my youngest has a purple egg crate to store her books in. The middle kids get the cubbies in the sofa table.
Whether you school in or out, having a designated space for school books is ideal — and really helps keep the messes down.
3. The library shelf
We use the library a lot. There's no way I could keep my kids in books otherwise.
We also pay a fair amount of money in library fines each year. It is getting better, though, in part because we have designated library shelves in our school room. This is where the library books are supposed to be stored. That doesn't always happen, of course, but it works most of the time.
By placing the books in one spot we're more likely to find said books in time to return them to the library.
These three things help us maintain a little bit of clarity and organization in our busy home. None of them work absolutely perfect. I sometimes forget to fill out the assignment sheets by Monday morning; someone's cubby is often a total trash heap; and we still have library fines!
BUT, it'd be a lot more crazy around here if we didn't have these systems in place.
Do you have a favorite manner of organizing school stuff?