Public schooling mom and Life as MOM contributor JessieLeigh has some great ideas on how to reassess and reorganize for school in 2015.
January 1st has come and gone and we've flipped the page to a brand new year. A new calendar year, however, is not synonymous with a new school year. Students are still in the same grades, have the same teachers, and are probably carrying the same backpacks. (The odds are very good that they are wearing new hats or gloves to school, though– the hallways are full of fresh new outerwear following the holidays!) In many ways, the school year is just more of the same.
For most of us, we're hovering right around the halfway point about now. And, while that might not translate to "fresh start," I believe it's the perfect time to get reorganized and revamp tired routines.
Here are three parts of your students' school lives that are worth reassessing.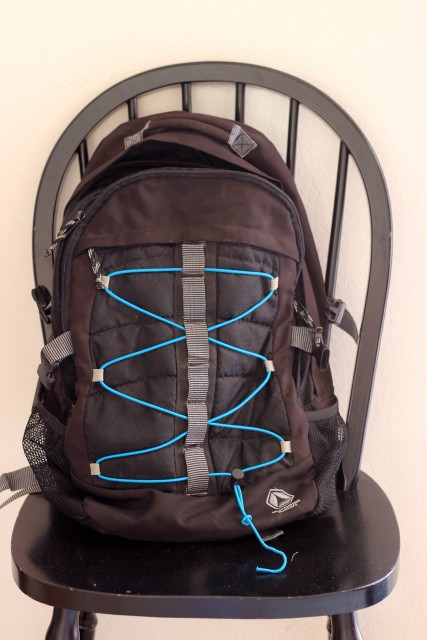 The Backpack
A long time ago, I advised you to invest some money in a decent quality backpack. If you took that advice, the odds are very, very good that your child's pack is still in excellent condition. Even lower quality, bargain packs are probably still hanging in there at this point, so it's unlikely you need to invest any money in a new bag. Still, now is a good time to spend a few minutes getting the backpack back into shape.
First, empty everything out. Do not be shocked or surprised to find crumpled papers, old food, clothes from September, or overdue library books in there. It's amazing the things that can get lost at the bottom of a backpack.
Toss the trash, wash the clothes, dump out old food and crumbs. Grab a warm, damp washcloth and wipe out the inside, focusing on any sticky spills. Next, make sure that you can still read your child's name, wherever you labeled it. Even permanent marker fades over time, so go over the letters so it's nice and clear.
Finally, repack any folders, library books, notebooks, etc. neatly inside.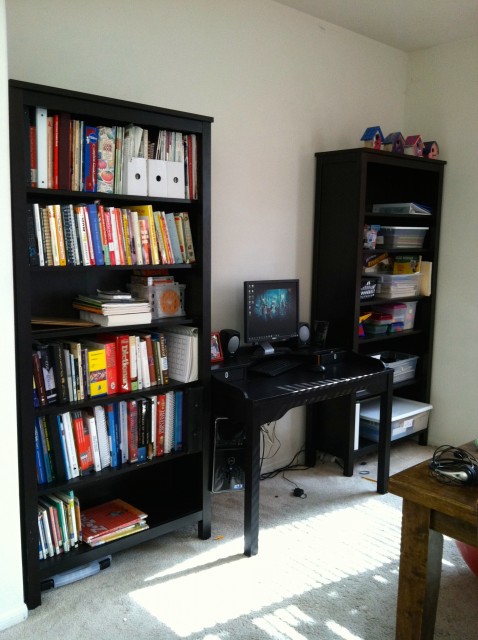 The Homework Station
That sounds very official, as if we all have fancy, designated homework nooks in our homes. In reality, I'm just referring to the area of your home where your children complete their assignments.
About this time of year, it always seems like all of the pencils are broken or missing erasers. The glue sticks are empty. The scissors are missing. The folders are falling apart.
This mid-point in January is a great time to take five minutes and assess your supplies. Do you have working pens? Is the brown crayon lost and gone forever? Is that My Little Pony folder salvageable or should it be replaced?
It is much better to survey and remedy any supply problems now than to find out about them when it's 8:00PM, dark, and freezing and someone has a project due tomorrow– ask me how I know.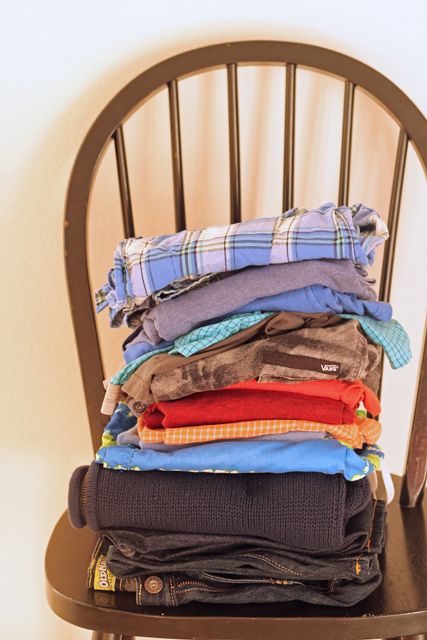 The Wardrobe
Two things happen that seem to make clothing explode in my home this time of year– 1) the holidays arrive and, with them, oodles of darling garments and 2) people declutter their homes and pass on bags upon bags of cute hand-me-downs. These are both wonderful and welcome things! The result, however, is an overstuffed closet and drawers.
Even though it may seem counter-intuitive since we're "mid-season", now is a perfect time to really scrutinize your kids' wardrobes and pare down and sort accordingly.
Are those pants a touch short? Get 'em out of here.
Is that a stain on the shoulder of that shirt? Maybe she doesn't need it, then.
Really be honest and critical– figure out what your children actually need and wear and choose the best-fitting favorites for the job. Things that are too small can be passed on or packed up for younger siblings. Things that are still too big can be put up until your child grows a bit more– there's no reason to take up valuable drawer real estate with these things.
Once the backpack, homework area, and wardrobe are revamped, refreshed, and reorganized, it really can feel like a fresh new start! Even if we do have another eighty-five days in the school year.
What are YOU doing to make things ship-shape at your house?
Related Posts: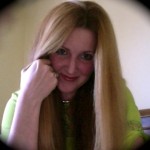 – A mother of three, including a 24 week preemie, JessieLeigh is a determined advocate for even the tiniest of babies. She can be found celebrating life's (sometimes unexpected) miracles and blessings at Parenting Miracles. You can read all of Jessie Leigh's posts for Life as MOM here.