The 30-Day Giving Challenge
We are a participant in the Amazon Services LLC Associates Program, an affiliate advertising program designed to provide a means for us to earn fees by linking to Amazon.com and affiliated sites. We participate in other affiliate programs as well. For more details, please see our disclosure policy.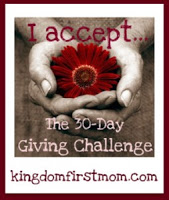 So yes, a week of November is gone – I've been stuck in my freezer – but it's never too late to start giving. Alyssa at Keeping the Kingdom First has a great challenge going to encourage others to give. Check out the details here.
The kids and I are reading, Obliged to Go, a biography of William Carey, the father of modern missions. He lived and preached in India back in the day (late 1700s/early 1800s) when others thought it was absolutely ridiculous to preach the gospel message to unreached people groups. What an eye-opener this book has been!
One thing that we've done this month is sponsor a child through Compassion International. We've talked about it for years. The money has been there. Last night it took just a few clicks of a mouse to do something we had put off for far too long. Now we get the chance to help improve the life of a child on another continent. We have such abundance. There's no reason not to help a child living in poverty. We're looking forward to getting to know Joseph from Peru in the coming months and years.
So, anyway, pop on over to Alyssa's blog and be inspired by all the ways you could give to others this month.
P.S. And don't forget to come back tomorrow and tell us how you're getting a good habit going.