Get this month's 30-minute meals menu plan before it's gone.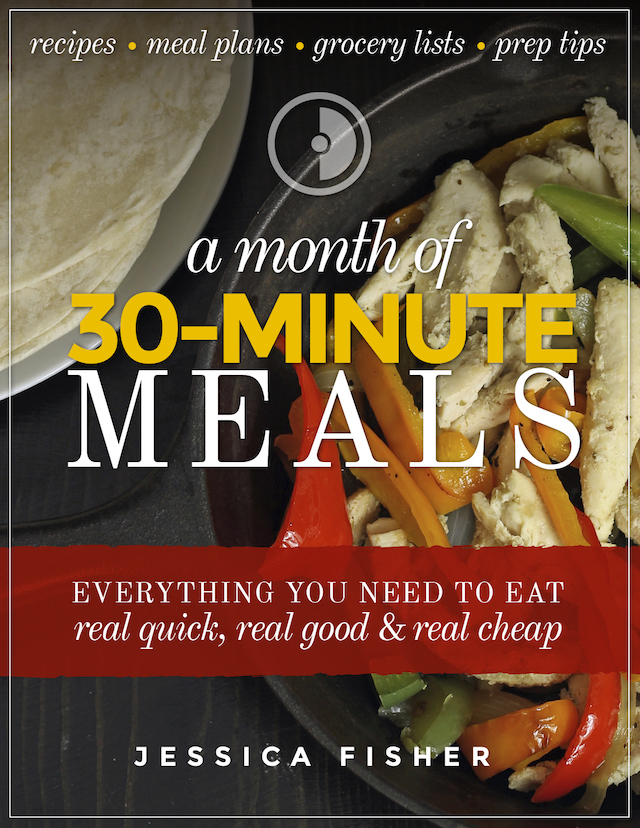 The first in the Month of Meals series is out. It's been so fun to get emails from folks who've not only enjoyed the meals in the plan but who've also felt like the plan saved them time and money. Yay! I'm so glad.
There are three more meal plans in the works that will be rotating in and out of the new store on a monthly basis, with more to come. Each will have a different theme. This plan (30-Minute Meals) will only be available in July.
30-Minute Meals: A Month of Menu Plans
Having a meal plan allows you to do at least three important things:
You'll eat home-cooked food that's almost always cheaper than restaurant fare.
You won't overspend on impulse buys at the grocery store.
You can shop according to the sales, stocking up on great deals that will actually make a meal.
Basically, having a meal plan will help you save money. Something we can all do a little more of.
In this month's meal plan, you'll get 30 recipes that can be made in 30-minutes or less as well as 4 weekly grocery lists, a monthly grocery list so you can watch for sales, prep lists to make your week easier, and side dish suggestions so that you're not racking your brain wondering what to make. Just do what's on the list and dinner will be ready before you know it!
Like I said, this plan is only available for purchase for a little while longer. Did ya know that August was about a week away?! Crazy. I'll have a new plan ready by August 1st, but I don't want you to miss this one.
Get this 30-minute meals plan while you can.

Meal plans coming soon: Make-Ahead Meals, Gluten-Free with Whole 30 Adaptations, Holiday Dinners, and More 30-Minute Meals