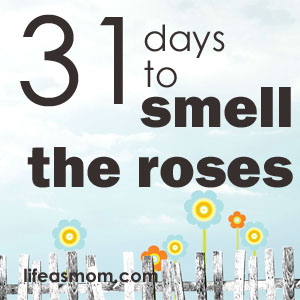 I took "the Baby" shopping with me today at Trader Joe's. The first thing you see when you walk in is the flower section. Lover of all things pink, she immediately asked that we buy pink roses. At four-years old, she knows what she wants.
And for six bucks I can splurge. It was a "stop and smell the roses" moment. In more ways than one.
This month I'll be joining the Nester's 31 Days, by sharing a daily "stop and smell the roses" moment. I hope you'll join me and be encouraged to enjoy the little things as they come.
Don't want to miss a post in this series? Subscribe to 31 Days to Smell the Roses by RSS or email.