4 Cheap & Easy Ways to Go Green
We are a participant in the Amazon Services LLC Associates Program, an affiliate advertising program designed to provide a means for us to earn fees by linking to Amazon.com and affiliated sites. We participate in other affiliate programs as well. For more details, please see our disclosure policy.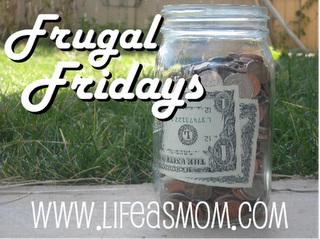 As I mentioned earlier in the week, I'm a subtle shade of khaki when it comes to "green living."  I'm not really brown, but I'm not a vivid green, either. But I am definitely trying to learn more and incorporate better stewardship and healthier habits into my home. Finding ways to make this convenient is one step toward making it a habit.
And if those ways help me save money, well, you know I'm all over that!
Here are 4 Cheap & Easy Ways to Go Green:

1. Use reusable shopping bags.
We talked about shopping bags in greater depth earlier this week. Not only do my bags help me reduce clutter and conserve resources, but they also save me money!
Most of my grocery stores give me a 5 cent discount per bag. That may not seem like a lot, but after time it adds up. I probably use about 10 bags per week, saving myself 50 cents a week. Over a year's time, that is $26 in savings. Not huge, but it more than pays for my initial bag investment and buys more than a few treats.
My pantry is tidier without all those white plastic bags — and I reap all the other benefits of using a reusable shopping bag.
2. Save money on trash pick-up.
Depending on where you live and how much they charge for waste disposal, recycling can save you money.
Our first house in San Diego was in an area where they allowed for co-mingled recycling, making it much easier to do — no sorting! They also charged for extra trash barrels above one. Seeing as we could easily have filled two trash carts if we weren't recycling, we asked for an extra recycling cart — free of charge. We saved $15 a month by recycling. I miss that house for that reason alone!

3. Use vinegar for cleaning and as a produce wash.
I used to buy all sorts of different cleaners to do different jobs around the house. In the last year, I've only bought three: vinegar, baking soda, and bleach (for certain disinfecting situations). For all purpose cleaning, vinegar cleans and disinfects. And you can buy a gallon of it for just a few dollars. We've saved a ton of money using vinegar for cleaning and I know that my family is safe from harsh chemicals.
I also use vinegar to wash my fruits and veggies.
4. Stop buying canned and bottled beverages.
While cans and bottles can be recycled, they still use resources in the making and recycling. Theoretically, I think it's better to use reusable containers.
But to go without? This is a hard one for me. Well, sort of. I used to be a Coca-Cola junky — and couldn't live without my Vanilla Coke every afternoon. But, after a round of nasty cavities and a little bit of gravity settling at my waist, I cut the habit. Yes, really. I haven't had cavities since then — and I've saved money by not feeding my habit.
But, I love the convenience of keeping a case of bottled water in the car at all times. I can get the cases for a great price, but since I live in the great state of California, I have to pay a CRV tax on every bottle or can. This applies to bottled water as well as sodas and other packaged beverages.
While I can recycle those, and theoretically "get my money" back, I have to travel farther afield than my curbside recycle bin in order to do that. The time and gas expense would negate those efforts. It costs more money to buy bottled beverages due to the tax, so it's better that I don't buy them.
If I stop buying bottled water, I could save a decent chunk of change. But, it's the convenience I can't live without. So, I have to work on that one.
What do YOU do to save money?
This is part of the Going Green series. Join us all week for daily giveaways and inspiration for small ways to go green.