4 Planning Systems for the New School Year
As an Amazon Associate I earn from qualifying purchases. For more details, please see our disclosure policy.
Ready to get organized and ready for everything the new school year can dish out? Check out one of these 4 planning systems to help your life as mom.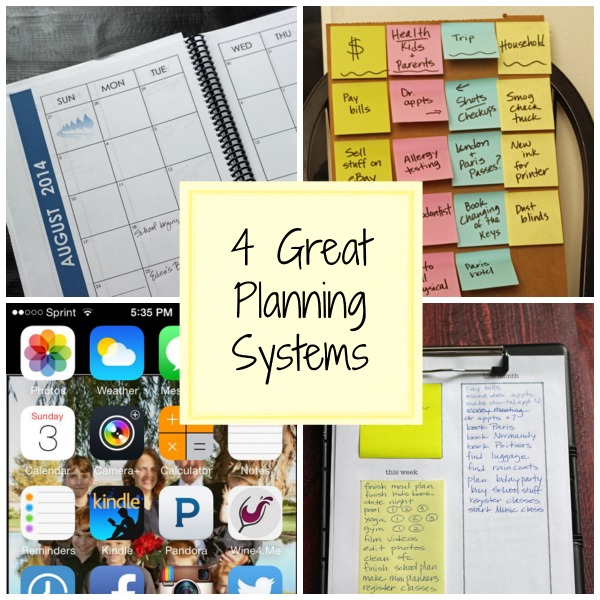 As a mom, homemaker, home educator, and entrepreneur/writer, I make a lot of lists. A lot of lists. My lists have lists. My husband works in the building industry as a project manager and operates with a computerized work control system. He makes a lot of lists, too. We talk a lot about productivity and how to manage the work on our plates.
We've learned that people and how they track their work and keep themselves organized can be as varied and interesting as their fingerprints.
FishPapa is a spreadsheet kinda guy. I am not a spreadsheet kinda woman. At least not in how he thinks spreadsheet. For example, in order to keep our vacation planning organized and favor his way of thinking, I took all my notes that were in a highly verbal word doc (in two languages and three currencies, mind you) and converted them to a spreadsheet for his benefit. Ha! I should have known better. The fields I put along the side were those that he would have put along the top and vice versa!
Proof that different people can even look at a spreadsheet differently. Even more proof that how we plan and track our daily 'do's can differ.
They can differ over time, too. You know what I'm talking about. The planner you purchased ten years ago was "just perfect" for your twenty-something self with no kids. Today it just doesn't quite cut the mustard.
As I've said before, I need some kind of visual planning system to keep me on track. It's like my brain on paper. Or, for Harry Potter fans, my planner and lists are much like a pensieve. I can take my thoughts out and sort them and make sense of them when they are somewhere else other than just in my head.
While one thing might work for me today, it might not work for me next year. Likewise, what rocks my world in terms of planning and organization just might not work for you. I totally get that. Different strokes for different folks.
As the new school year approaches, aka the Mom's New Year, let's consider the different ways we can get organized and keep track of plans, dreams, and must-do's.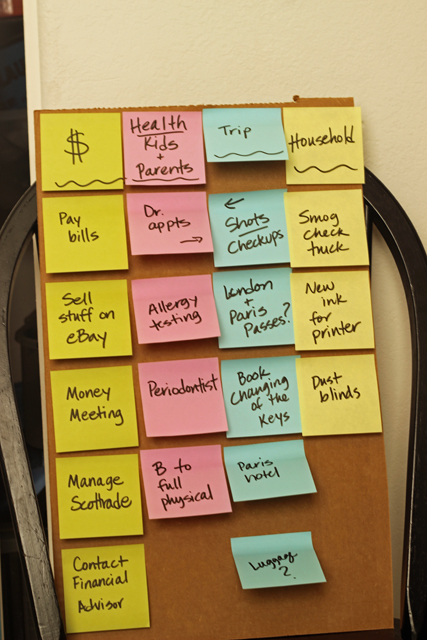 1. The Vision Board (or Bulletin Board)
My friend Stephanie shared this method with me last year. She keeps a large board covered with sticky notes to help her track the things in her life that need her attention. The notes are divided topically and color coded. When she accomplishes a task, she yanks it from the board. She keeps the board somewhere she is sure to see it and be reminded of what's next on her agenda.
In the old days, my mom had a bulletin board in the kitchen where she kept her calendar, phone numbers, and reminders. This vision board is very similar and I can imagine all kinds of mash-ups of the method.
If you've got a big project or event on the horizon, you can also create a bigger, more pictorial vision board, like our family's European Vacation vision board. (Update on that coming soon.)
However you construct your "board", you can use this system for long-term goals or simply what you need to do this week. It's really up to you.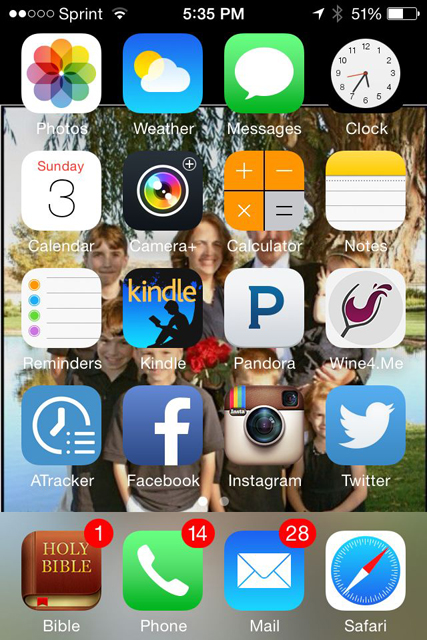 2. The Online Note-keeping System
Folks who have regular access to the internet with a tablet or smartphone in hand may appreciate keeping track of things online. Google offers a number of products free of charge that help you track and share information, like Google Calendar or Google Apps. iPhones come preloaded with Notes and Reminders apps which you can put to great use to track all the things. I know plenty of families who track their meal plans and grocery lists this way.
There are also other apps like Cozi or Evernote that help you manage your brain's contents online.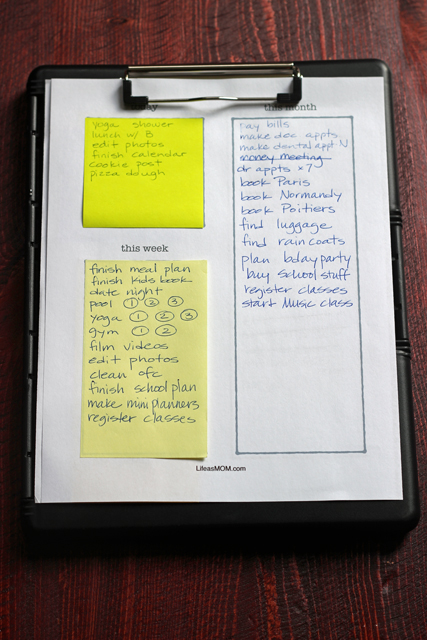 3. The Clipboard
I love clipboards! I find them so handy because 1) I am a paper and pencil kind of girl and 2) I like to write on a hard surface. A clipboard helps me do both.
Each of my kids has a school clipboard for their week's school assignment list as well as any work that I need to look over. I keep a clipboard on my desk to keep track of all the things I need to do. I use one in the kitchen for big cooking sessions. It's the keeper of my new Post-it To Do List System.
I probably love my clipboards more than any other office supply. True story.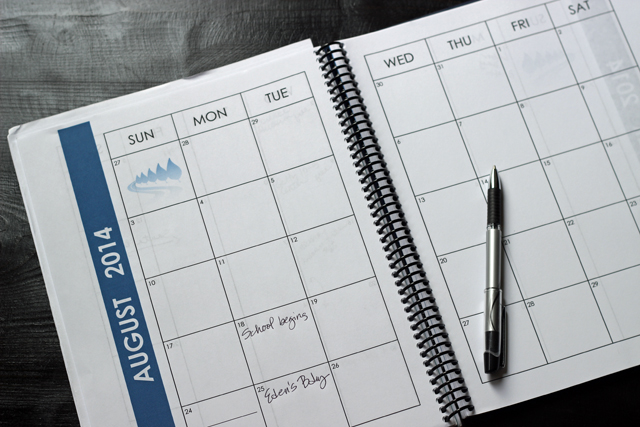 4. The Personal Planner
I have long been a fan of the personal planner or household notebook. In fact, my mom bought me my first DayTimer (remember those?) when I was TEN. Forget the fact that I had nothing to put into it, I thought it was so cool to have a day book of my own.
Since then my love of my own personal book has evolved from a 3-ring binder to a spiral-bound notebook. Each summer in early August I print out the next year or so of custom calendars and to do sheets. My notebook is something that has served me well for years. So much so, that I created an ebook, Organizing Life as MOM, to help other people put together their own household notebooks.
The book itself is a tutorial on getting organized and figuring out priorities and vision, so even if a planning notebook isn't your bag, the book will help your life as MOM. It's chock full of fillable,
printable worksheets that address practically every area of life as you manage a home and family
. There are also blogger and homeschool add-on packs if those are spheres of your life that you need to plan for.You can buy your copy of
Organizing Life as MOM
or any of the add-ons in the Life as MOM estore. A new calendar pack is also available. If you already have the other books, you just need to buy the updated calendar.
(July customers were already sent the new calendar for their particular purchase. If you didn't get yours, check your spam file or send me an email.)
Make it work for you.
The most important part of establishing a new planning system is to make it work for you today, in this season of life. Feel free to mix and match methods until you find a way to track your kids' school, your meal plans, your housekeeping, your work, and whatever else crosses your plate on a regular basis.
I'm actually doing a mash-up of many of these methods currently. I find that I need to spice things up a bit to keep my attention. I'll be sharing my new single-subject planners and my new clipboard set up later this week.
In the meantime, tell us:
What planning system works best for you?