4 Quick Ways to Get Organized for the New Year
We are a participant in the Amazon Services LLC Associates Program, an affiliate advertising program designed to provide a means for us to earn fees by linking to Amazon.com and affiliated sites. We participate in other affiliate programs as well. For more details, please see our disclosure policy.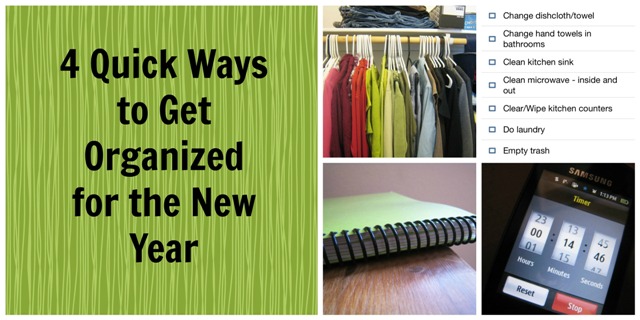 Since I took last week off and just played, I haven't yet spent a lot of time planning for the New Year. Usually, I am a major planner, but this year, I'm taking the slow approach. That may be thanks to where the dates fell on the calendar or that we still have a week until we start back to school. I'm not sure, but there we are.
If you're a mega-organizer, then you probably already have the new year mapped, your goals drafted, and your clothes laid out for the next week. If you're taking the slow approach to 2014 like I am, then maybe these 4 quick things will help you get a rolling start on the new year.
None of them are difficult. All of them will help you get a handle on your days and your responsibilities in the coming weeks and months.
1. Dejunk your clothes.
Out with the old, in with the new, right? Well, the other day, I finally spent some time overhauling my bedroom. That is the area of my home that was neglected over the Christmas holiday. I changed sheets, caught up on my laundry, cleaned our bathroom, and otherwise removed all the hodge-podge that had collected there over the weeks.
And one important thing I did was sort through my clothes and get rid of the obvious things that were dragging me down. I didn't buy many new clothes in the pre-Christmas sales because I felt like my drawers and closet were already bursting. In fact, what they were bursting with were mismatched items that masquerade as jammies, purple underwear that I don't like but came in the Hanes Her Way packages I bought in the fall, and several sweaters and shirts that itch or don't feel comfortable.
I realized that these things just distracted me from the clothing I truly enjoy wearing, and they take up space. So, I got rid of them. Even the almost new underwear. I really don't love purple. Why did I buy a package of underwear with purple in it?!
Your clothes matter because getting dressed is probably the one thing that you do every day, or at least most days, right? If your clothing are all things you want to wear, that's one easy thing to check off your list.
So, this is easy.
Step 1: Go to your closet or dresser and discard the items you know you don't like, don't fit, or aren't comfortable.
We'll be revisiting this idea in a few weeks for Zone Defense, so you don't have to dig too deeply. Just grab the no-brainer, this-is-dragging-me-down stuff and discard it. Just discard it.
(I have a donation station in my laundry room where discards go. If you can take it to the collection site this week, so much the better.)
Get bonus points for cleaning your room.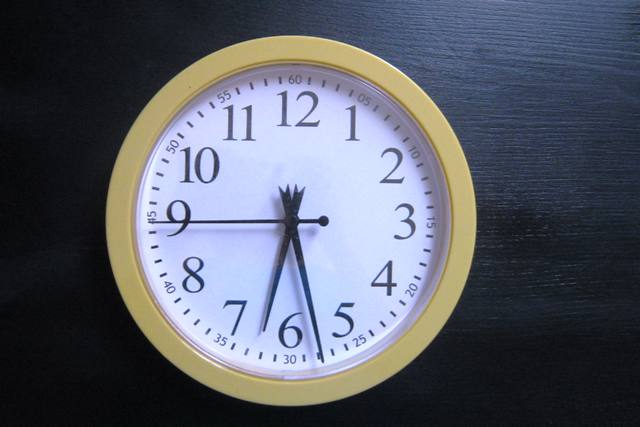 2. Create a time budget or schedule.
One of the things that I realized in the weeks leading up to my vacation was that I was not using my time very wisely. I was letting life happen to me, instead of me directing my time. Time to revisit time management principles that have helped me in the past: the time budget and a map of the week.
While I don't love the idea of a "schedule", I've come to realize that if I don't map out certain activities for the week, they just won't happen. I decided how many hours I wanted to give to certain activities according to time budget principles.
Then, I printed out this weekly grid and mapped out a typical week for me, including time at the gym, regular outings and classes for the kids, and computer/work time.
Even though school doesn't start back up until next week, I'm trying to walk through this loose routine so that I can acclimate myself to it as well as work out any bugs. For instance, I planned a writing window the same time as the girls' new ballet class. So, I'll need to shuffle a few things before class starts next week.
(They are beyond thrilled at this new prospect. It is a community class, so it's cheaper than a dance studio. I bought leotards during Target's kids' clothes sale. The small investment is already paying dividends in hyper-happy little girls.)
Step 2: Decide how you will generally manage your time in the next month.
3. Set up your calendar/planner for the year.
As I've said before my planner is like my brain on paper. It's portable and not susceptible to power outages or a lack of wi-fi.
In my personal notebook, I've penciled in the kids' new classes for January (writing, science, karate, and ballet for various people) as well as trips, conferences, and special celebrations we have on the horizon.
I created the OLAM planner to fit my own needs as a mom and woman. I've expanded it over the last three years as readers have sent in their requests for different pages and features.
In addition to getting the calendar up to date, I started jotting down some goals for the new year, but more on that later. When I actually finish thinking about them.
Step 3: Set up a tracking system.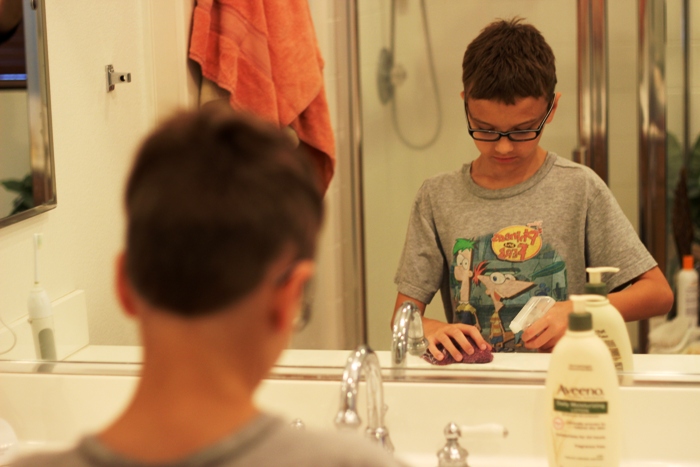 4. Decide on a cleaning plan.
Cleaning plan, what's that? I know, huh? I swear housework is the bane of my existence. But, a mostly tidy house is key to our doing good work and play at our house. The kids and I have reallotted bathroom responsibilities and need to do a reset on regular chores for each day. We've kind of fallen out of habits over this vacation. Kitchen jobs switch on the first.
If you're not sure how to create a cleaning schedule, check this post for a free printable and a detailed tutorial.
I realized over the years that I like having someone or something just directing my steps, especially when I'm feeling overwhelmed. One thing that really helps me get back on top of things is using the Motivated Moms app. (Psst. That's my affiliate link, so I do get a little kickback from iTunes if you make a purchase.)
I'm thrilled with some of the new options they've included, namely the ability to sync between devices. The kids can check off their tasks on the iPad and I can check them on my phone. Yay!
Step 4: Think about a cleaning schedule.
So, those are 4 easy things that I've done so far to get my head on straight for the new year. None is complicated; all are cheap or free, depending on how you choose to go about them. All will help you get a little bit closer to peace, love, and simplicity in the new year.
What are YOU doing to get organized this year?
Disclosure: I am an affiliate for Motivated Moms. If you make a purchase through those links, I am paid a small amount in way of advertising fees. Your price does not change, but your purchase indirectly helps support this site. So, thanks!