42 Days of Summer Vacation
We are a participant in the Amazon Services LLC Associates Program, an affiliate advertising program designed to provide a means for us to earn fees by linking to Amazon.com and affiliated sites. We participate in other affiliate programs as well. For more details, please see our disclosure policy.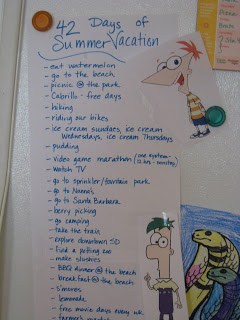 Even though we invested in cable this past fall, we tend not to watch it too often. For us the occasional forays into football, the Stanley Cup finals, Roland Garros (the French Open), Food Network, and the Disney Channel justify the expense for our family. It's cheaper than taking everyone to the movies.
One of the FishFam favorites is Phineas and Ferb. It tells the tale of two brothers and their tattle-tale sister and how they make efforts to spend their 104 days of summer vacation in good, clean, creative, and unbelievable fun. Everyone in our family enjoys their outrageous schemes to find the best use of their summertime. And our boys love to sing the theme song.
Last week I was inspired to make a list with the kids of all the ways we could spend our 42 days of summer vacation.
First an explanation: 42 days? What happened to the other 78? Well, we're homeschoolers, and this mama can't afford three months off lessons. Oh! the fussing I would battle come the First Day of School. No, we're taking off 6 weeks starting today! Maybe 7. We'll see how I feel that last week of July.
I tried to make our list fun and festive looking. I added print outs of Phineas and Ferb just to make it colorful, and we've stuck it on the front of the fridge where we can see it and add to it when we get another idea. I've written down all but the most outrageous suggestions they've come up with. Some have cracked me up! My 4-year old suggested that they get haircuts. Made me laugh since they hate that. But, it's a good idea. They're all due for a new 'do.
Some highlights that we're looking forward to doing include
a 12-hr Wii marathon
a BBQ dinner at the beach
berry picking
camping
eat watermelon
make slushies
rootbeer for breakfast
make soda rockets
go to an aquarium
go to a minor league baseball game
go to the free weekly movies
eat s'mores
explore downtown San Diego
Planning to have fun is a great way to while away the summer. The time will go so quickly.
How about you? How will your family spend your summer vacation?