5 Cleaning Hacks You Need to Try Today
As an Amazon Associate I earn from qualifying purchases. For more details, please see our disclosure policy.
This post has been sponsored by Spot Shot® Instant Carpet Stain Remover. All opinions are my own.
Cleaning house can be a bear, particularly when there are spots and stains to deal with. Check out these five simple cleaning hacks you need to try.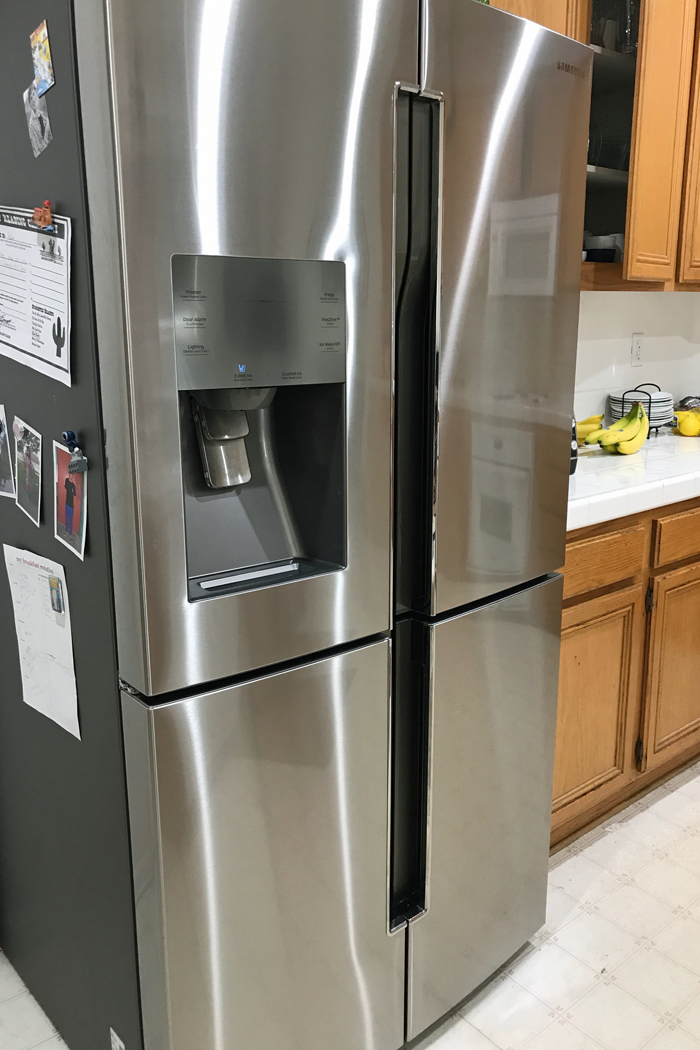 We've rented this particular house for almost 8 years now. I never thought we'd rent for so long, but it's working for us. One of the interesting "double-edged swords" about renting are the yearly and sometimes twice-yearly inspections.
On the plus side, there's the opportunity to do a deep cleaning of the whole house to show it off at its best. On the flip side, there's the requirement to do a deep cleaning of the whole house to show it off at its best.
While I don't love to clean, I'm actually thankful for the impetus to get things all ship shape at one time. When we owned homes in the past, we only got it looking "its best" right before we sold it! Oh the irony.
Over the years, we've learned a few things about regular household maintenance and acquired a few cleaning hacks in our tool kit.
Here are Five Cleaning Hacks You Need to Try:
1. Clean your stove grates without scrubbing.
You know how food drips onto the metal grates on your stove and then gets baked on? It seems that no amount of scrubbing will remove that burnt-on grunge.
A-ha! This will come away magically in an ammonia sauna.
Simply place the grungy grates in a heavy-duty plastic bag with a cup or so of ammonia. I leave the bag in the backyard overnight away from animals and children. The fumes of the ammonia captured in the bag loosen the grunge so that it wipes and rinses away easily.
(Be sure to open the bag in a well-ventilated area and never mix ammonia with other chemicals.)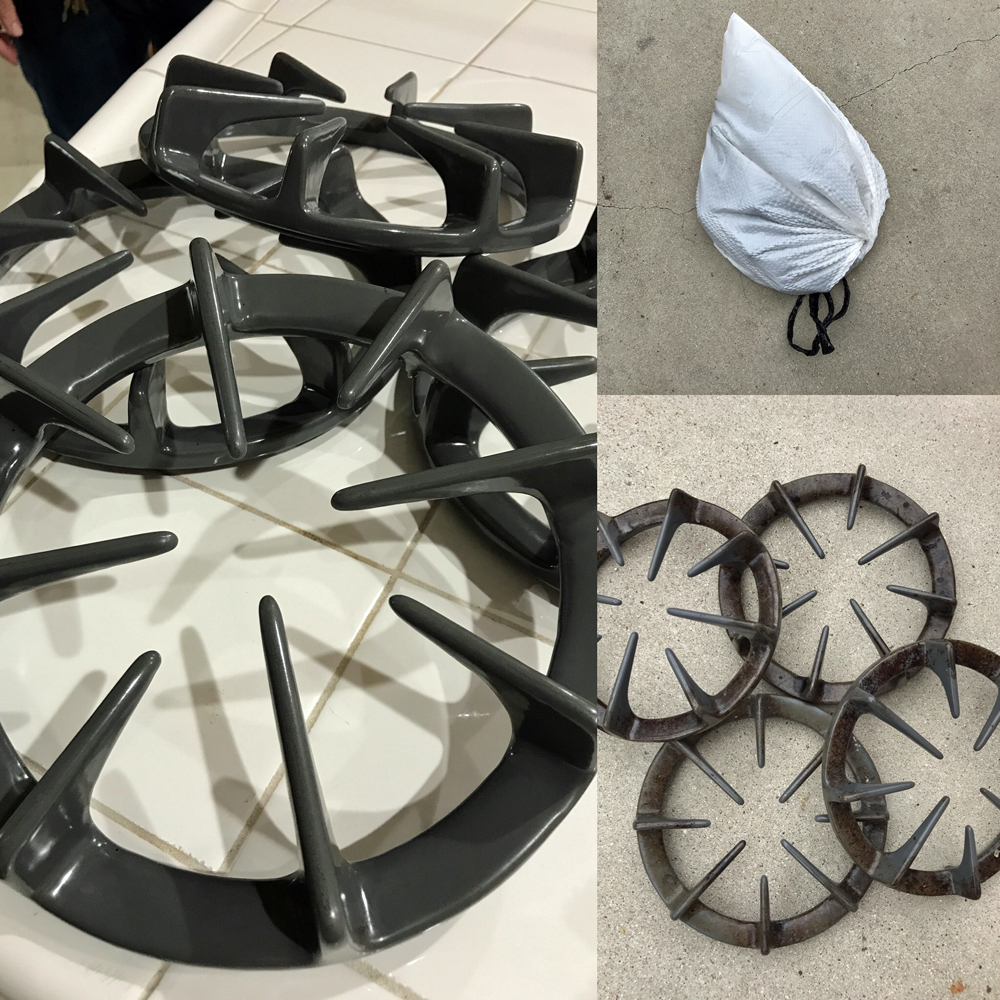 2. Clean your drip pans in a baking soda bath.
Now we've tried the ammonia method on the stove's drip pans but haven't had as much success. A 30-minute soak in a bath of boiling water and baking soda (about 1/4 cup to a small pot of water) does the trick for most messy drip pans.
Sometimes the baked on spills are there to stay and you just buy a replacement, but if you keep up on this task regularly, you can keep with the same drip pans.
3. Remove sticky stuff with orange oil air freshener.
Forget those expensive solvents to remove sticky residue. Orange oil air freshener works like a charm. Just spray and wipe. Plus it smells good!
Unfortunately, this does not work on carpet. You'll risk staining the carpet with the oils. Instead….
4. Remove sticky stuff on carpet with a hair dryer.
Kids got a little too zealous with the adhesive bandages? No problem — sticky bandages or other stickers will loosen like a charm if you apply gentle heat with a hair dryer. A few minutes of blasting heat should allow you to pull the sticker right off.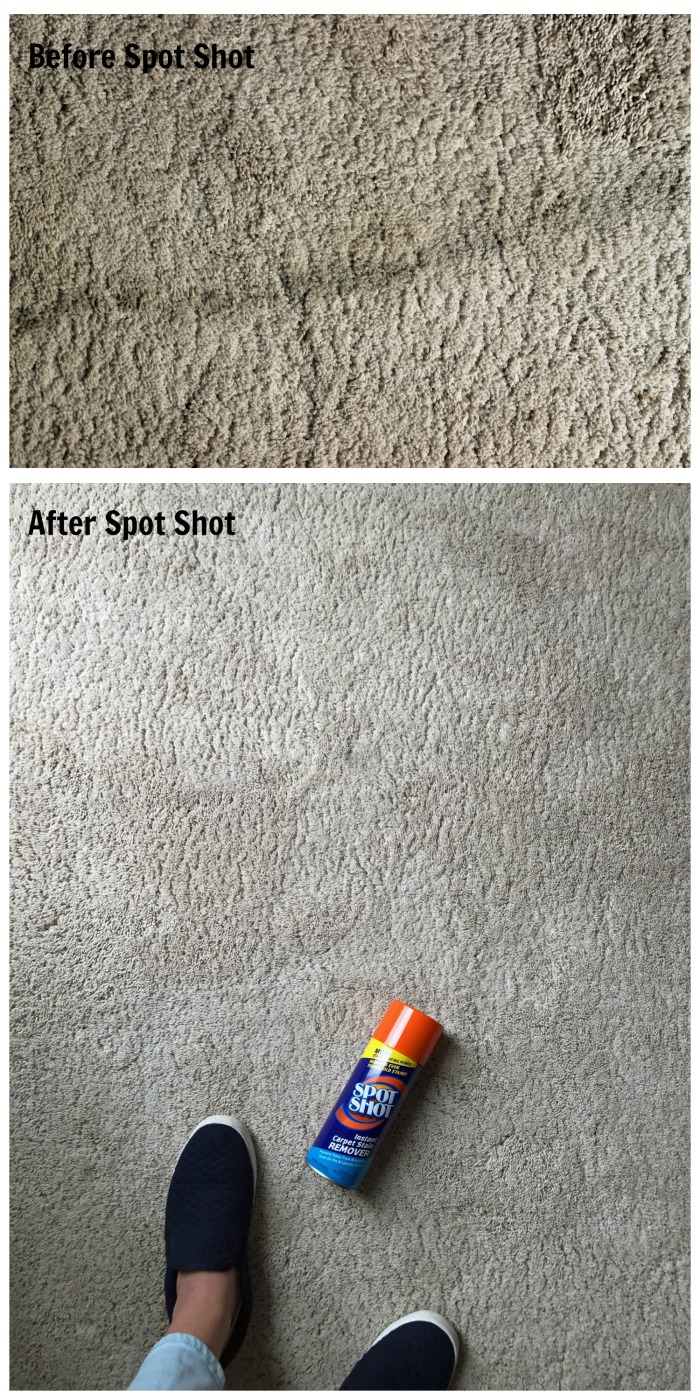 5. Remove carpet stains with Spot Shot® Instant Carpet Stain Remover.
Regular vacuuming and shampooing are pretty essential in a busy household such as ours. Despite my vigilance though, spills still happen. Spot Shot can take them out.
All Spot Shot products, formulated with powerful cleaning agents, eliminate even tough and OLD carpet stains – and their odors – no scrubbing required.
Recently. I used it on an old grease mark near our back door. No one copped to it or could explain what it was. While it doesn't look "like new", it looks pretty good for 8-year old light-colored, heavily trafficked carpet!
Click here to find Spot Shot near you.
Get a $1 off coupon for Spot Shot.
For more cleaning and organizing tips, Join the Stain Fighting Community on Facebook.
I don't love cleaning, but I love a clean house. When I can rid our home of spots and stains, I feel like I've conquered a major challenge.
What are YOUR favorite cleaning hacks?
This post has been sponsored by Spot Shot. I have received complimentary product as well as compensation for my time spent writing. All opinions are my own.