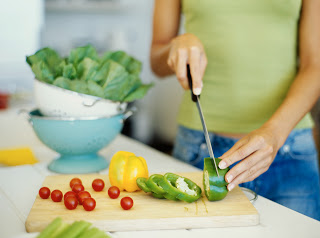 One of the ways that I'm trying to become a Mom You Can Count On is to manage my time a little better. If I don't make a list each morning of what I need to do, I am like a sailor out at sea without a compass. And if I don't stay on my toes throughout the day, I find myself floundering. And then I find that it's dinnertime and though I had a plan, the minutes got away from me.
One of the things that helps me immensely is to make dinner in the morning. It may not take less time to make it in the morning, but pre-planning and preparation can really help relieve stress that arises later in the day. Especially when the kids are barking at your heals for supper to be done.
And speaking of kids, if you do some dinner work in the morning when things are calm, it will be all that much easier to include them in the activity.
Here are some quick ways to make dinnertime prep smoother sailing:
** Brown taco meat ahead of time and reheat at dinnertime OR pop it into the crockpot to cook all day.
** Mix and shape meatloaf or shape hamburgers to be cooked later.
** Assemble lasagnas and casseroles in the morning. This will actually make the taste better as the flavors will have time to blend.
** Season roasts or chickens ahead of time and get them ready to pop into the oven later.
** Chop all your ingredients to be assembled into dinner later in the day. Mise en place is a cooking term to describe "proper planning of equipment and ingredients for a food preparation and assembly station." Having everything ready greatly speeds up your cooktime.
What pre-planning / pre-cooking do you do to lighten your load at dinnertime?
Related: Visit Tammy's Recipes for all sorts of Kitchen Tips each Tuesday.