5 Holiday Travel Tips for Families
As an Amazon Associate I earn from qualifying purchases. For more details, please see our disclosure policy.
As the holiday season approaches, consider how you can make family travel more fun and less stressful.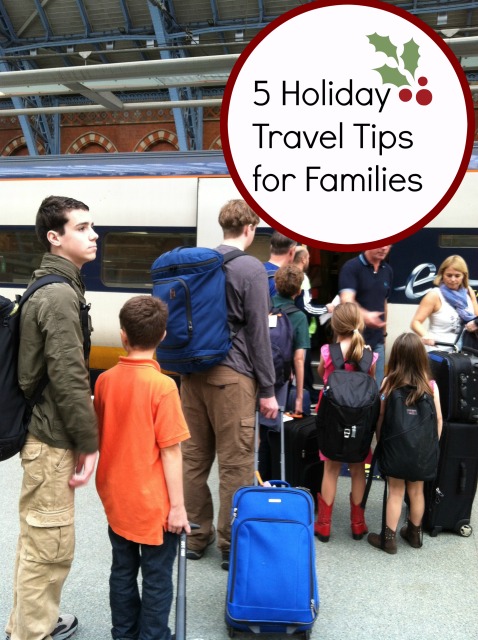 I love November and December. They are probably two of my favorite months on the calendar, namely because of Thanksgiving, Christmas, and New Years. The holidays can be such fun! Now that my sister Janel has moved back to California, it's even more fun since there are cousins to play with.
In a few weeks our family will be heading to Santa Ynez to visit one set of grandparents for Thanksgiving and to Santa Clarita in December to visit the other set. It's been a few weeks since our big European vacation, so I think our family will be ready to hit the road once again.
We put a lot of miles on our suitcases this fall. If anything, it's given us a travel bug itch. FishPapa and I are trying to tweak the budget so that we can save up for another big trip. In the meantime, we'll content ourselves with some California road trips.
If you're hitting the road with kids this holiday season consider these travel tips:
1. Plan early.
If you don't have your travel plans and reservations secured, do it now. I learned the hard way that she who hesitates pays more for train tickets or can't stay in the hotel of her choice. Early planning and booking can save you a bundle.
2. Pack light.
You're already going to be hauling Christmas stuff and probably winter coats, right? Don't pack more clothing than you need. There are washing machines practically everywhere. We packed carry-on size luggage for each of us for a month and we lived to tell the tale.
If you're going to Gramma's for a weekend or even a week, you don't need to pack half your kid's wardrobe. Trust me. Pack light.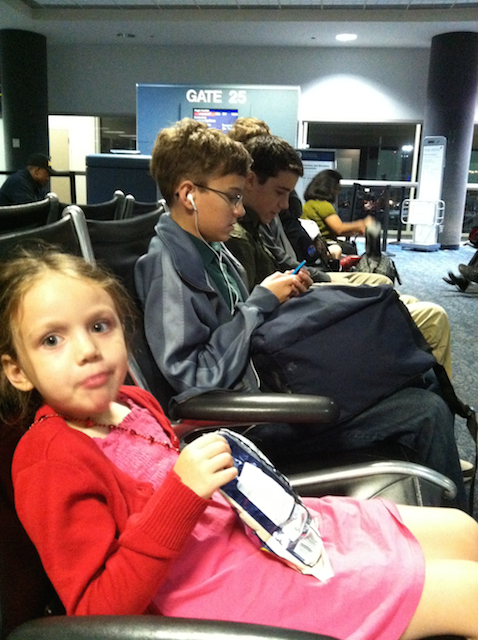 3. Load up on reading material and entertainment.
If you've got long car rides, layovers, or plane flights, stock yourself with reading material. Try out Kindle Unlimited if you haven't already. For $10 you can load ten FREE books at a time on your device.
We did this for France with great success. Since we have multiple devices on one account, it meant that more than one of us could be reading at a time. We were able to travel light (see point 2 again) and still have plenty of entertainment.
Making sure we had a small bag of lego, a few iPods, and some handheld games in addition to the girls' busy book really helped keep boredom at bay and made our travel much more enjoyable, especially when waiting for planes and trains.
4. Pack the potty stuff.
If you've got little ones who still need a little potty assistance, be sure to pack all their gear. We had a couple kids at that age who would. not. go. if they didn't have a potty seat insert and their special wipes. It's no fun to have a constipated kid and/or have Nanna run to Kmart in the middle of the night for replacements.
The girls and I loved having these potty seat covers on our trip. They were perfect for all the public toilets we visited.
5. Take food and meds with you.
We've found that we feel better and save money when we pack food for our trips. No matter where we are, having a few snacks on hand is always helpful. Our travel snack pack was super helpful for day trips and for making cheap meals in the hotel at night. I dug into our travel first aid kit on more than one occasion to dose sea urchin stings, colds, allergies, and headaches.
While you can often find what you need at your destination, I have found that my anxiety level drops tremendously when I know we have the basics on hand.
These are simple things that do take a bit of advance planning, but they can make your family vacation so much more pleasant, particularly during the busy holiday season.
What makes your family travel more fun?