5 Steps to Better Bookkeeping
As an Amazon Associate I earn from qualifying purchases. For more details, please see our disclosure policy.
Want to get a handle on your finances and keep better books? Try these five simple steps.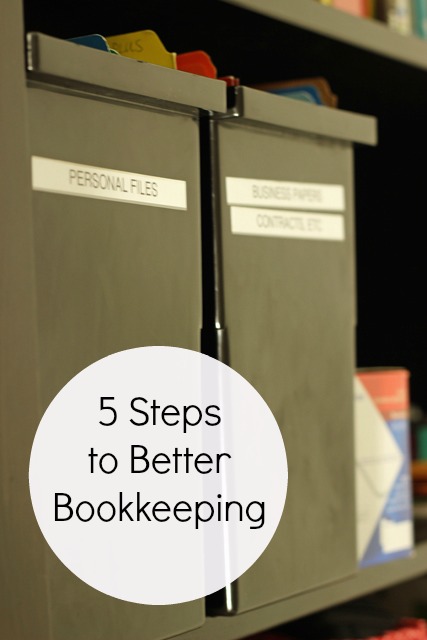 While I'm the geekier math person in our family, I'm still not an impeccable bookkeeper. I'm getting better at it, though. I think part of that is because I love the lady who prepares our tax returns. I usually see Deanna only twice a year, but she's so fun to talk to and takes such a genuine interest in our family that I don't mind tax meetings. Go figure.
When I hand over my piles for her to make sense of, I want it to be easy for her. Making it easy for her actually means making it easier for myself. Double win.
This year prep for my tax meeting with Deanna didn't take me as long as it has in previous years. Thanks to some of these bookkeeping tricks I'm teaching myself.
Back in December we talked about simple ways to get your financial house in order. Now that the year is begun, we can probably all do with a little refresher, especially when it comes to tracking the cashflow. Yeah, I know it's February already, but some people still have Christmas lights up. Sheesh.
5 Steps to Better Bookkeeping
Whether you are a little behind or totally ahead of the game, consider these steps to better bookkeeping:
1. Schedule a regular date each month or even each week to make sure your books are up to date.
Trust me. Letting it slide does you no favors. I've spent two full days catching up on months and months of record keeping. No bueno. Do your bookkeeping often.
Set up your financial files now to make your work easier. These days since I pay so much digitally and so many records are accessed online, I don't do much filing. I've simplified my filing tremendously.
A. Ever-important documents like titles and deeds go in the safe.
B. Things that I would need to keep on a yearly basis (like utility bills and receipts) get dumped in a banker's box with the year marked on the side.
While you're getting your files in order, consider dumping the stuff that's older than 7 years. Confirm with your tax preparer, but mine has said that I can shred anything pre-dating the 7 year mark, provided it's not in the A category above.

3. Plan your money meetings.
Establish how you and your spouse will communicate about money.
It can be tricky to keep track of your financial status. Especially if you hate math.
One method that works for us is that each month after I've paid the bills and reconciled the accounts, I prepare a little summary to share with hubs. These free printable worksheets make it easier to prepare that monthly summary.
Kristen's method of sending a monthly money email to her husband is another way to make sure your financial communication lines are flowing. Whatever works to make sure you both know what's what in the bank is a good thing.
4. Simplify as much as possible.
Are there things that you can do, like set up bill pay, to make things simpler? What about enrolling for paperless billing? Or using a budgeting app?
Do you just need to stock up on a few necessary supplies? I found myself completely out of legal size envelopes when I need to mail some important documents. After recycling an old one with the help of mailing labels, I hopped on Amazon and ordered a big box of security envelopes. They arrived less than 24 hours later! I saved myself future anxiety and excess use of mailing labels by making sure I had the right supplies.
What about return address labels or a return address stamp? Or printing off address labels for companies you need to pay often? Are you stocked up on stamps? Checks?
Whatever you can do to make your bookkeeping tasks simpler will help you in the long run.
5. Touch it once.
If it's something you need to keep, then file it. If not, dispose of it securely. Piles of papers and receipts won't get the job done; they'll actually slow you done and fog your brain.
Don't transfer that receipt from place to place. Note it in your ledger, mark it with pen so the information won't disappear thanks to fading cash register ink, and then put it away.
What do YOU do for better bookkeeping?