This month I've been making more of a concerted effort to teach my kids kitchen skills. Guest writer Katie from Kitchen Stewardship offers some great suggestions to help you do it, too.
Making everything we eat from scratch means I spend a lot of time in the kitchen. No matter how many brilliant shortcuts I come up with, there's no getting around a few hours a day working with food. As a mom of three little ones who are growing, changing, and learning every day, I also want to spend lots of time with them, interacting, teaching, or being silly.
The only way to accomplish it all is to make sure my kids don't run away screaming every time I say, "Who wants to help in the kitchen?"
(They definitely do that sometimes, but that's usually when it's time to unload the dishwasher. I know how they feel.)
I won't claim to be a perfect momma-chef who trains her little sous chefs to be masters in the kitchen. I'll be honest that sometimes I get frustrated by the slow pace of little hands hindering my warp speed cooking. However, I do set goals and strive to help my children be comfortable and competent in the kitchen while enjoying themselves in the process – and counting it as quality time with their mom.
Here are five small, simple strategies I employ to get my kids to want to come back again to don their aprons and pull a chair up to the counter:
1. Let kids work the power tools.
Every kid loves a powerful motor and a big noise, right? Teach your kids how to turn the food processor or blender on and off, how to "lock in" the stand mixer even if you are the one to turn it on, and allow them to teamwork with you on the button for an immersion blender.
These simple acts are a perfect first step into the kitchen, because they don't slow down the cooking or baking process very much, so mom's frustration level is tame, and the kids feel like they've really done something important.
In our family, my 7-year-old boy has graduated to using the immersion blender by himself to make guacamole, and my 4-year-old girl is a pro at feeding things into the food processor for slicing or shredding.
2. Provide their own (cool) supplies.
How can you still get something done when the kids are helping? Let them do something parallel to you while you work quickly in your own space.
My kids have their own small cutting boards, dull knives, and even a hilarious whisk with a smiling egg on one end that my son begged for one Christmas. (Yes, I was a thrilled foodie mom.)
I can set them up with their "own" supplies, of which they're very proud, and they can chop one potato while I dice ten. Everyone is happy, and with a little training, your kids can even do real tasks with their own supplies. W
hen we make potato salad at my house. My kids can dice the cooked potatoes and the hard-boiled eggs completely on their own while I do other prep tasks.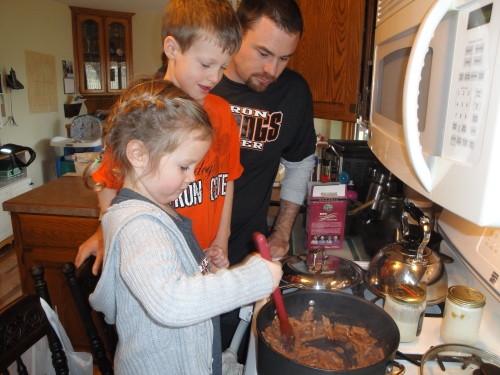 3. Allow kids to do big person things.
My 4-year-old can crack a dozen eggs into a bowl without a single shell. My 7-year-old browns beef at the stove on his own for taco night.
If those sound terrifying to you, you're not alone. They're certainly "big person" tasks, and it was scary when I first let out the apron strings to train egg-cracking and stove-tending skills. But it's worth it. The kids are so proud of what they can do, and intrinsic motivation – "I really want to do that!" – is definitely the best way to keep someone interested in what they're doing.
4. Chase them out when it's onion time.
You do need to know when it's a bad idea for kids to be helping, mostly if it's going to make someone cry. Onions make my kids cry, so we joke around that they need to clear the area and let mom put the gas mask on. "It's onion time!"
And if you're having one of those days where you might cry if flour gets spilled on the floor, you probably shouldn't invite the kids to help, just in case it ends up taking a turn for the worse. They won't come back if they have negative feelings about the experience.
5. Applaud their accomplishment.
Most importantly, make certain that your kids know they are appreciated and that their help in the kitchen is valued. Whenever my kids help make something that we serve to guests or take to a party, I play the "proud mom" to the nines, bragging about how the children made the dish and what a huge helper they are.
When your praise is sincere and age-appropriate, kids know it. They'll learn to love working in the kitchen if you keep their attitudes in the right place.
For example, my son helped me make a video freebie for purchasers of Better Than a Box, the new eBook that launched Tuesday. He demonstrated making Ranch Dressing, a job he does often in our household, and he did a fabulous job.
You may not get to brag to the whole world on the Internet about how awesome your apron-clad little helpers are, but I hope you're inspired to invite them into the kitchen to participate.
Every recipe in Better Than a Box includes a "Get Kids Involved" section with strategies to teach kids how to work in the kitchen and specific suggestions about how kids of various ages can help with that particular recipe.

I'm so pleased to share Better Than a Box: How to Transform Processed Food Recipes into Whole Foods Favorites. It's on sale through Friday, January 25th at 8 a.m. for the launch celebration price of $1.99, and only 99 cents on Kindle.

The PDF download also includes the Kindle and Nook files, as well as free printable recipe cards, a freezer supply list, access to the dressing-making video with my son, and other handy dandy printable charts and tips. Regular pricing starts Friday.
How do YOU make the kitchen inviting for your kids?
Disclosure: This post does include affiliate links. If you make a purchase through one of the above links, I do receive a small amount in the way of advertising fees.