As we roll into December, let's end the year on a high note. Here's how we can both have an easier holiday season.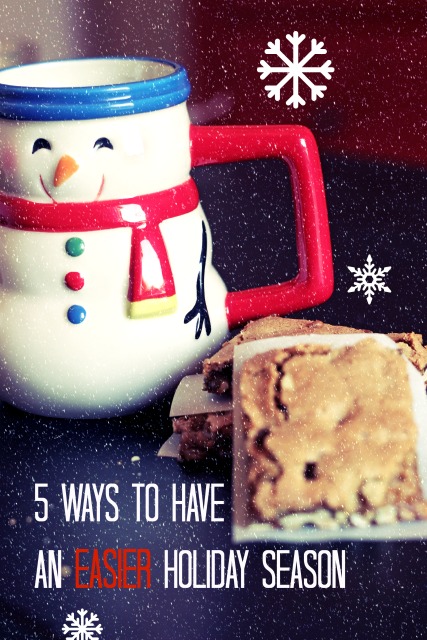 I think the "holidays" have officially begun. That means all kinds of crazy and fun things to do on mom's list. Since Thanksgiving was late this year, we are in it full swing. Quite honestly, I'm not ready. Are you?
Let's change that, shall we. We can take a few minutes to get ready for it. Or we can let things come as they may. Experience tells me that having a game plan in action will help our homes, our families, and our mental health. Ready to do a little planning ahead?
1. Get your calendar out.
Do you know what's on the horizon? When are those play rehearsals? Work parties? Church potlucks? Set up a master calendar and figure out where you need to be when.
Download this FREE printable calendar for December or grab my 2014-2015 calendar pack and print whichever style you like, including my favorite two-page spread with big squares.
While you're perusing the next 31 days, consider what you can say no to. Yes, say no. Be sure to leave your family plenty of breathing space. You do not need to do everything. Think about the most important things and give them priority.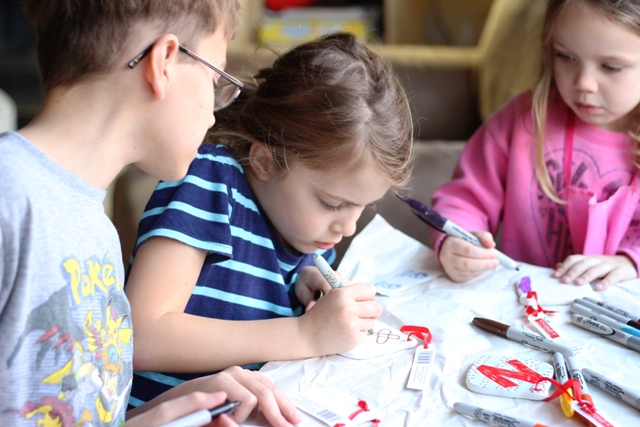 2. Choose your priorities.
Speaking of which, what is the most important for this month.? Is it really special for your family to bake cookies together for Christmas?  Do you look forward to assembling a Christmas puzzle or watching a holiday movie? Then make sure you put those on the calendar. All too often we plan for outside engagements and forget to carve space for family activities.
Talk to your husband and kids and see what they want to do this season. What is important to them and how can you work it into your December?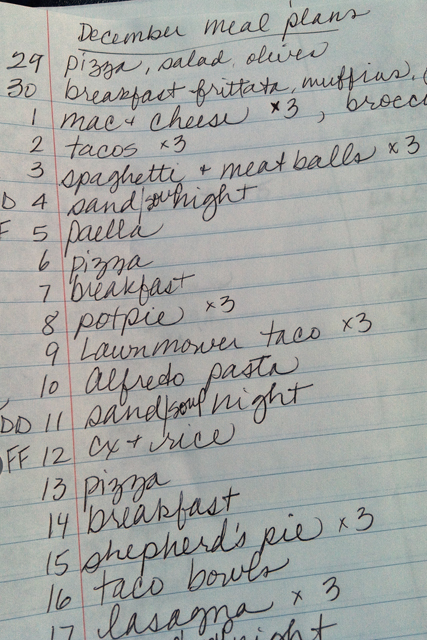 3. Make a meal plan.
I can't tell you what relief I feel in having our meals planned for the whole month. I chose some of our family's favorite meals and plotted them out for the next 31 days. Sure, we might veer from them a bit, but at least I have an idea of what we'll be eating — and how I should be shopping. Planning a month of meals at a time totally makes me feel on top of things.
Setting up theme nights like Breakfast for Supper Sundays and French Fridays made my meal planning easier. Not to mention my kids are really looking forward to those nights of the week.
Download a meal planning calendar from Good Cheap Eats to make your December meal plan now.
4. Set up your card-writing/gift-wrapping center.
If you plan to send cards or give gifts this season, gather all the supplies in one place. For instance, I have a basket of cards and a new book of stamps waiting for me to write my holiday thank you's. This year I decided I was going to try to write 42 of them. I even got my list going.
Likewise, all the wrapping paper that I bought on last year's clearance is stashed in my closet with tape and scissors. All my kids know that that's a place to go wrap presents. We just need to get tags ready. For many years I printed tags like these free printable tags, but my kids really enjoyed cutting these simple handmade gift tags. Grab the printables and you'll be ready to go!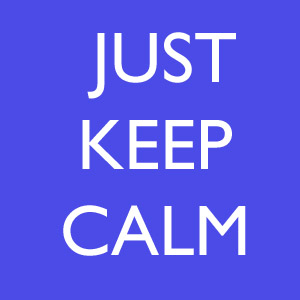 5. Plan for Mom-time.
While you're looking at your calendar, carve out some time for you to do something restful. I once used to get defensive about the idea of Mom-time, worrying that it would be perceived that I didn't like being with my kids. I love being with my kids. I also like being alone. And it's okay to do both.
Check out this list of short but sweet things that you can do all on your own to stay calm and peaceful this season. Remember why you're celebrating in the first place. Take a deep breath and enjoy this last day of the year.
These are five ways that I'm planning to enjoy the end of the year.
What do YOU have in mind to make things easier this holiday season?