5 Ways to Transition from Mom to Wife at Night
As an Amazon Associate I earn from qualifying purchases. For more details, please see our disclosure policy.
How do you transition from mom to wife and enjoy good time with your husband at night? Sheila Gregoire has some great suggestions to share here on LAM today while I share my tips to give you more energy by nightfall over at her site, To Love Honor and Vacuum.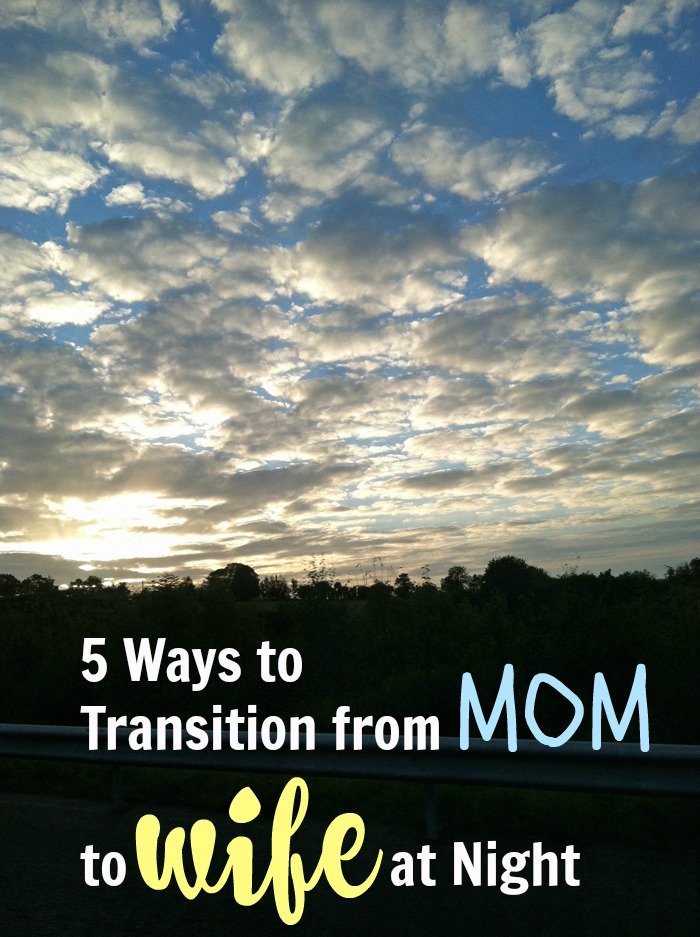 The following post is by Sheila Gregoire.
You've spent all day picking Legos up off of the floor and sweeping up cracker crumbs. You've been kicked and pulled and drooled on.
You adore your little ones, but you are exhausted.
And now it's evening. You finally get to stop being primarily a mom, even if just for a few minutes.
But making that transition from mom to wife isn't that easy. Too often we don't even try. When the kids go to bed we clean up the house, check Pinterest for more ideas, menu plan, and then fall into bed, exhausted. In the process we all too easily lose our own identity, leaving our husbands on the sidelines.
Once you're a mom, though, your marriage matters more, not less, because now little people are counting on you to keep it rock solid. And if you put your husband on the back burner, you lose out on a sounding board for your own problems, and you lose out on one of the best stress relievers–sex!
5 Ways to Transition from Mom to Wife at Night
So let's take a look at how to make that transition from "mom" to "wife" once the day has wound down.
First, a tip: You don't have to do all five of these ideas–though you can if you'd like to! Think of the ONE that would help you the most and DO IT! That's more likely to have lasting effects than trying to make a whole ton of changes at once.
Here we go, ladies. Here's how to revel in being wives again!
1. Get the Kids to Bed at a Decent Time
You need a few hours at night, without the kids, just to be YOU again. Creating a bedtime routine for kids that works is one of the best ways you can invest in your marriage.
A good bedtime routine often takes 45 minutes to an hour: you give the kids a snack, and then a bath. You put on pajamas, snuggle with them and read some books. You sing a song, kiss them goodnight, and leave them to sleep.
You've given them tons of love. It's okay now to let them be. If they get out of bed, put them back. If they ask for water or anything else to delay, be quick about it but don't give in and go lie down with them. Let them learn to sleep!
Recruit help from your hubby, too, to handle bedtime with some–or all–of the kids. Just make sure that you get the kids to bed at least two hours before you're wanting to go to sleep, so that you have some time at night. When our girls grew older, we still insisted that they be in their bedrooms by 9:30, just so that my husband and I could have the evenings to ourselves.
If bedtime routines aren't working for you, ask some older moms what they did. Getting kids to sleep well is one of the hardest parts of being a mom, but don't give up. Get some advice and keep trying. It matters.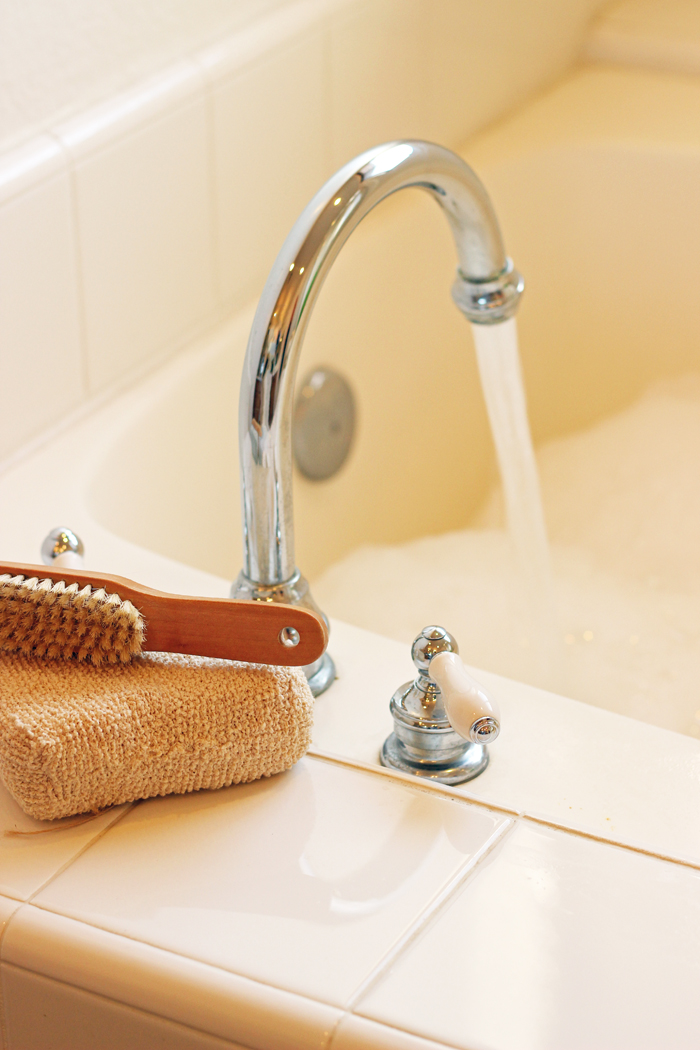 2. Take Half an Hour of "Me" Time
Once the kids are in bed, take half an hour or so just to yourself, if you need it (and you likely do!). Read a novel. Have a bath. Even read the novel in the bath! Take some down time where you can relax with no one pressuring you to do anything.
One warning, though: try to set a time limit, or half an hour can easily become three hours, and suddenly you have no time for your husband. Think of this as your "transition" time for the evening, not your entire evening. If you need more time to yourself, then talk to your hubby about how to carve out larger chunks of time during the day or on weekends to rejuvenate.
3. Put Aside Housework and Concentrate on Your Man
As enticing as it may be, evenings are not the time to catch up on housework. It's more important that you relax with your hubby and feel rejuvenated than that all the laundry gets folded. You'll have more energy for that laundry tomorrow if you spend time with your husband tonight.
Watch a show on Netflix together. Play a 2 person board game. Even have dinner together! When our kids were smaller, Keith and I would sometimes have a snack with them at dinnertime, but we'd wait until they were in bed to enjoy supper together ourselves, with candlelight. Then we'd have a chance to catch up, sharing our "high" and "low" moments of the day. We'd know what was going on in each other's hearts, and it helped bring us together.
4. Signal to Your Body, "I'm a Woman and I Love It!"
If you want to get romantic tonight with your hubby–and I hope you do–here's something to remember about a woman's libido: it's almost entirely in her head. If your head's not in the game, your body likely won't follow. Your husband could do something to you one night that has you in raptures, and three nights later, he's doing the exact same thing, move for move, and you're lying there wondering, "will he just get it over with because I want to get to sleep!" It's not about what he's doing; it's about what you're thinking.
So if you're going to get frisky, you need to do something about it!
Preparing for sex involves reminding yourself that you're more than just a mom. Stimulate your senses and pamper yourself. Stash away some dark chocolate that you get out only when the kids are in bed. Put some cedarwood, sandalwood, or ylang ylang essential oils in a diffuser. Choose pajamas that are silky, not baggy, ratty flannel ones that say "no trespassing". Light some candles and put on some soft music. Take some moisturizer and rub it into your skin. Even ask your husband for a massage! Let yourself feel feminine, and you're more likely to enjoy him being masculine.
Want more help in your life as mom? Get the newsletter!
Sign up for the newsletter for bonus offers, surprise giveaways, extra content, and special deals.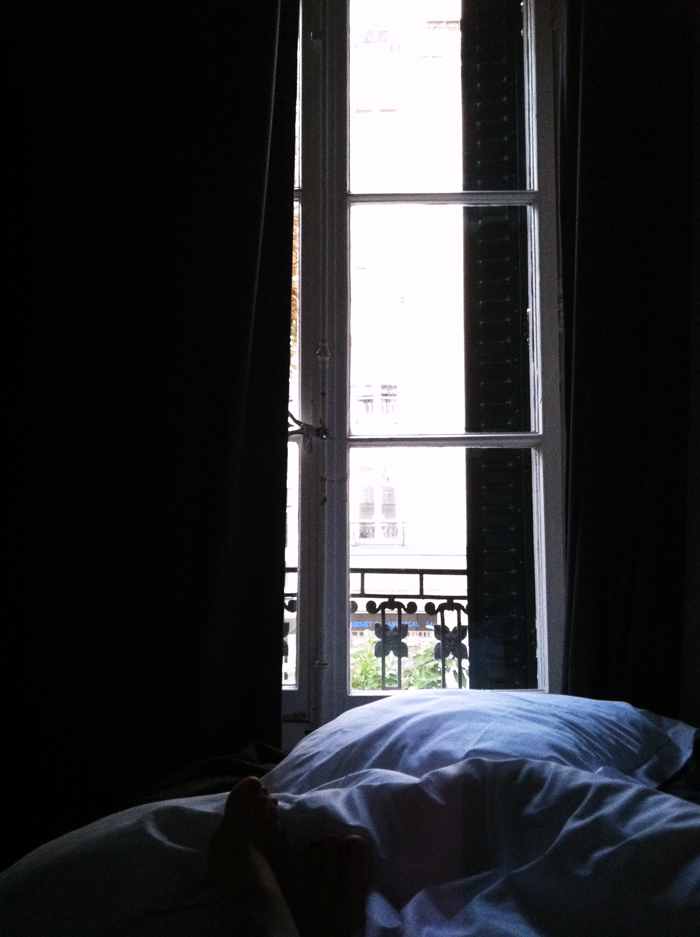 5. Head to Bed Before You're Exhausted
Finally, make it a habit to head to bed together before your eyes are actually closing. If you wait until you're exhausted, then even if you have the most romantic of intentions, when your head hits the pillow it's likely lights out. But if you head to bed while you still have some energy, you can snuggle together, talk a little bit, and then let the evening go where it takes you.
Here's the bonus: when you make love, you tend to sleep better! You get to sleep faster, and you sleep more deeply.
Think of those few precious hours you have between the kids falling asleep and you falling asleep as your protected marriage time. You were a wife before you were a mom, and you'll be a wife after the kids leave the house, too.
Enjoy being a wife, even when the kids are your main focus. Make that transition from mom to wife at night. It will give you more energy for them, but it will also ensure you don't lose yourself in the process.
Sheila Wray Gregoire is the author of The Good Girl's Guide to Great Sex and 31 Days to Great Sex. She blogs everyday at To Love, Honor and Vacuum.
Download her free ebook, 36 Ways to Bring Sexy Back to Your Marriage, right here!