6 Good Cheap Eats to Save You Money
We are a participant in the Amazon Services LLC Associates Program, an affiliate advertising program designed to provide a means for us to earn fees by linking to Amazon.com and affiliated sites. We participate in other affiliate programs as well. For more details, please see our disclosure policy.
Need some healthy budget recipes to feed your family? These fit the bill and the wallet perfectly.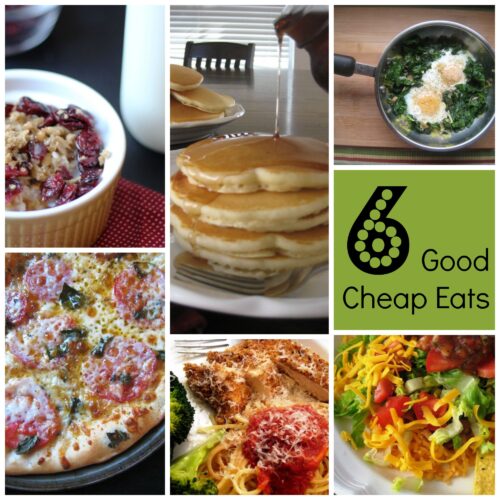 I've been busy testing bargain meal plans this week. I'm thrilled about this new feature coming in March. The meals not only build on one another, sharing common ingredients, but they are also quick to prepare and cost less than ten bucks each.
Making the dollar stretch and using ingredients creatively is very fresh in my mind. So, for a quick Frugal Friday, I thought I'd share six of our family's favorite good cheap eats.
Oatmeal Bar – I buy oatmeal in bulk, getting my rolled oats from Sprouts for $0.69/pound and buying my Bob's Steel Cut Oats from Amazon via Subscribe and Save. I regularly (at least once a week) serve an oatmeal bar. I've been doing this since FishBoy16 was a little guy. The breakfast is tasty and filling and we all love it.
Pancakes – Whether for breakfast, lunch, or dinner, my family loves a pancake meal. Since I make my own pancake mix from scratch, I control the ingredients as well as keep the price low.
Skillet Eggs – Eggs are a super cheap protein. Spinach, even the organic kind, is amazingly affordable not to mention nutritious. The two join forces in one of my favorite breakfasts of all time. If you buy your eggs on sale, you can easily make this for less than a dollar per person.
Pasta with Red Sauce – I stopped buying jarred or canned pasta sauce about 18 years ago. Homemade tastes better, is cheaper, and doesn't contain the junk that is in commercial sauce. One of my go-to cheap meals is pasta with red sauce with a seasonal steamed vegetable. Mara did a cost analysis of my recipe a few years ago, proving that it was a better all-around deal.
Beans and Rice – I credit beans and rice with helping us get out of debt so many years ago. We ate it a lot for lunch or dinner. Topping it creatively is what elevates this humble meal and makes it just a little bit more exciting that "beans and rice".
Pizza Night – I quizzed the folks on the Good Cheap Eats facebook page last night about how much their local, non-chain pizza place charges. The consensus is that $18-22 is the going rate. For a pizza! I can easily feed my family all the pizza they can eat (about four 12-inch pies) for less.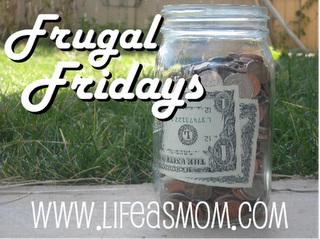 This is Frugal Friday. In an effort to make these weekly financial discussions more interactive, I'm no longer posting a link-up. Feel free to leave a link in the comments. But better yet, chat with us on today's topic.
What's YOUR favorite Good Cheap Eat?