6 Good Things to Do with Your Kids for Easter
As an Amazon Associate I earn from qualifying purchases. For more details, please see our disclosure policy.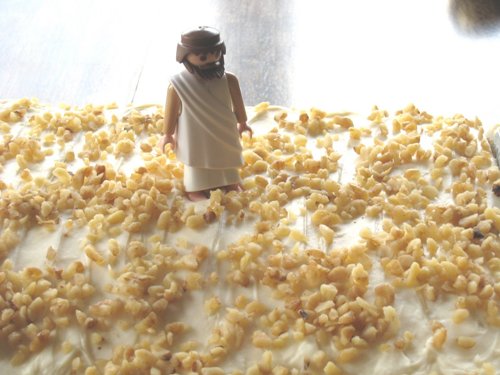 Easter Week can be a wonderful time to enjoy a variety of activities with your kids. When I was growing up, we always had this week off school. I don't think they do that anymore. And since I write my own kids' school schedule, we're not doing it, either. (Shhh…. Don't tell my kids that it used to be vacation time.)
But, that doesn't mean we can't work in some meaningful and enjoyable activities in the next few days.
1. Read the Jesus Storybook Bible.
I shared a little about this book last week. We're continuing to work our way through it and completely enjoying it. My six year old especially loves it and groans when I put the book away. It is quite well-done. I appreciate the honest storytelling manner.
For example, in the story of how God chooses David to be king, it says,
Samuel asked Jesse to bring him each son in turn. So Jesse brought the oldest, tallest, strongest son. This must be the new king, Samuel thought. He looks like a king. But God didn't choose him. "You're thinking about what he looks like on the outside," God told Samuel. "But I am looking at his heart, what he's like on the inside."
Sure, it's a paraphase, but it's done simply and in a very accessible manner for young children. You can check out the book's website and even get a few free pdf and mp3 downloads.
I purchased the deluxe edition of the Jesus Storybook Bible which came with an audio copy, so I may play it during breakfast or at the girls' naps this week as well as continuing to read it aloud. I'm hoping we finish it this week.
2. Hide, Find, and Talk about the Resurrection Eggs
My kids have always enjoyed going through the collection of eggs and talking about the story of Holy Week, the Crucifixion, and the Resurrection. One year a neighbor boy joined us and I wondered if he knew much before and what he took away.
Tangible symbols of Jesus and what He did are wonderful for instilling meaning and memories in young children.
The best price I've found this year is from the Family Life Today store. I've heard that you can make your own Resurrection Eggs. I purchased my sets on clearance for five bucks from Walmart.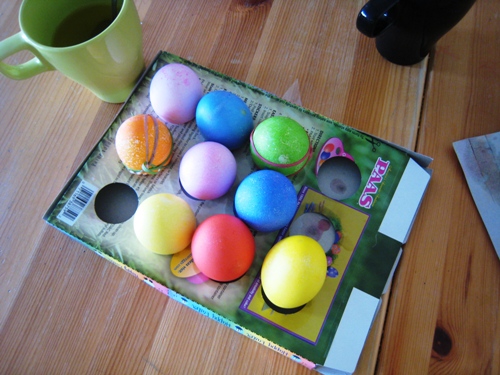 3. Dye Eggs
These are always fun to do with the kids. I know some are really great about natural egg dyes, but I'm just too lazy. I love the Paas box, always have. And am quite thankful that they sent me a sample in the mail.
I love the simple "old school" method of coloring eggs. We didn't do anything fancy with ours, except wrap rubber bands on a few. I think I learned that trick from Martha years ago. When you remove the bands, you'll have white lines. Very cool.
You can get a FREE Paas dye kit from CVS through tomorrow.
4. Bake an Empty Tomb Resurrection Cake
I created this cake last Easter and it was so fun, especially since Playmobil creates historically accurate figures. In years prior, we recruited a Playmobil guy to play Jesus after the resurrection. The Empty Tomb Cake is a more complicated rendition of the same message, "He is Risen; He is Risen, indeed."
5. Invite folks over for Easter Dinner.
I love the idea of gathering up all your friends and family who have no plans and inviting them over for supper. My mom started this tradition years ago at Christmas, and we have done it for a number of Easter Sundays. One year it morphed into 45 people! My friends knew what we were doing, so they invited everyone they saw who had no place to go.
Everyone should have a place to go on Easter.
Don't be intimidated by the dinner part. You can totally do this! Check out these past posts for inspiration:
And don't forget to have some Easter Entertainment for Children.

6. Start fresh.
I often hear that Easter is about "new life" and "new beginnings." And it is, because Jesus conquered sin and death, we have abundance, we have new life in Him. But I wonder if many of us really act that way when the second day of the week rolls around.
None of us is perfect, but Christ is working in His people. And so, this week should be a time to consider with Paul, "Forgetting what is behind and straining toward what is ahead, I press on toward the goal to win the prize for which God has called me heavenward in Christ Jesus." Philippians 3:13-14
I want my days with my children to be filled with grace, patience, and forgiveness. I woefully fall short of this. Sometimes it is they who are more gracious, patient, and forgiving. Yet, I hope that this week can be contemplative and refreshing and that next week will really feel like a fresh start.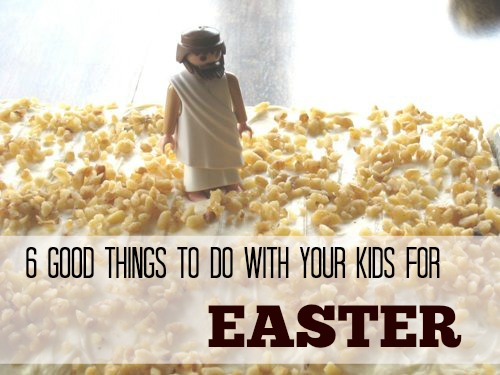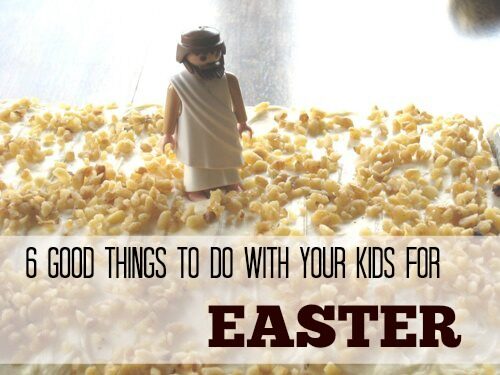 What good things do YOU do for Easter?