6 Simple Spring Cleaning Tasks You Can Do Today
As an Amazon Associate I earn from qualifying purchases. For more details, please see our disclosure policy.
This post has been sponsored by 2000 Flushes® Automatic Toilet Bowl Cleaner.
Spring is here; don't spend it inside! Consider these six simple spring cleaning tasks you can do today to make a big impact on your home.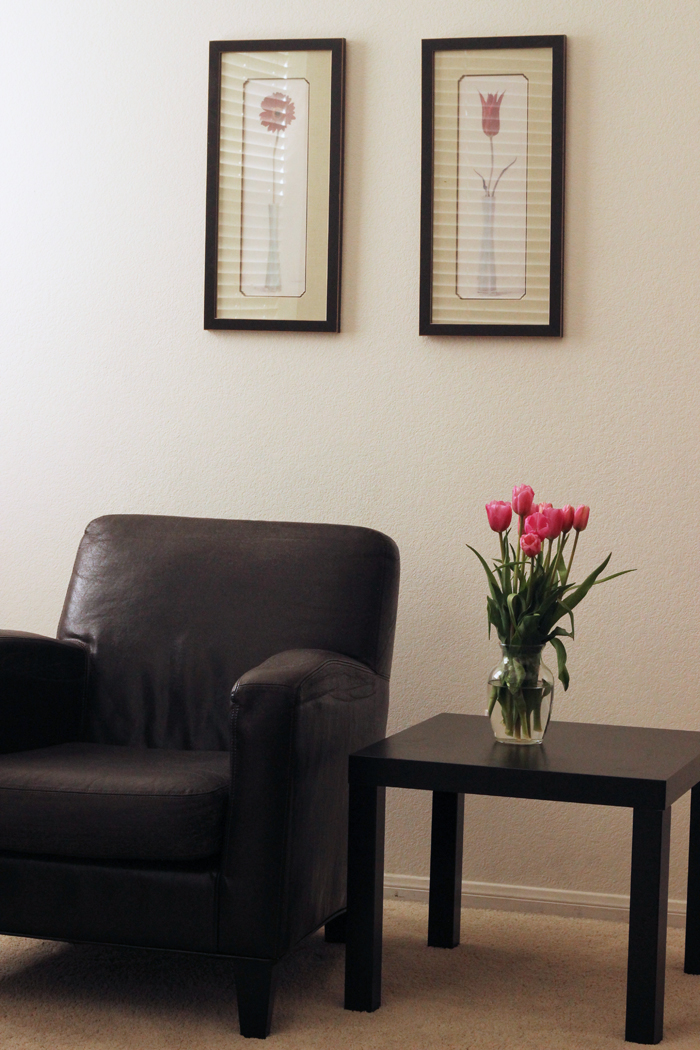 Spring is in full swing at our house. Neighbor kids have been knocking on the door, asking my kiddos to come out and play. Friends are calling about beach days and play dates. The days are longer, and the sun is shining.
After months of rain, illness, and being cooped up inside, I'm more than ready for us to get out and about. However, after months of rain, illness, and being cooped up inside, our house could use a little help.
Time for simple spring cleaning!
Spring cleaning has the reputation for requiring much elbow grease and hours of work. In fact, in the old days, "spring cleaning day" was the first day in months when homemakers could open their doors and windows, shake out the rugs, and wash away the soot accumulated from the coal furnace over the winter.
Most of us don't have that coal furnace problem these days, but there is still cleaning and tidying to do, and perhaps a few seasonal chores that need our attention.
Here are 6 simple spring cleaning tasks that you can do today to make a big impact on your home. You may not think about doing them too often, but they can make a difference in the long run.
1. Set the oven to self-clean.
When was the last time you cleaned your oven? That was what I wondered recently, as several layers of muck accumulated on the walls and racks caught my eye.
While it made my house smell like a coal furnace while the self-cleaning cycle ran, it was worth it. The oven is clean, it smells great, and the racks slide in and out easily.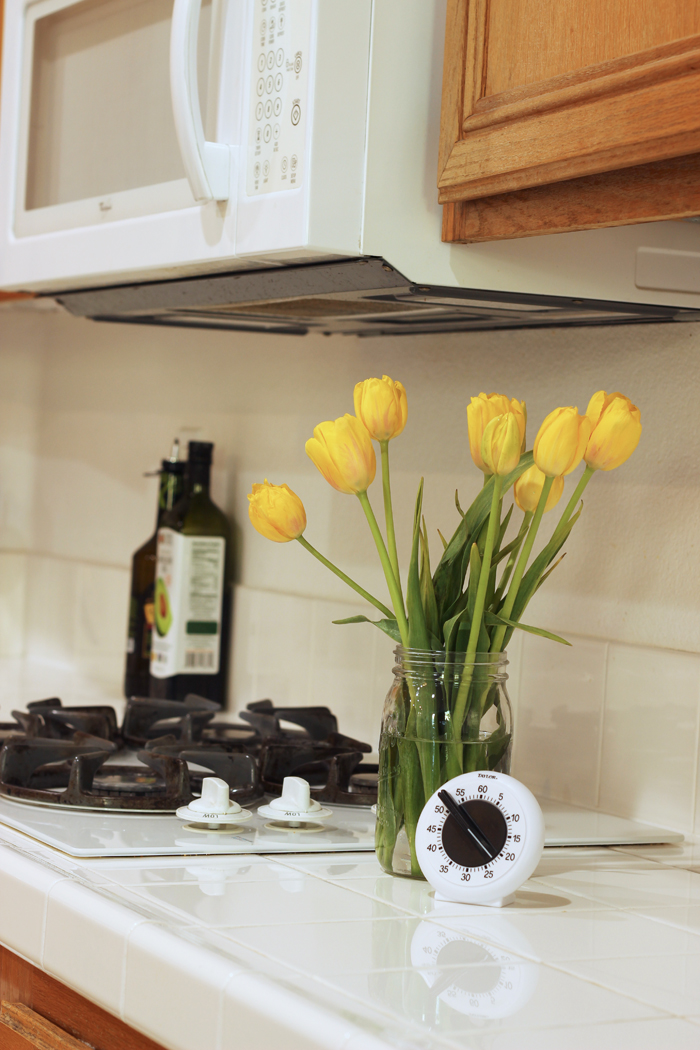 2. Wipe down the microwave.
Microwaves can take a beating, becoming speckled with food particles, spills, and splashes. If you're not in the practice of wiping it down after every use, time to play catch up!
Microwave a cup of lemon juice or vinegar mixed with water for several minutes. The steam from the hot liquid will loosen any crusty bits and you'll be able to easily wipe it all down. Then instruct your people to wipe it down every time.
3. Change the batteries in your smoke detectors.
House fires still happen, and unfortunately, still take lives. Don't let this happen to your family!
Check that your smoke detectors are in good working order and change the batteries regularly. Changing the batteries every 6 months is a good habit to be in; you can time it with spring and fall.
4. Replace light bulbs.
I don't know about you, but after months of dark and dreary winter, I'm ready for light and bright. While the time change has certainly helped my cause, replacing old light bulbs has also given my home a much-needed boost.
Replace those burnt out bulbs and see the light! If your light bulbs are all still operational, consider washing the light fixtures and getting rid of the bugs and dust that have collected over the last few months.
5. Wash your window screens.
Now's the time to open up the windows and enjoy the fresh air. But, have you washed the window screens lately?
Pop those out and hose them down. Clean screens will keep dust and dirt from blowing inside your home and allow you a breath of fresh air.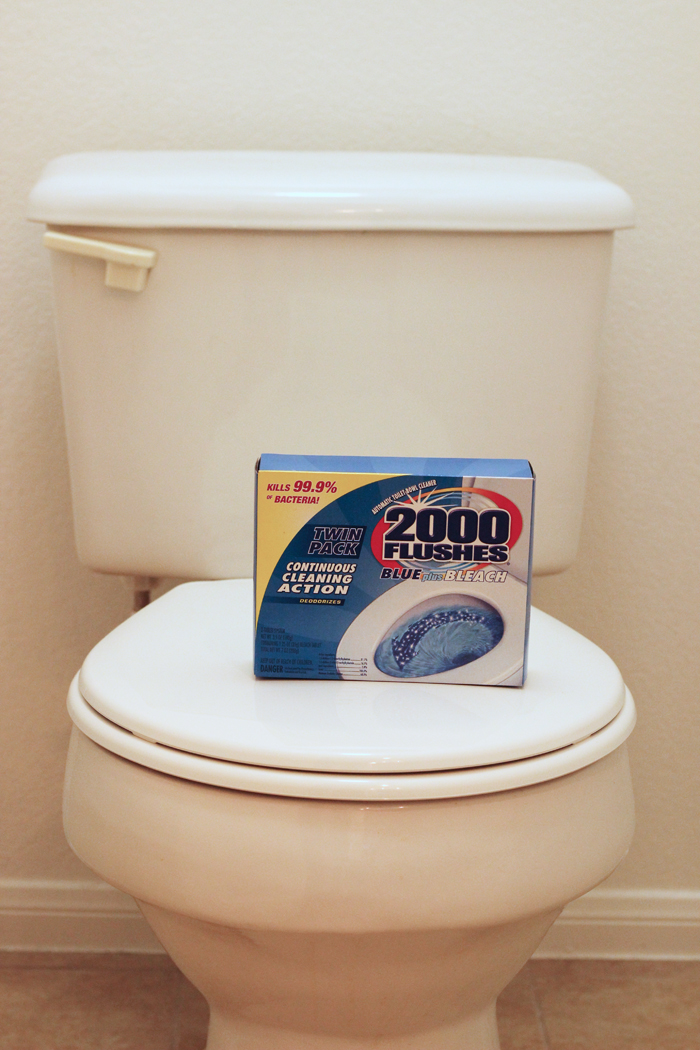 6. Keep the toilets clean.
Bathroom cleaning should be a regularly scheduled chore, but there are ways to make it easier. Install an automatic toilet bowl cleaner, like 2000 Flushes, to lighten some of the load.
2000 Flushes' unique formula cleans and deodorizes, keeping your toilet fresh and clean and making scrubbing so much easier.
Mark your calendar to replace the 2000 Flushes tablet once a season to keep things fresh and easy.
I'd love to hear from you!
What are some simple spring cleaning tasks that YOU do every year?
Disclosure: This post has been sponsored by 2000 Flushes® Automatic Toilet Bowl Cleaner. I have been compensated for my time spent writing. All opinions are my own.