7 Fun Date Night Ideas
As an Amazon Associate I earn from qualifying purchases. For more details, please see our disclosure policy.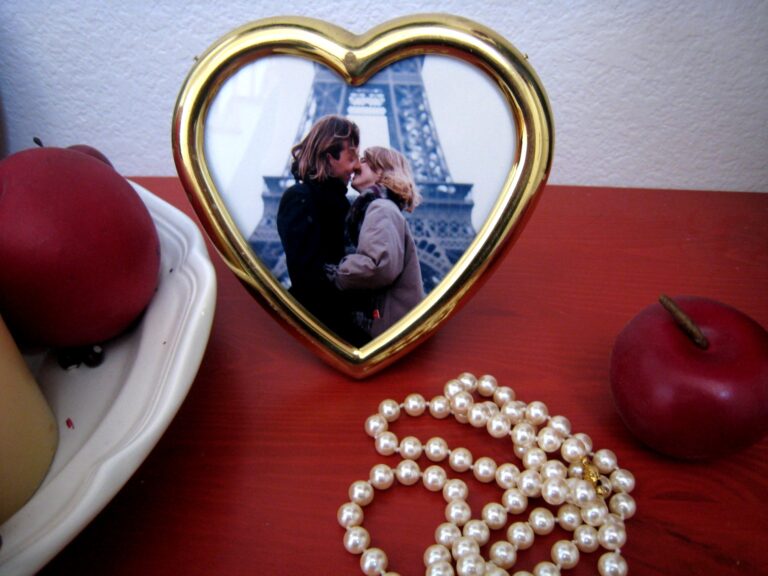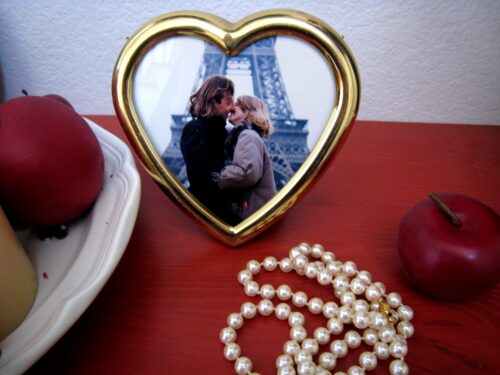 When we were younger,  we hung this photograph in our little studio apartment. Visitors were sure to comment, "Cool picture. Who's the guy kissing Jessica?" We were dumb-founded that they
thought we'd display a photo of me and another man embracing!
didn't recognize my husband, despite the long hair and Napoleon Bonapart coat.
would admire the photo anyway.
To this day we laugh over that photo and the comments it has generated. And laughing together is something that we love to do. FishPapa has this great belly laugh/guffaw that I love to hear…. especially if I can bring it on with my quick, razor-sharp wit.
Over the last month we have rediscovered date nights. Between Grampa and Uncle Jace, we've had free babysitting provided each week. While I don't believe that strong marriages require date nights or that a lack of date nights means danger, I do think they are a great asset to marriage. It's been so fun to take a break from "life as mom and pop" and head out for a few hours of just us.
Looking for some date night inspiration?
1. Go out to eat. Since we are true gluttons foodies, we enjoy simply dining out together. While we have fond memories of restaurants like California Pizza Kitchen or Cheesecake Factory, we've recently opted for simpler, less expensive places. Sometimes it's a free lunch, other times just a good cheap eat. But, spending time together over a meal that I don't have to cook, that I don't have to say, "Eat your vegetables," and that I don't have to clean up? Well, that is a fantastic way to spend an evening with my husband.
2. Head to the library or bookstore. Bookstores have become regular hang outs over the last twenty years. Gourmet coffee, mellow music, and good reads, make it the perfect venue to window shop together and get philosophical over mochas and biscotti. You might even consider picking out a book to read together!
3. Catch a show, concert or movie. Years ago we bought season passes to an open-air theatre. We enjoyed a picnic dinner while watching A Midsummer's Night Dream performed live. But, the movie theatre or even a movie at home once the kids go to bed is a great way to pass the evening. And there are chick flicks that guys might like.
4. Go grocery shopping. Yes, we really have done this on date nights. It reminds me of the old days when we'd wander the store together. Late night shopping without kids in tow takes on a totally different feel. I love how Rachel blessed Doug on this grocery shopping trip. Too cute! Be imaginative and turn the mundane into a memory.
5. Go to an amusement park! We usually think of places like Disneyland and Six Flags in terms of our children. But imagine going on every ride without worrying about height limitations! If you've got a park within easy distance, make a day trip just the two of you.
6. Take a hike — or a walk. Exercise, God's creation and the one you love? What could be better? Seek out the local hiking and biking trails and go on an adventure together. Even a walk in the snow can be exhilarating — especially if you're only responsible for your own mittens! Pack a picnic and watch the sunset.
7. Visit a museum. We have wonderful memories of strolling through the Louvre in Paris. We stopped at every painting and examined it and talked together. We weren't just taking in art or history, we were sharing an experience. Investigate the museums in your city; some even have free admission on certain days of the month.
Date nights don't need to be extravagant or expensive. What's most important is spending time together, just for fun.
What's a fun date night for you?