One of the most significant ways that our family saved money and fought back debt was to go meatless many nights a week. Reader Lisa shares other tips on how to save on meat.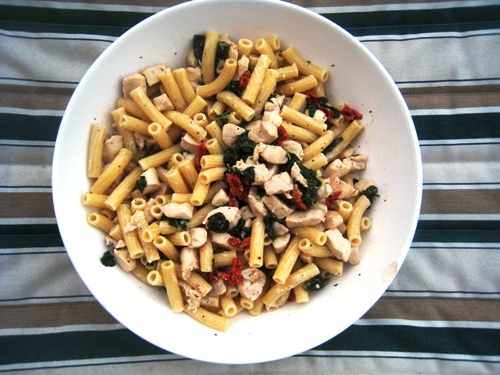 The following is a guest post from Lisa of Cooking Up A Sale:
You probably know that meat is the most expensive part of any meal. And you probably also know that serving a meatless dinner one night each week is a great way to save money on your grocery bill. But what about the other six nights? Is it possible to serve meat and still eat on the cheap? If you follow through with the tips below, it's most definitely possible!
1. Plan your meals around meat that's on sale or marked down. If chicken is on sale, don't put "beef roast" on your menu (unless you have a beef roast in the freezer that was bought on sale last week!)  In addition, most grocery stores mark down meat that is coming close to its "sell by" date. Check with the butcher to see if there's a specific day (or time of day) that the meat gets marked down. Clearanced meat isn't meat that's gone bad. It's just meat that has to be used (or frozen) soon…before it gets bad.
2. Buy cheaper cuts of meat. Cheaper cut = tougher meat, right? Not if you utilize your crockpot! A day spent in the crockpot on low can transform those cheap, tough cuts of meat into fork-tender bites of deliciousness!
3. Separate the tenderloin. Boneless pork chops, pork loin, and chicken breasts come with a small piece of meat hanging off the side. The tenderloin is attached with some fat to the main piece of meat. Use a kitchen scissors to trim off the tenderloin. (You won't even miss such a little bit of meat from your grilled chicken breast!)  Trim off all visible fat, place the tenderloin(s) in a freezer bag, and throw it in the freezer (don't forget to label it!). Add to the bag each time you prep your meat, and eventually you'll collect enough to create Chicken Primavera or something else that calls for small pieces of chicken breast or pork.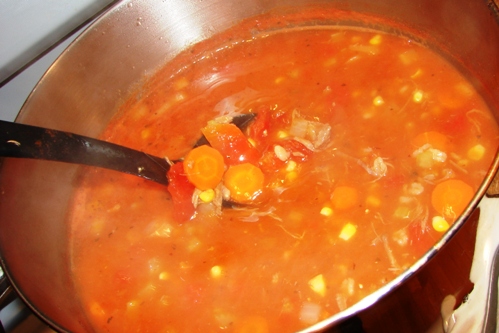 photo source: Lisa DeBoer
4. Use less meat.  If your favorite beef burritos call for 1.5 pounds of ground beef, use 1 pound instead. When that half pound of "missing" meat is spread out among 6 burritos, you probably won't even notice it's missing. If you do notice, and the burritos seem scrawny…
5. Replace some of the meat in your recipe with beans. This doesn't work for just anything, but you can add extra beans to your chili,  hide mashed black beans in burgers, or mix some refried beans into your taco meat.
6. Stretch your meat by using it as an add-in instead of a stand-alone meal item. Instead of serving grilled steak, rice, and vegetables, make Beef Fried Rice, which uses only 1 pound of steak and makes enough to feed an army! As well, soup generally yields a large batch while using minimal meat.
7. Be intentional with your leftover meat. If you have one serving of roast beef left after dinner, don't eat it for lunch the next day! Use it to make Vegetable Beef Soup, which will serve an entire family for supper (plus create MORE leftovers) instead of serving just one person for lunch.
With a little forethought and creativity, you can enjoy meat for supper without breaking the bank!
— Lisa DeBoer is a Michigan wife and mother who loves to spend time in the kitchen. She has a major sweet tooth, loves the change of seasons, enjoys camping with her family and friends, and dislikes rainchecks, cluttery countertops, and ironing. Lisa blogs about two of her favorite topics ~ FOOD, and saving money on groceries ~ at Cooking Up A Sale, where you can find more money-saving tips as part of her current series, "31 Days of Saving Money in the Kitchen".
Today's Frugal Friday!
Time to swap ideas and inspiration for saving money and getting good values.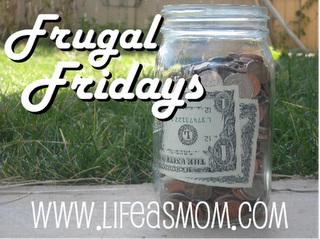 How do YOU save money?
Please remember to follow the Frugal Friday Guidelines or be deleted.
Post a money saving idea and explain how it is helpful in your post.
No giveaways or deals posts.
Recipes are allowed, but you must explain how it saves people money.
Please include a link back to Life as MOM.