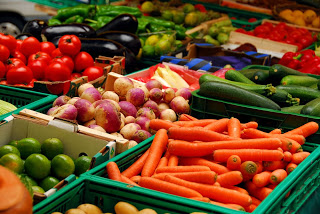 Last week I had lunch with Elizabeth Somer, registered dietician and author of Food and Mood: The Complete Guide to Eating Well and Feeling Your Best . It was great to have a chance to meet her and have many of my food myths dispelled.
One of the things we discussed was the importance of fruits and vegetable in our diet. While dieticians and nutrition experts differ in their opinions about various aspects of food, they all agree on how vital fruits and vegetables are to good health. In fact, though I've seen the 5 A Day campaign, every person should be getting at least 8 servings a day. And the Center for Disease Control is altering their nutrition campaign to make it easier for you to know that you're eating the right amounts.
Eight a day? Ouch! I was hard pressed to get five down their gullets, but now eight? But, after some thinking, I came up with at least eight ways to make produce easier for my kids to swallow.
1. Stock up on fruits and veggies whenever there are good deals. The more you have, the more you can eat.
2. Provide a bottomless veggie tray. I find that when I keep a platter stocked with veg, the kids tend to eat more. I bring it out at snack time and while I am cooking dinner and they munch away without a thought about it. So much better than mindless munching on chips or crackers which are full of salt and fat.
3. Find quick ways to prep your veg. There's the obvious: buying baby carrots and veggie trays. But, you can quickly cut an apple if you slice around the core instead of through. Same goes for a bell pepper. I recently discovered this and it has revolutionized my serve.
4. Let the kids help. Kids are more likely to eat what they've helped prepare. Plus, you're giving them a life skill: food preparation. (For help in this area, consider buying my ebook about cooking with children.) FishBoy, aged 6, loves to help make the vegetable tray.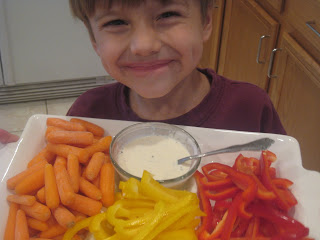 5. Cook them in a pleasing manner. Add sauteed garlic and a little olive oil to steamed veggies in order to boost their flavor. Seek out recipes that focus on vegetables. A little extra work on side dishes may ake them more palatable. Tammy's Recipes, Queen of the Castle Recipes, and Food with Kid Appeal are great places to start in the hunt for recipes to add to your repertoire.
6. Disguise it. Mix grated carrots or spinach into pasta sauce or lasagna. Bake pumpkin or sweet potato into rolls and quick breads. Blend spinach into smoothies. You can even add pureed vegetables to scrambled eggs.
7. Make it fancy. If you arrange the food in a pretty way, kids (and adults) are more likely to eat it. Presentation does affect how well a food is received, so take a little time to serve it nicely.
8. Plant a garden. Not only do homegrown fruits and vegetables taste better, but the activity of growing it themselves encourages children to try the different foods. Spring is just around the corner, so consider even just a pot of tomatoes on the back deck to get started.
Got another idea to make eating lots of fresh produce easier to digest? Share it in the comments.