The cooler temps of fall are starting to settle in. Make sure your kids start the day right. Try one of these quick, nourishing breakfast ideas provided by Life as MOM contributor, Jessie Leigh.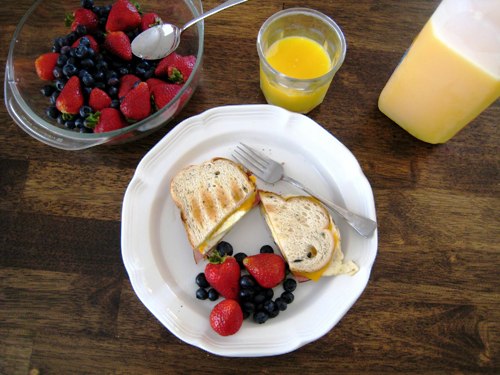 One of the greatest challenges I think I face in sending my children off to public school each day is ensuring they have the opportunity to eat an adequate amount of nourishing food. Growing bodies need lots of protein, vitamins, minerals, and healthy fats to both feel full and perform well.
While we're pretty fortunate to be at the tail end of bus pick-up around here– my children don't leave until 8:35 am– many elementary age students are being picked up well before eight in the morning. Junior high and high school students need to be out the door even earlier.
Added to that, today's school schedules tend to allow precious little time to eat. Rare is the school offering more than a half hour for lunchtime. My six- and seven-year-olds have twenty-five minutes, total, to get to the lunchroom, get their lunches, find a seat, eat, and clean up. Needless to say, I can't rely too heavily on lunch to get them through the days.
Serve a breakfast for champions.
Breakfast is of paramount importance for our children heading off for seven or eight hours away from us. What we serve them at the first meal helps set the tone for the entire day.
As the mercury drops, warm, stick-with-them meals become a big focus of my menu planning. What we can make, quickly and easily, that will warm them, fill them, and stick with them until they can refuel?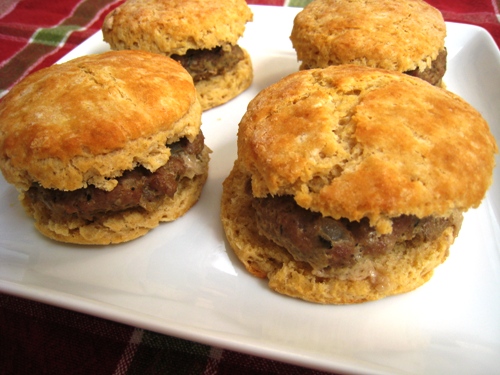 Here are eight suggestions for breakfasts that can be made ahead and/or come together super quickly. We're all busy people and it's unlikely you can stand over a griddle each and every morning before sending your little ones out the door. Nonetheless, hearty, wholesome fare can be accomplished.
Pancake roll-ups. Whip up some extra pancakes when you're already at the griddle on the weekend. Wrap each around a sausage link and secure with a toothpick. Keep these in a resealable bag in the fridge. Grab one or two and a banana and you've got a quick, hearty meal on hand.
Breakfast burritos. Breakfast burritos can easily be made ahead, individually wrapped, and frozen. These can be as simple as just egg and cheese or chock-full of meats and veggies– you know your crew!
Peanut butter raisin toast. Nothing on hand? Toast some whole-grain bread, smear it with peanut butter, and provide some raisins for your budding artists to decorate it. Is it a fancy breakfast? Nope. But dried fruit and protein-rich PB aren't a bad start, either. And they'll definitely stick with a child longer than, say, a pop-tart.
Corn-dog muffins. "What in the world?" you might be saying. Hear me out. Bake up some corn muffins (from scratch or a box), add in some chopped sausage links, and serve with either a little cheddar melted on top (savory) or a drizzle of maple syrup (sweet.) Super simple to make ahead and very kid-friendly.
Mini quiches. Quiche recipes (especially the crustless variety) can easily be transformed to easy, portable, quick-to-reheat size by baking in a muffin tin. All manner of vitamin-rich veggies can be slipped into those eggs!
Egg "McMuffins". English muffins are a fantastic, kid-appropriate size for breakfast sandwiches. I like to layer half a scrambled egg, a slice of ham, and a slice of cheese on each. Basic flavors are typically well-received and help avoid morning power struggles. Bigger appetites might substitute a bagel or a biscuit and more filling.
Oatmeal raisin muffins and a handful of nuts. Muffins are delicious, but some are little more than a frosting-less cupcake if we really get down to a it. A hearty, dense muffin packed with oats and raisins will provide longer-lasting energy and a side of almonds or pecans will lend protein-rich crunch to the meal.
Oatmeal. I cannot sing the praises of oatmeal enough. I have dozens of tricks up my sleeve for ways to make this breakfast powerhouse special. Here's one quick idea to help make "boring old oatmeal" appeal to the masses: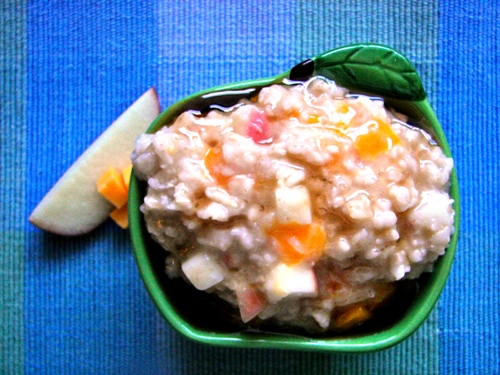 Recipe: Apple Cheddar Oatmeal
Ingredients
2 cups old-fashioned oats
4 cups water
2 sweet apples, chopped (they don't have to be sweet, but it's a great contrast to the salty cheddar)
2 oz. cheddar, finely diced
Drizzle of maple syrup
Instructions
Bring oats, apples, and water to a boil. Reduce heat and simmer until cooked, about 5 minutes. Remove from heat.
Add diced cheddar and stir.
Dish up into serving bowls and top each with a drizzle of maple syrup.
Preparation time: 5 minute(s)
Cooking time: 5 minute(s)
Number of servings (yield): 4
Mornings are hectic and whipping up breakfast can seem like a challenge. But a little forethought and planning can ensure your children are out the door with full, satisfied bellies that will help set their days up for success.
What's a favorite, filling breakfast at YOUR house?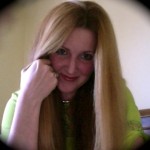 — A mother of three, including a 24 week preemie, JessieLeigh is a determined advocate for even the tiniest of babies. She can be found celebrating life's (sometimes unexpected) miracles and blessings at Parenting Miracles.