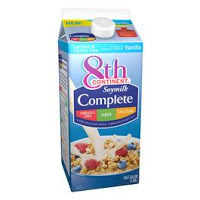 We're entering week 4 of 6 fantastic giveaways from Stremicks Heritage Foods. The company is awarding four lucky winners with two cartons of 8th Continent Complete Soy Milk this week.
New Complete
"is the first soymilk to offer three amazing health benefits in one delicious drink: Omega-3 DHA for increased brain & eye development, fiber for better digestion, and calcium for optimum bone health.

Like the rest of our delicious soymilks, 8th Continent Complete packs a number of other great soymilk health benefits. 8th Continent Complete is Gluten and lactose free, completely vegan, a great source of Vitamin D as well as other vitamins and minerals, and kosher, [as well.]
Fill in the form below for your chance to win. Addresses are obtained for the sole purpose of sending prize coupons to the winners. Entries will be accepted until Saturday night, April 11, 2009, midnight PST. Winners will be announced early next week.
(Freebies4Mom also has a Complete giveaway going! Enter for more chances to win here. Enter hers before it ends on Thursday the 9th!)