9 Ways to Lean Godward This Week
As an Amazon Associate I earn from qualifying purchases. For more details, please see our disclosure policy.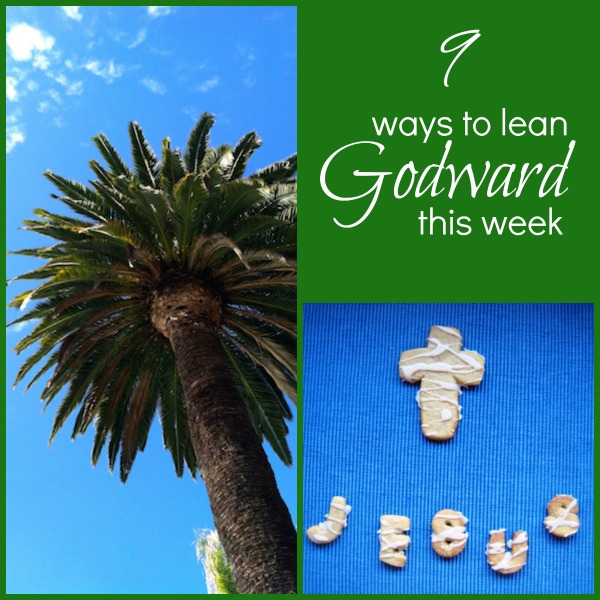 We are entering Holy Week, a special time set aside to think of Jesus' long walk toward the Cross, toward redeeming His people, toward loving us with an unfathomable love.
Of course, reflecting on this every day of the year is best, but our hearts are sometimes prone to wander, aren't they? I think that is one of the benefits of church holidays: they help us refocus.
As you walk through this last week before Easter, consider these 9 ways to lean Godward:
Start a new Bible reading plan or restart one you let fall behind.
I love the YouVersion Bible reading app. You can use it as a Bible and concordance, but you can also try out one of their many Bible reading plans. This week, they've got some holy week-themed plans available. I'm following the
Read Easter books with your kids.
Over the years we've built a small collection of books that appeal to kids but that also have some substance when it comes to explaining Jesus' life and goodness. Here's a sample for all range of ages. The Bronze Bow is an excellent book for older children and adults.
Listen to hymns and praise music throughout the day and week.
I have a couple Pandora stations that I lean on (David Crowder Band and Matt Redman) that continually provide me with inspiring music. I ended up buying this song and this album as a result of how they turn me back to God. Consider creating an Easter playlist of tunes that focus you on God.
Watch a Resurrection-themed film or TV series.
Last year we watched The Bible TV miniseries. In years passed we've screened The Jesus Film and The Jesus Film for Kids. It was a brutal time that Jesus walked in, which makes his sacrifice really clear.
Find a movie that suits the age of your watchers or just screen it on your own after bedtime.
Wake up before the sun and get outside to pray.
Jesus prayed in the watches of the night, seeking lonely places to commune with God. We are good to follow his example and devote time to prayer.
Attend a special service this week.
Between Messianic seders and Good Friday services, there is probably some special event that you can attend to help fix your mind on Jesus in a new and focused way.
Bake Jesus Cookies or an Empty Tomb Cake with your kids.
For years we baked nativity-inspired cookies at Christmas time. A few years ago, I rounded up a collection of resurrection-inspired cutters. Now we have Jesus Cookies for Easter. An Empty Tomb Cake is also a great visual for kids.
Count your blessings.
Flip through your calendar of the last year and jot down all the things you did, problems God solved, or other blessings that have crossed your path. I believe that in some way, all good things were bought at the Cross. It's good to be reminded of these things.
Confess your heart to God.
1 John 1:8-9 says, "If we say we have no sin, we deceive ourselves, and the truth is not in us. If we confess our sins, he is faithful and just to forgive us our sins and to cleanse us from all unrighteousness."
If confession is not a daily habit, consider how it can become so. Not to throw on guilt, but as an act of submission to God, and a means of our sanctification. He is faithful to help you change!
We won't do these things perfectly. Our best intentions on Sunday night may fall off course when Monday morning rolls around. But, creating a plan is half the battle.
This week, let's plan to focus on Jesus, the author and perfecter of our faith.