Boxed cereal that is minimally processed and GMO-free? Yes, please. This giveaway is now closed. Congrats to the winners: lexkygirl2008@, sheridack@,  ashapiro@, weirdtreer@, capturedbychrist@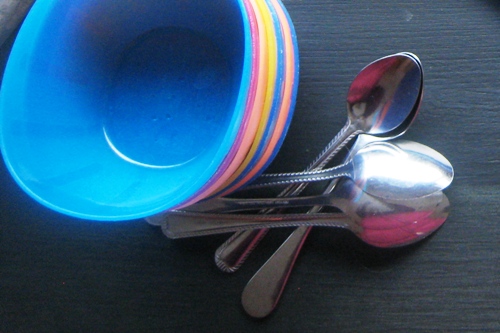 It seems like our days are just packed. I don't say this as a point of boasting. I laughed when I read that some women use busy-ness as a cause of boasting. Ha! I'd say lying in a hammock drinking a lemonade would be cause for that.
No, the days are good, but they are full. I'm okay with that. I'm just on a mission to trouble shoot as much as I can to make the days a little less full. That hammock is beckoning to me!
While I like to make a scratch-breakfast as often as possible, I've finally learned that cold cereal really works for our family. The few extra dollars from each week's grocery budget scores the kids an easy breakfast and gives hubby a filling start to the day that also helps him stick to his diet.
(He's approaching his 20 pound loss mark right now which is very exciting.)
Back in my big time couponing days, we practically lived on cold cereal. I could buy it cheap, sometimes even for free. But, California grocery stores aren't so nice about coupons and we've changed our eating habits a little. I've become a little pickier about the cereals I buy.
Recently we got to try a line of cereal that I'd never heard of before, and I'm so glad we did!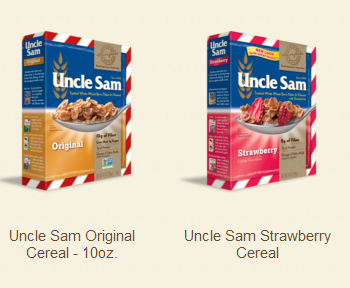 Attune Foods produces a large selection of healthier cereals, many of which are gluten-free. Not only do they have short ingredients lists, but they're all ingredients I can pronounce! I like that.
You've probably heard of their Uncle Sam cereal. It comes in original and strawberry flavors. The original's ingredient list? Whole wheat kernels, whole flaxseed, salt, barley malt. The wheat flakes are so simply processed, you "could" make them yourself. Hop over here and read how. I was shocked and amazed.
I don't know that I'll be rolling my own cereal anytime soon. There's that hammock calling to me. But the "real food" girl in me is excited to feed my kids good healthy stuff. And if I can buy it in a box, so much the better!
Attune also has the Erewhon line of cereals, organic and gluten-free. Since we aren't required to eat a gluten-free diet for health reasons, our family assessed the cereals based on taste. The Cocoa Crispy Brown Rice and the Strawberry Crisp were definite favorites. Of course.
But, I felt good that they were healthy choices, not just junk!
Both Erewhon and Uncle Sam cereals are easily found in my neck of the woods. I've seen both at Trader Joe's and Walmart sells Uncle Sam as well. You can also buy them on Amazon.
This week five Life as MOM readers will win a voucher good for a box of Uncle Sam cereal that you can try yourself.
To Enter:
Simply complete the information on this form. Please know that the information is only being gathered for the purposes of mailing you your prize in the event that you are chosen as the winner. This information will not be sold, traded, or given away.
This promotion is open until Sunday, October 7, 2012, at 8 pm PST and is limited to US residents, 18 years or older. Friends and family of Jessica Fisher and Life as MOM are ineligible for entry. The winner will be chosen randomly. The prize for this promotion is provided by and shipped by Attune Foods and/or its representatives. This post will be updated with the beginning of the winner's email address. Jessica Fisher and Life as MOM will not be held responsible for unclaimed or undelivered prizes.
Disclosure: I received sample product from Attune foods. All opinions are my own. This post contains an Amazon affiliate link. If you make a purchase through that link, I receive a small portion of advertising fees.