Win a copy of Shaina Olmanson's Desserts in Jars.
This giveaway is now closed. Congrats to the winners: sekeil5@, krissajeldy@, erinb1@, robjohnsonofwichita@, dfoster@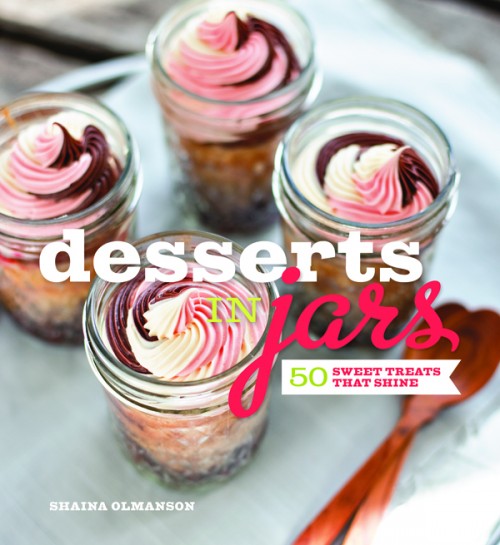 Part of the beauty and sweetness of holiday celebrations is the baking. From cakes to pies to cookies to elegant desserts, the sweets are a delicious way to celebrate with friends and family. And Desserts in Jars from my friend Shaina will help you do all of the above.
Shaina's got you covered for the holidays from individual Thanksgiving pies (try Classic Apple, Coconut Cream, or Lemon Meringue with Thyme Shortbread Crust) to Christmas morning's breakfast (Pain au Chocolat, anyone?) to Christmas gifts (Mixes in jars) and New Year's Eve celebrations (I've got my eye on the cover image of Neapolitan Cakes.
In fact, last Christmas we enjoyed Shaina's Pull-Apart Cinnamon Breads. It was the perfect sweet to add to our second breakfast of the morning. Hubby absolutely loved that the kids could eat out of the baking dish. (Less to wash.)
The desserts in Desserts in Jars are a double blessing. Not only are they deliciously amazing, but they are also packaged ready for serving. Talk about efficiency and delectability all wrapped up in one!
Next month we're booking it with Desserts in Jars. So, you should definitely check this baby out. Have your fam bookmark the recipes that they want to try out and have a big dessert making party.
This week five Life as MOM readers will win a copy of Desserts in Jars, courtesy of Harvard Common Press.
To Enter:
Simply complete the information on this form. Please know that the information is only being gathered for the purposes of mailing you your prize in the event that you are chosen as the winner. This information will not be sold, traded, or given away.
This promotion is open until Sunday, July 29th, at 8 pm PST and is limited to US residents, 18 years or older. Friends and family of Jessica Fisher and Life as MOM are ineligible for entry. The winner will be chosen randomly. The prize for this promotion is provided by and shipped by the Harvard Common Press and/or its representatives. This post will be updated with the beginning of the winner's email address. Jessica Fisher and Life as MOM will not be held responsible for unclaimed or undelivered prizes.
Disclosure: I received a review copy of this book. This post contains affiliate links. If you make a purchase through those links, I am paid a small amount in way of advertising fees. All opinions are my own.