This giveaway is now closed. Congrats to the winner: KristyBartlett@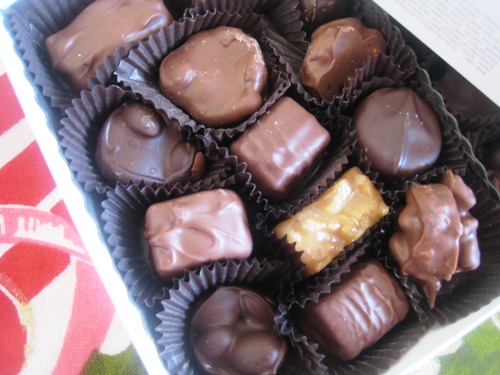 Smell that? THAT is the smell of Christmas morning!
What?! You don't have that tradition. Well, you should.
Every year for at least the last 40, my dad has opened a box of See's Candy Nuts and Chews to pass around while we opened presents. That, my friends, was breakfast.
And a mighty good breakfast that was. (Just saying.)
See's Candy is it when it comes to chocolate candies. Just ask any West Coaster you know. See's is it.
I noticed that when I lived in Kansas City, folks didn't quite understand this important fact. A See's shop opened in the local Nebraska Furniture Mart. Hubby went up there on Valentine's Day for me one year shortly after its opening. It was an undiscovered gem. No lines?! I'm here to clue you in that See's is the candy to buy this holiday season.
And no, they didn't ask me to say that. I would shout that from the roof tops.
For a few years, I had to stay away from my beloved Nuts and Chews since my little girl is allergic to peanuts and tree nuts. However, I recently found out this wonderful fact about See's nut-free products. Items like the Assorted Little Pops, Chocolate Caramel Lollypops, Peppermint Twists, and Sour Stars are all nut-free and produced in nut-free facilities. Yeah!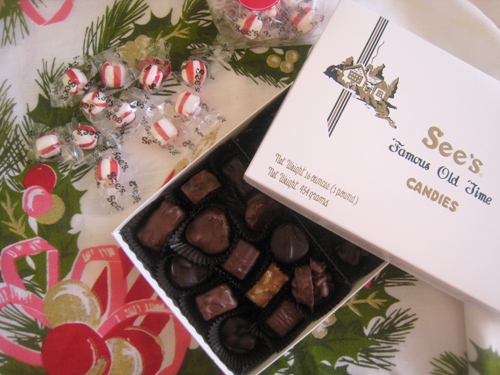 Now I can eat my gooey nuts and chews and my little girl can make her home special Christmas morning memories with safe treats from See's. We got to sample some of these nut-free candies as well as a box of Nuts and Chews (of course) recently. It took me back to happy days of childhood with just one breath.
And you should have heard all the humming when my peeps started sucking on lollipops.
This week See's Candy is giving one Life as MOM reader a $25 gift certificate to See's.
To Enter:
Simply complete the information on this form. Please know that the information is only being gathered for the purposes of mailing you your prize in the event that you are chosen as the winner. This information will not be sold, traded, or given away.
This promotion is open until Sunday, July 29th, at 8 pm PST and is limited to US residents, 18 years or older. Friends and family of Jessica Fisher and Life as MOM are ineligible for entry. The winner will be chosen randomly. The prize for this promotion is provided by and shipped by See's Candy and/or its representatives. This post will be updated with the beginning of the winner's email address. Jessica Fisher and Life as MOM will not be held responsible for unclaimed or undelivered prizes.
Disclosure: I received sample product from See's candy. All opinions are my own. I really do LOVE this product.