This giveaway is now closed. Congrats to the winners: josee@, beckylovesreading@, kcrognale@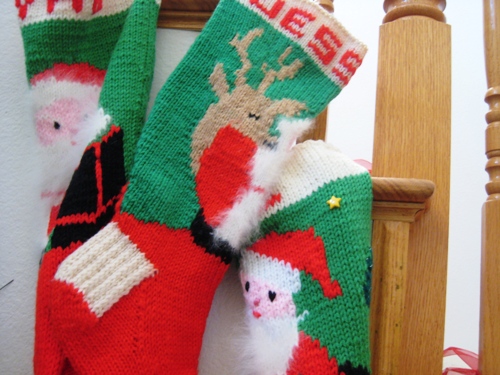 About fifteen years ago my mother took up the knitting needles. She learned to knit as a girl, but she renewed her skills for a very specific purpose. To knit Christmas stockings.
You see that stocking up there with "Jessica" emblazoned upon it is one that my granny made for me 40 years ago! Holy smokes. (Excuse, me but that kinda trips me out.)
As each of my siblings and cousins joined the clan, Granny knit or commissioned a stocking for that child. When FishPapa looked like he was The One, I asked that he get one as well.
In the 90's however, knitting wasn't yet the new vogue/retro hobby that it is today. No one knit anymore and it became increasingly harder to find grandmothers willing to make them for our clan.
When I refused to learn to knit, my mom had to take up the needles. And we searched high and low for patterns which were almost impossible to find. Today my mom has a huge collection of patterns that fit this 1970s theme. She's crafted stockings for each of her grandchildren, great nieces and nephews, and the wives my brothers have yet to find.
She's also developed a keepsake pattern of her own. This special Christmas tree stocking.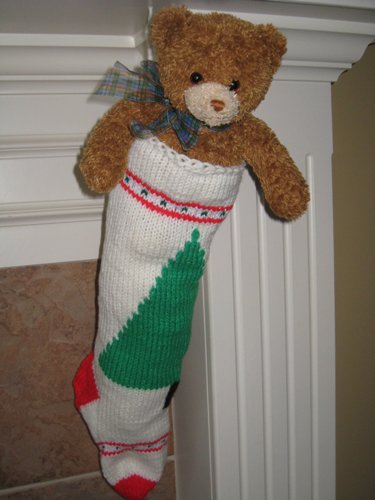 While it may look plain and simple the first year, the concept is that you would add to the stocking small pins, buttons, or tokens as the tree's ornaments. These will culminate throughout the years into a keepsake that marks the stages of  your child's life. I think the concept is brilliant.
I know that my own 40-year old stocking is near and dear to me, a precious part of my holiday celebrations. This tree certainly would be as well.
This week my mom is giving a handknit Christmas tree stocking to three Life as MOM readers.
To Enter
Simply complete the information on this form. Please know that the information is only being gathered for the purposes of mailing you your prize in the event that you are chosen as the winner. This information will not be sold, traded, or given away.
This promotion is open until Sunday, July 29th, at 8 pm PST and is limited to US residents, 18 years or older. Friends and family of Jessica Fisher and Life as MOM are ineligible for entry. The winner will be chosen randomly. This post will be updated with the beginning of the winner's email address. Jessica Fisher and Life as MOM will not be held responsible for unclaimed or undelivered prizes.
Disclosure: My mom isn't gaining anything for doing this. She just loves me — and you, too, by association. Can we give her the Mother of the Year award?