A Day in My Life as a Homeschool Mom
We are a participant in the Amazon Services LLC Associates Program, an affiliate advertising program designed to provide a means for us to earn fees by linking to Amazon.com and affiliated sites. We participate in other affiliate programs as well. For more details, please see our disclosure policy.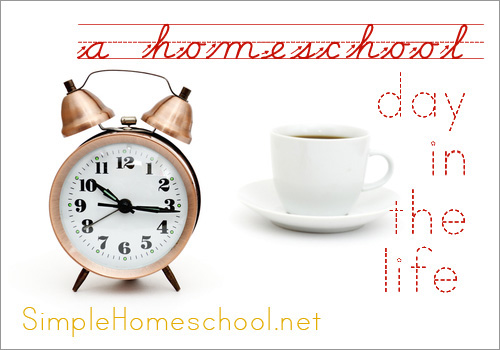 I love it that I get to write for Simple Homeschool. It gets me thinking and writing about things that I might not otherwise explore. This month we're sharing our "day in the life." Today you can read what a typical day is like at our house. Hold onto your hats!
From the post,
When I first started this homeschooling journey, my days went like clockwork.Certain days were devoted to library trips, play dates, and park days. Certain hours of the day were spoken for by math lessons, crafts, stories, lots of Match Game, and the blessed naptime.

That was nine years ago. My oldest was five. And I had a lot fewer wrinkles and gray hairs.

My days are currently not so regular. While I would love to be organized — and yes, even regimented — in how my days were spent, that's really not my reality, nor quite frankly, my personality.

Life with six kids is richer than I could ever have imagined. Yet, it's also more complex.

My typical day? It's the perpetual "box of chocolates" — I never know what I'll get.
Hop on over to Simple Homeschool for the rest of the post and to share your two cents.