The following giveaway is sponsored by Tyndale House Publishers:
THIS GIVEAWAY IS NOW CLOSED. CONGRATS TO THE WINNER: andreahimel@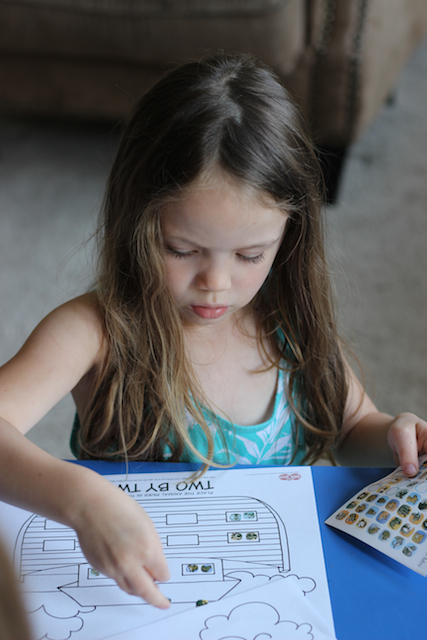 I come from the school of thought that all of life is worship. Our worldview and particularly our God-view can't be easily separated from our every day. Even when we're not cognizant of it, it directs our actions. That sounds very philosophical and theological for a Saturday morning, but there we are.
One of the ways that we (FishPapa and I) live that out is that our children's "religious instruction" is our responsibility. Friends, family, and church can play a supporting role in that, but the passing on of our faith is our responsibility. Some days, weeks, seasons, we really rock that role, having great conversations and doing meaningful activities as a family that point our kids to Jesus and his amazing work on the Cross.
And some days, weeks, seasons, we fall short.
I think it's probably pretty reflective of the Christian life as a whole. It ebbs and flows.
Finding great resources to support our Christian faith
That said, it's nice to find products and resources that help us weave a God-centered mindset throughout our daily lives. I have a great (FREE) Bible app that I use for daily devotions for the kids. I find myself more and more reading the New Living Translation. According to Bible Gateway,
The challenge for the translators was to create a text that would make the same impact in the life of modern readers that the original text had for the original readers. In the New Living Translation, this is accomplished by translating entire thoughts (rather than just words) into natural, everyday English. The end result is a translation that is easy to read and understand and that accurately communicates the meaning of the original text.
The app allows me to read the same Scripture in different translations, and I find that the NLT helps me grasp the verses in a new and different way. Oddly enough, it also happens to be a Tyndale House translation. Weird little coincidence there. Bonus fun fact: FishBoy9's middle name is Tyndale.
Most of my kids are now of the age that listening to Scripture being read and discussing it is a very doable thing. This has been a slow process over time, starting when they were very young.
I've found that it helps for the littles (7 and below) and antsy folks to have something to do to keep their hands busy while (hopefully) my voice is engaging their minds.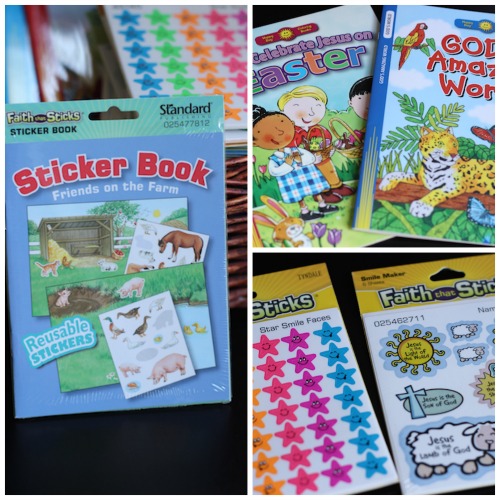 Recently, Tyndale House sent us a big box of those kind of resources from their "Faith that Sticks" and "Happy Day" lines: stickers, coloring books, and early readers. Some are very obviously Bible-oriented and others are more subtle.
How do stars relate to God? Farm animals? Sea creatures? Well, He made them! These stickers lend themselves to simple ways for you to chat with your young children about God's mighty works.
Kids of reading age will enjoy reading the stories depicted in the readers and coloring books, and younger kids will appreciate your taking the time to read to them. And kids just really love stickers!
To add more interest to the sticker collection, Tyndale House created a number of activity sheets to use the stickers with, but I see all kinds of applications for them once you run out of stickers as well.
They've provided the free PDF activity sheets for Life as MOM readers to download.
Free pdf activity sheets to download:
This line of products easily lends itself to morning devotions as well as providing stuffers for Easter baskets and Christmas stockings. I know kids would love these in their busy bags for church as well as packed in a road trip activity box. My girls were happy to play with them on a regular afternoon when school was done.
They would also be handy to keep in your purse or diaper bag for unexpected wait times.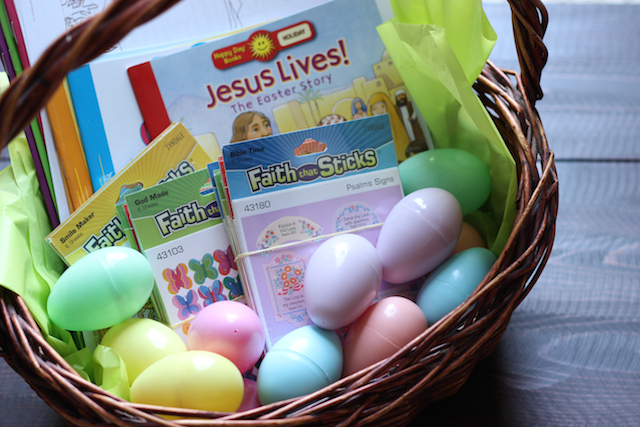 This week Tyndale House is offering a $100 sampler of the whole Faith that Sticks line with a few of the Happy Day books as a giveaway to one Life as MOM reader. (Plastic eggs and basket are not included.)
To Enter:
Simply complete the information on this form. Please know that the information is only being gathered for the purposes of mailing you your prize in the event that you are chosen as the winner. This information will not be sold, traded, or given away.
This promotion is open until Friday, April 11, 2013 at 7 pm PST and is limited to US residents, 18 years or older. Friends and family of Jessica Fisher and Life as MOM are ineligible for entry. The winners will be chosen randomly. This post will be updated with the beginning of the winner's email address. The prize for this promotion is provided by and shipped by Tyndale House and/or its representatives. Jessica Fisher and Life as MOM will not be held responsible for unclaimed or undelivered prizes.
Don't forget that you can sign up for
Tyndale House Rewards
in order to receive points (no purchase necessary) to redeem toward free Bibles and other resources. (Psst. that's my referral link.)
Disclosure: I have been compensated for my time spent writing. All opinions are my own. Free downloads are provided by Tyndale House.