A Few of My Favorite Things
We are a participant in the Amazon Services LLC Associates Program, an affiliate advertising program designed to provide a means for us to earn fees by linking to Amazon.com and affiliated sites. We participate in other affiliate programs as well. For more details, please see our disclosure policy.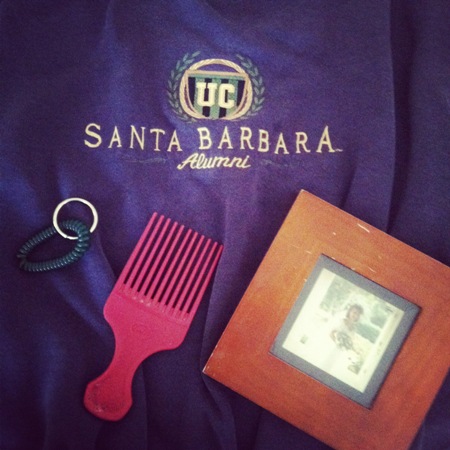 This random collection is near and dear to my heart. It's a very random collection, but they are things I don't want to part with.
:: The red plastic Goody pick that I've had since the days of my big hair. I don't think they make them like this anymore. And when my kids walk off with it, I'm bereft during primping time. It's the only comb I like to use.
:: An old, beat up, framed wedding picture. This is one of hubby's favorite pics of me on our Big Day. The frame boasts teething marks from one or more kids. It was a beautiful day.
:: The keychain that I wore round my wrist in college. At UC Santa Barbara we rode bikes everywhere, to class, to work, to the dorms. So, it was nice to have your keys on your wrist. What can I say, it was 1990.
:: My well-worn, almost threadbare sweatshirt from UCSB. My sister and my mom gave it to me for my graduation. I've worn it for almost 20 years and through six pregnancies. It's a little stained, and you can almost see through it, but I'm looking forward to cooler weather, so I can wear it around the house, snug and cozy.
What are some of your favorite things?