The One in Which I Ramble a Lot and Show How We Created a Fun Play Space for Our Kids
We are a participant in the Amazon Services LLC Associates Program, an affiliate advertising program designed to provide a means for us to earn fees by linking to Amazon.com and affiliated sites. We participate in other affiliate programs as well. For more details, please see our disclosure policy.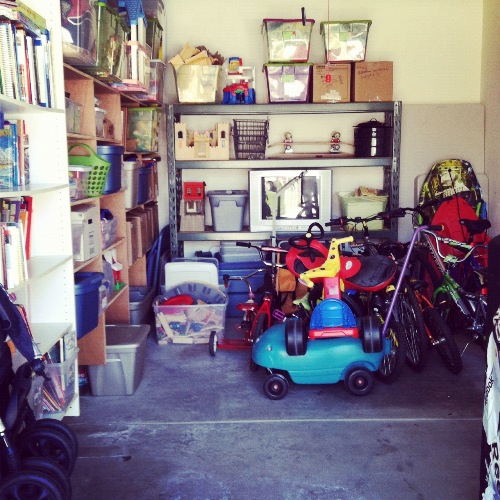 My kids have no shortage of toys, books, and games. In fact, we have an entire single car garage, aptly dubbed The Toy Garage in which we store the aforementioned toys, books, and games.
Each child has a stash of his own personal items in his bedroom, either in bins under the bed or in the closet. And we have more bins in each of the living areas where we rotate items in and out.
And believe me when I say I pick up fifty toys in a day, if I pick up one.
Don't get me wrong. I want my children to have a fun play environment, but at the same time, I'd like us not to spend every other waking moment cleaning up toys.
In previous homes — back when we had more bedrooms than kids — we had a dedicated toy room. All the toys were stored and mostly played with in that room. And about once a month I dared to go in and shovel it all back into tubs and bins.
When we first moved to this house, we didn't have an extra room for toys, so we set up The Toy Garage like this: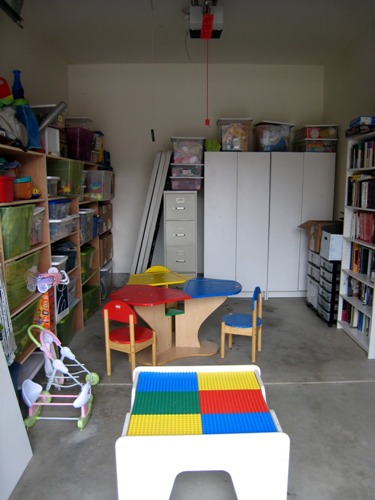 It was a great idea for playing, but we quickly found out that the position of the house in relationship to the sun made this a veritable sweat box. Not ideal for playing.
And anyway, I wasn't going to let the girls play in the garage without me.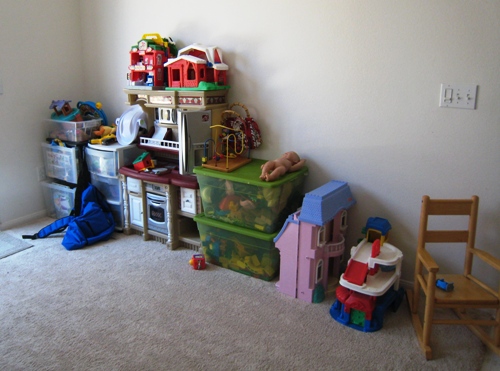 So, we stored the girly/baby stuff in the house, in the family room, along a wall. And I hated the look of it. We tried different configurations and different storage systems in our efforts to make play easy and fun, but not burden anyone with shoveling up the mess.
That didn't work. Since the girls were so little, the boys and I were the ones cleaning up most of it. Sure, I required the girls to help. But, we did the heavy lifting.
As you can see in the top photo, The Toy Garage now serves as a storage space more than a play area. It is a holding place for the big green bins that hold toys like Little People, Duplo, Thomas the Train pieces, Legos, Playmobils, dress-up, etc, as well as a parking space for bikes, scooters, cars, boogie boards, and sleds.
For the last year or so, the girls have had their play kitchen and table in the family room with several bins of dolls, Barbies, and play food stored in the cubbies under the family room window. Or supposed to be in the cubbies. But, again that wasn't happening.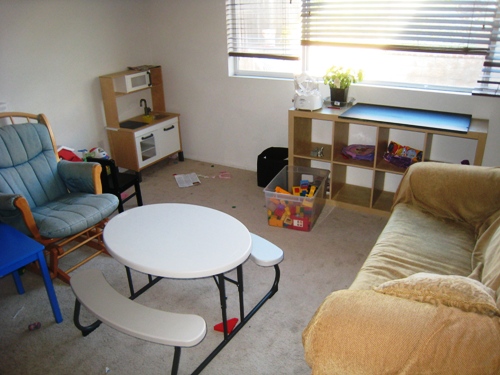 Ignore the picnic table in the picture. It's outdoor furniture, but hubs had just put it together. I have no idea why anyone took a picture. But, voila.
See? Total randomness.
And I will get to the point — eventually. You need this back story; really, you do.
Even with this new configuration, the family room seemed to be in constant disarray. The boys were frustrated by cleaning up this zone, but I really wanted the girls (5 and almost 4) to have plentiful opportunity to play the things they love and to have boundaries to help them clean up their own messes.
Yes, we're working on that.
Just a few days ago, I came across one ginormous mess in the cupboard under the stairs. As I dug deeper and deeper, I found that a lot of the things I had assigned to children to put away had ended up, you guessed it, in the closet.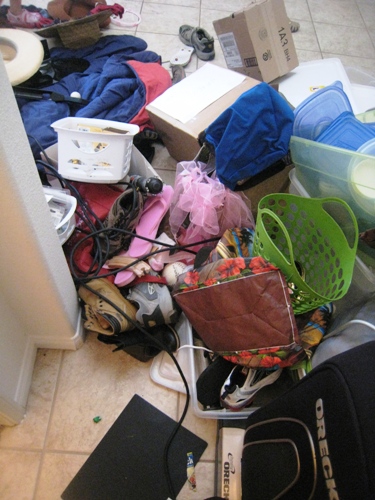 Once my head stopped spinning around, I gutted the closet completely. We spent an hour or so matching shoes, hauling laundry, and otherwise making sense of the mess. What we were left with was this beautiful space: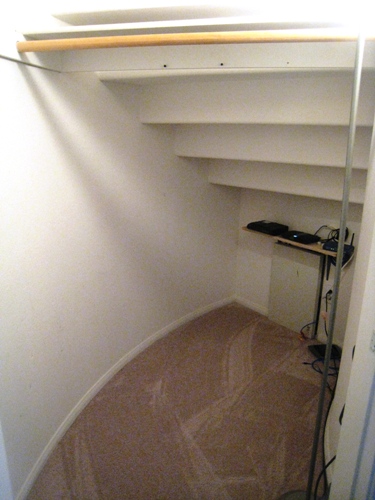 I called in the boys to consult. My initial idea was to make this a Quiet Room where anyone could come to read quietly with plenty of floor pillows, blankets, and posters for fun. This idea, though great, has been tabled for the moment to make a place space for the girls.
After getting the safety check from FishPapa, I curtained off the routers and cable stuff in the back and went to work in making a surprise for my girlies.
I would have loved to repaint the walls, but that will have to wait for another time. I am pretty impatient when it comes to projects and I knew I better not open that can of worms.
The boys really got into the project and helped me tremendously in making it a special place for their sisters. We moved  furniture, rounded up play food, and otherwise worked to make it a special zone just for play.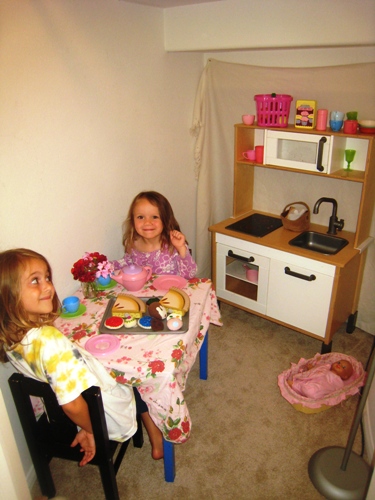 The girls were ecstatic. It was so fun to see the looks of surprise on their faces. I didn't spend anything but a little sweat equity. And then that night the girls and I went to Walmart to pick up some photographs I had ordered to hang on the walls of the Play Closet. FishPapa hung the photos right away.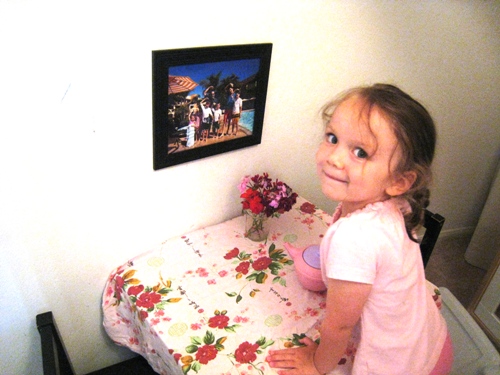 While at Walmart we bought two clear plastic shoeboxes so that the girls had someplace to store their playfood.
I also spoke with hubby about getting them a refrigerator. He asked where we could get one to match. I said, "FishPapa's Workshop." Hehe. He laughed. It's nice being married to a carpenter. More on that project later….
The next morning I was greeted with breakfast in bed, cooked in their own kitchen. And later when I went to check out what they were doing, I smiled when I saw this: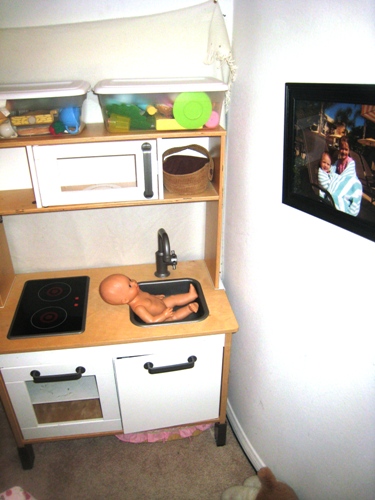 The baby is getting a bath in the sink! I love it!
There isn't a ton of storage space in here, not to make it livable anyway, so the rest of the babies are stored under the table.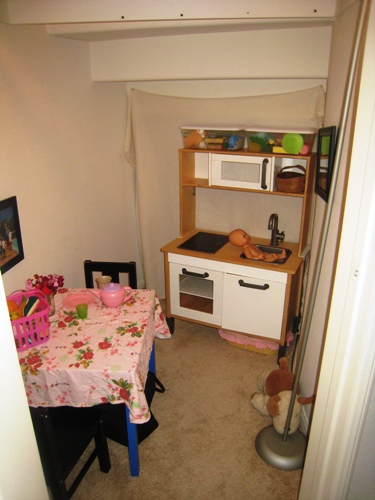 Chances are we'll add and tweak some more, but in the meantime, I'm so happy to have this fun little space for my girlies. And didn't my heart just melt when a couple brothers came in for a tea party. They drank soda instead, but they were there, nonetheless.
Did you have a fun play space as a child or have you created one for your kids?