This post is sponsored by Band-Aid. All opinions are my own:
This giveaway is now closed. Congrats to the winner: bethsteiner@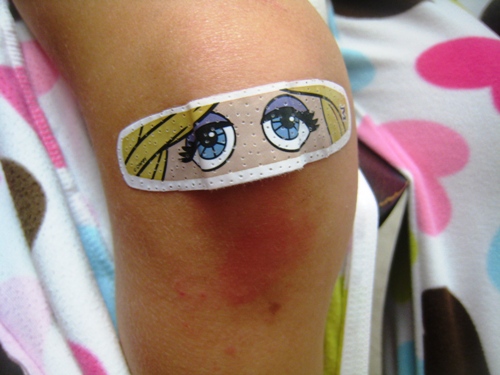 This past week had me digging through my emergency stash, clicking around on my county's emergency preparedness site, and otherwise thinking about all things emergency-related. If it wasn't the possibility of being evacuated due to wildfire, it was the idea that we could be without power if things got too crazy around here.
A few years ago we had a widespread power outage and it taught me to get a little better prepared. Since then I've stashed a 3-day supply of food and water in the garage, stocked up on 12-hour emergency candles, and prepared Go-Bags for the kids. Included in our supplies are an ample amount of Band-Aid bandages.
Under normal circumstances, our family leans on Band-Aids on a weekly basis, from cuts and scrapes to imaginary ailments that only a Band-Aid will cure. It helps if there's a Barbie or Dora or Teenage Mutant Ninja Turtles or something on said bandage.
Well, at least for some of us.
Band-Aids are a household name around here.
Be the Next Band-Aid Brand Star

BAND-AID® Brand is searching for the next BAND-AID® Brand star. Submit a video of your children (or the whole family) singing their famous jingle at  by May 26 and you could win a $10,000 Walmart gift card, brought to you by BAND-AID® Brand.
Enter early for a shot at being a bi-weekly winner, and receive a $250 Walmart gift card plus an automatic finalist spot. The remaining 9 finalists will receive $100 Walmart gift cards. Once all of the submissions have been received, you'll then be invited to vote for your favorite BAND-AID® Brand "Stuck on Me" finalist through June 17. The winner will be announced on June 25.
Prizing Breakdown:
3 bi-weekly winners will receive $250 Walmart gift cards
9 remaining runner ups will receive $100 Walmart gift cards
1 grand prize winner will receive a $10,000 Walmart gift card
You can enter the contest this way:
Listen to/download the jingle.
Grab your camera or smartphone, and record your children/family singing the "Stuck on Me" jingle. Check out these videos by Maddie Jane and Jorge Narvaez
Complete your registration to upload your video. Once the video is approved, your video will appear with the other BAND-AID® Brand stars in the contest video gallery.
Judges will select the top 12 entries and then the public will vote on the grand prize winner.
Be sure to read the Official Rules and other pertinent information.
You can follow Band-Aid on Facebook
Win Band-Aids this week on Life as MOM

This week one Life as MOM reader will win a prize pack from Band-Aid.
The package will include:
2 Boxes of Doc McStuffins BAND-AID® Brand Adhesive Bandages
2 Boxes of Planes BAND-AID® Brand Adhesive Bandages
1 Box of Teenage Mutant Ninja Turtle BAND-AID® Brand Adhesive Bandages
1 Box of BAND-AID® Advanced Healing Blister Pads
1 Box of BAND-AID® Brand Adhesive Bandages featuring Cynthia Rowley
To Enter:
Simply complete the information on this form. Please know that the information is only being gathered for the purposes of mailing you your prize in the event that you are chosen as the winner. This information will not be sold, traded, or given away.
This promotion is open until Sunday, May 25, 2014 at 7 pm PST and is limited to US residents, 18 years or older. Friends and family of Jessica Fisher and Life as MOM are ineligible for entry. The winners will be chosen randomly. This post will be updated with the beginning of the winner's email address. The prize for this promotion is provided by and shipped by Band-Aid and/or its representatives. Jessica Fisher and Life as MOM will not be held responsible for unclaimed or undelivered prizes.
Disclosure: I have been compensated for my time spent writing and administering this giveaway. All opinions are my own.