Box Tops for Education has created an online shopping portal where you can shop and earn credits for your local school. Fun stuff!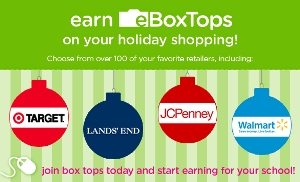 As you know, I am a huge fan of shopping from home. In fact, except for a few stocking stuffers, the bulk of our Christmas shopping is being done online this year. This saves us from filling the parking lot, the streets, and our shopping cart with more than we need. And the UPS man drives the carpool for all those packages!
There are good reasons to shop in person, and good reasons to shop at home. I say go with your groove.
But did you know that shopping online can help your local school?

Box Tops for Education has created an online shopping portal where you can shop and earn credits for your local school. They sent me on a shopping expedition recently, and it was just as easy as any other shopping adventure. And since I didn't have to fight any crowds or find a parking place, it was even easier.
In following SimpleKids' example of gifting something to read, I bought a few books from Barnes and Noble through the BTE portal. Don't worry, you do all your transactions through the vendor of your choice. BTE simply gets credit for referring you to that site. A few days later I got confirmation that over 30 boxtops were donated to the school of my choice.
An added bonus was that I got to bless my niece in the process. My kids are taught at home, so box tops don't go very far for their school. But, Ella gets really excited about clipping and carting box tops to school. While I couldn't send her the physical box tops, I was able to send her an email letting her know that we donated over THIRTY box tops at one time. My sister says that makes her just as pleased.
If you're going to do any online shopping, you may want to consider visiting Box Tops for Education first to see if the vendor of your choice is participating in their program.
Win a $50 Gift Card
This weekend, Box Tops for Education is providing a $50 gift card for one Life as MOM reader. What a great holiday treat!
To Enter:

Simply leave a comment on this post.
This promotion is open until Sunday, December 4th, at 8 pm PST and is limited to US residents, 18 years or older. The winner will be chosen randomly and notified via email. Please respond within 48 hours to claim your prize. This post will be updated with the beginning of the winner's email addresses. The prize for this promotion is provided by and shipped by Box Tops for Education. Life as MOM will not be held responsible for unclaimed or undelivered prizes.
THIS GIVEAWAY IS NOW CLOSED. CONGRATS TO THE WINNER: scrappymom2be@
Disclosure: I received a gift card to review the Box Tops for Education shopping experience.