This post is sponsored by Crav-On: This giveaway is now closed. Congrats to the winners: slrdowney@, katiemur@, waleska.wilbourne@, hrsteeley@

Back in May I did something new. I spoke at a blogging conference. That was pretty wild. I got a chance to hang with two dear friends, Stephanie and Amy.
Not only that, I got a chance to try a whole bunch of new food items, including Crav-On Fries. Crav-On was one of the sponsors of the conference, and they fed us lunch one day! They drove their food truck up a mountain to feed hungry food bloggers. I loved the concept from the beginning.
In fact, their food truck has been cruising throughout California all summer. What a great way to get the word out about their new product!
What's different about these frozen French "fries" is that they are never fried. Potatoes are blanched, tossed with olive oil, salt, and pepper, and flash frozen. You can eat them as-is as a side dish to burgers or fish.
But, they are also great served with a number of toppings which is exactly how they served them to us at the conference. A whole array of toppings were spread out and you could build your own creation. In fact, make all the toppings from my Hot Dog and Sausage Bar and you'll have a great buffet supper to serve friends and family.
Other options?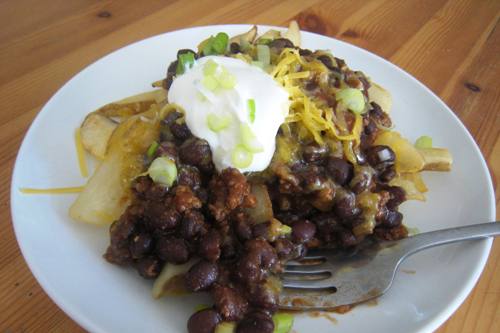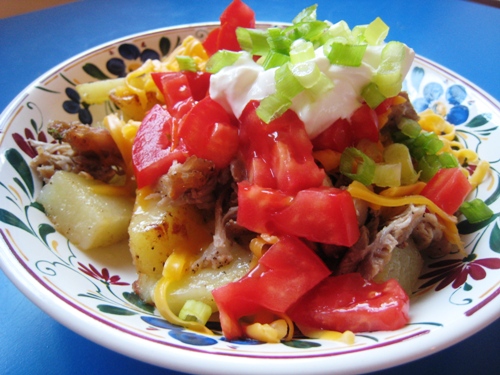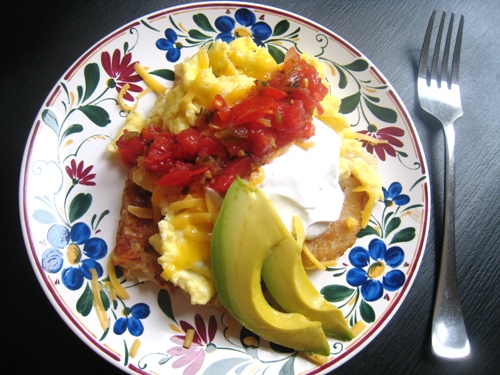 Hashbrown Breakfast Stacks (but with fries)
My family loved the fries that I served them from Crav-On. Since hubs and I are trying to watch what we eat — and what we feed our kids — he was particularly pleased when I told him about the ingredients list: potatoes, olive oil, sea salt, annatto, and caramel color.
Currently, the product is only available in Southern California, but watch for. It should be rolling out nationwide in the coming months. Find Crav-On Fries at a store near you. You can get a coupon via their Facebook page.
This week four Life as Mom readers will win some Crav-On swag: tshirt, baking sheet, and silicon spatula.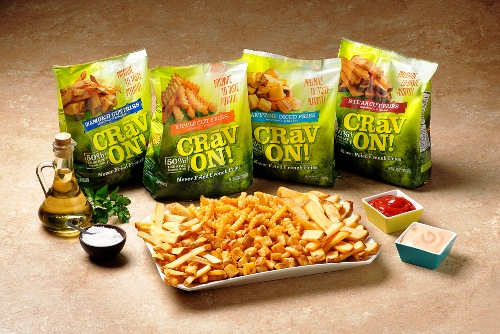 To Enter:
Simply complete the information on this form. Please know that the information is only being gathered for the purposes of mailing you your prize in the event that you are chosen as the winner. This information will not be sold, traded, or given away.
This promotion is open until Sunday, September 1, 2013 at 8 pm PST and is limited to US residents, 18 years or older. Friends and family of Jessica Fisher and Life as MOM are ineligible for entry. The winners will be chosen randomly. This post will be updated with the beginning of the winner's email address. The prize for this promotion is provided by and shipped by Crav-On Fries and/or its representatives. Jessica Fisher and Life as MOM will not be held responsible for unclaimed or undelivered prizes.
Disclosure: I have received sample product and compensation for my time spent writing and administering this giveaway. All opinions are my own.